---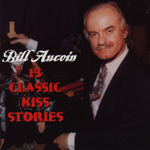 "Bill Aucoin -- 13 Classic KISS Stories"
"Bill Aucoin - 13 Classic KISS Stories" is a spoken word album The artwork is very cool and contains various unreleased 'non-makeup' photos from the seventies and early eighties. The track listings are:
1) You've Got To Sign Them
2) The Secret Memo
3) They Always Won The Game
4) Bill I Really Look Good
5) They Had An Extra Dress
6) We Had To Carry him
7) Ship Gold, Come Back Platinum
8) Tell Him To Be Quiet
9) The Show Was So Big
10) What's that Sound?
11) A Chicken, A Hawk, A Chipmunk
12) The Old Poop Trick
13) The Time Has Come

Ordering Information
LOCH NESS MONSTER RECORDS
P.O. BOX 39253
235 DIXON ROAD
ETOBICOKE, ONTARIO
M9P 2M5
Email: records@lochnessmonster.net

The CD is $11.99 US funds plus $3.00 shipping & handling for US and Canada (International $5.00).

KISS Army Online Q & A with Bill Aucoin!
Bill Aucoin, former manager of KISS, in conjunction with Lochness Monster Productions has released a spoken word album called, "Bill Aucoin - 13 Classic KISS Stories." To celebrate this new album, KISS ASYLUM along with Lochness Monster Productions is giving the KISS Army Online a chance on a regular basis to ask Bill Aucoin some questions. Ask him anything!
Submit your questions (with the subject header to read "BILL Q&A") to MzCharisma@aol.com There will be a limited amount of questions that will be able to be answered, so be creative and make 'em count -- the best will be submitted to Bill.
---
KISS Army Online Q&A Answers
May 14, 1999
KISS Army Online: Bill, alot of Alice Cooper fans state that the only reason you feel KISS became such a success was becuase around 1975, the Alice Cooper band had broke up and KISS was there to fill the void, and the only reason you ever got involved with them anyway was becuase they were following in Alice Cooper's footsteps, and the only reason you got Bob Ezrin to produce Destroyer was becuase he produced Alice Cooper before that. Is any of this true and could you honestly tell us if you think KISS was a rip off of Alice Cooper, like alot of Cooper fans seem to think?
Bill Aucoin: No I didn't feel KISS was following in Alice's footsteps although Alice did break down some doors. No one believed a band with makeup would make it to the top. We used Bob Ezrin because Bob was a brilliant concept producer. They only though was whether he would get along with the guys or not.
KAO: We know the story of how you financed the Dressed To Kill tour on your American Express Card. When did KISS actually start to turn a profit for Casablanca, themselves, and you?
BA: We started to make money after Alive. Before Alive we were broke. Sales went up. We were filling variuos sized halls. The big came in money in 77-78.
KAO: My question is why come out with 3 consecutive albums Dynasty, Unamsked & The Elder that were, let's say a "departure" from the music KISS had played in the past? Add the Solo-Albums into the scenario, and it was a huge pill for fans to swallow. Did anybody stop to think "If It Aint Broke, Dont Fix It"?
BA: No. The record label wanted more to open more musical lines including rock, pop and dance. Some did very well. Beth and I Was Made For Lovin' you were two of the biggest hits. Others songs from those albums were big hits outside America.
KAO: Mr. Aucoin, what are your thoughts on the Tom Snyder interview that Kiss gave on October 31, 1979. I remember watching the interview and noticing that Gene didn't really have a sense of humor towards the other members.
BA: I loved the interview because it gave Ace and Peter the chance to stand out and Paul and Gene were upset for that very reason.
KAO: IĄd like to know if most of the music heard in the albums has really been played by the original band members themselves? Or are there phantom players nobody has ever heard of before? Which albums have definatively been recorded by the whole band and which are a mixture between Kiss and other musicians? What about Destroyer (did the band and especially Ace play on the record at all??? because it sounds so well) and Dynasty (did Gene, Paul and Ace play their instruments on it??). What about the live-stuff on "Alive II"?
BA: Yes there were some other musicians on the albums. It started with Destroyer. Bob Ezrin and Ace had a conflict and Ace didn't show up a few times. Aside form the odd solo the band played all their parts. Anton Fig played on Dynasty and Unmasked.
KAO: Gene has stated that the solo album project came about to keep the band together by allowing the members a little time to do their own things. In hindsight, donĄt you think that a short break would have been better thing to do?
BA: No. We owed records to the label. This way the members had a break from each other as well as delivering four records. The record company made the mistake of thinking they could sell four times as many records. Eventually they all sold very well.
KAO: Several members of the road crew have mentioned this, so I was curious if you could confirm the following: did KISS perform live at the 1976 NARM convention held in Hollywood, Florida, March 19, 1976?
BA: I think so.
KAO: A handful of articles from the spring/summer of 1976 mention that KISS was tentatively slated to play at a venue called Washington Stadium. In a Billboard magazine article, you mentioned that this was located outside of Chicago. I know that the band rescheduled the gig for Comiskey Park (which itself was cancelled), but after some exhaustive research, I have yet to locate any evidence of a "Washington Stadium" anywhere in Illinois. Do you remember anything about this?
BA: No. No idea.
KAO: Do you think that the solo albums kept the orginal band together for longer or do you think they drove the band further apart,and I know hindsight is a wonderful thing but given the time again would you release the solos or go with maybe just a normal Kiss album.
BA: There was no choice. They needed their own time. if i could change anything it would be the way they were released, mistakes with advertising and stores, and fans.
KAO: If you had the chance to do it all over again, are there any different strategies that you would have employed to market/manage KISS?
BA: Make sure they stuck to to Kiss' unique brand of rock and roll.
KAO: I know that money is always an issue when working with a profesional act, but what does it feel like inside to know that you are personally involved with something as huge as KISS?
BA: It was a wonderful experience. It only happened because they were all worked very hard.
KAO: Mr. Aucoin, was it really in your best interest that the recording of "Music from the Elder" was to take place after a blow to the band of losing an original well loved member a year before. Wasn't Eric and Ace both Against even doing the record, who voted for it to make it 3 to 2 for recording that album?
BA: Eric wasn't against the album although he did want it to be a little more rock and roll. Basically it was a Bob Ezrin album.
KAO: What did Paul's nickname "T.B." back in the '70s stand for?
BA: Never heard of that one.
KAO: Do Gene and Paul realize that they are upsetting their die-hard fan base by putting out an inferior album (PC) and mocking themselves with merchandise aimed at 3 year olds? If "yes" then why are they doing it? If "no" then how could they have become so out of touch? Also, what would you have KISS do if you were their manager again?
BA: Have them put out a better album. The new merchandise is all for financial reasons.
KAO: Hello, Bill. I have a question for you regarding a hot new act out of Minnesota called "Flipp". I am friends with the bass player, Freaky Useless, and he's mentioned your name a few times. As you know, Flipp is a very marketable and talented group and has a lot of potential, and their stage personas and character has similarities to the 70's Kiss. The world is starving for an act like this, like they were in the 70's and along came Kiss. I was wondering what kind of marketing tactics you would do differently with a band entering the millenium rather than what you did in the 70's with Kiss, things have certainly changed since then?
BA: Keep your eyes on Flipp and you'll see what happens.
---
Q&A I
KISS Army Online: What really happened on April 5, 1997 in Columbus, GA? Why didn't Peter play? It is rumored you had something to say about this at a KISS convention.
Bill Aucoin: I wasn't at the concert so I can't say for sure. i did mention what I heard but I said I really didin't know.
KAO: During your time with the band, did a "stand in" ever put on the make up and play for Peter at any concerts?
BA: No definately not.
KAO: Bill, we all know that all of the KISS members have had a significant role in KISS, but in all honesty, who of the KISS memebers do you think is most dedicated to bettering KISS (who put in the most)?
BA: Gene. He is a real workaholic.
KAO: Is it true that you have the famous rehearsals from -73 that were shot with one camera in black and white?
BA: Yes it is true.
KAO: Its been confirmed that there was no ad by Peter Criss in Rolling Stone looking for a band. The "will do anything to make it" Rolling Stone ad is pure fiction. How did Peter actually meet the band? Was it through his connection with Decca?
BA: I am not sure that is true. There definately was an ad. I am not 100% it was in Rolling Stone but there was an ad.
KAO: When you first met the band did you foresee that they would be such a massive success?
BA: Yes I did.
KAO: I have recently stumbled across a very bizarre KISS-mystery, which I haven't been able to solve. I wonder if you could help me out. Both Eric Singer and The KISSTORY-book insist that there was another drummer alongside Eric Carr during the recording of KISS's "Music from the Elder" (1981). It is stated inthe book that Eric Carr didn't play drums on the tracks: "Odyssey" and "I". Is this true? And if it is, then who was this drummer? Personally I have never heard that there would have been another drummer at that point. I know that "The Elder" was recorded at least in 4-5 different places, but why would there have been a session drummer involved? I have always believed that Eric Carr played on the whole album.
BA: No, there was one song that Eric didn't have the proper feel for so we used someone else. Maybe 'I'. I can't remember which one. I don't remember which drummer we used but we did periodically use drummers like Anton Fig and Allan Schwartzberg.
KAO: I was just wondering if you could answer a question that i had heard, about you having "Rare" and "Unreleased" film footage of Kiss back in the early, early, days? And if you did, would you ever have intentions of releasing them as "Home Videos" one day?
BA: Yes I do have it and we'll see.
KAO: Were you ever frustrated at not being able to break the band in the UK market?
BA: Yes I was. We did make some ground the last few years but it was a tough market.
KAO: My question concerns the film project "Oh! Calcutta!" which you directed in 1972. What are your recollections of the controversy spawned by that picture and the type of business it did in spite of it (or due to it)? Also, how did you arrive at "Bill Aucoin" from "Guillaume Martin Aucoin"?
BA: Interesting question. I knew it would always sell. I used my French name for television and did also with KISS at first.
KAO: Bill, which member of Kiss were you the closest to, fondest memory?
BA: All of them actually. They all brought their own passion in to the band. I was very close to Eric. One of my fondest memories was working close with him up until the deadline of the first show to get his costume ready.
KAO: Were the Alive II shows &/or the show where Ace Frehley got shocked captured on video?
BA: No
KAO: When did you and KISS part way's and why? What ever happened to casablanca records?
BA: It was time. We were going in two different directions. PolyGram bought Casablanca.
KAO: What can you remember about the 1980 KISS tour of Australia?
BA: It was probably the most exciting time of all. Too many good stories to tell. There are lots of good stories on my CD Bill Aucoin - 13 classic KISS Stories.
KAO: How did you get on with Ace ? Did you find his behavior in the '70's intolerable or were you able to join in the fun ? Are there any times that you saw a softer side of Mr. Frehley ? If so please elaborate.
BA: I go on great with Ace. He is a real sweetheart. Lots of fun. He would take the shirt of his back for someone and often.
KAO: When KISS went to record "Destroyer," what was the mood in the studio, were you confident that KISS could follow up from the success of Alive! And when did you all know that you had one of the greatest kiss albums recorded when destroyer was finished?
BA: The mood was very excited and up. We did know we had something very special. Bob was great. Very brilliant. He did have disagreements with Ace and Peter but Bob was right.
KAO: Being that you have a true knack for creating and discovering new talent could you please tell me who your favorite new bands are.
BA: 'Cartoon Boyfriend' from California and 'Nocturnals' from Florida.
KAO: Did Peter Criss have a heroin problem in the 70's and 80's? And when did he finally get cleaned up?
BA: Peter experimented with drugs in the 70's. With what I am not sure. He has been clean since the early 80's.
KAO: We all know Gene is very interested in the macabre. Did he ever show any interest in the occult?
BA: He was an avid reader of various things.
KAO: What do you know about the book Sean Delaney is working on? Are you involved with it?
BA: I may participate. We will see.
KAO: What do you think of Kiss &Tell.
BA: I think it is accurate from his eyes.
---
---