KISSASYLUM.COM Fanzine Focus
---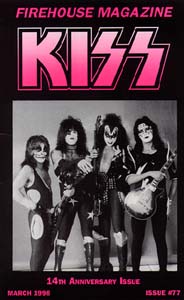 KISS Firehouse March 98 Issue!
---
KA: Tell us a little bit about yourself and how you became a KISS fan.
My name is Ronn Roxburgh and I am now 30 years old. I first heard KISS on the Destroyer album. Hearing it once I was hooked! I didn't get to see them live until 79 when they came to vancouver, BC for the Dynasty tour - I was just 11 years old!
KA: Why and when did you start doing your fanzine?
I started FIREHOUSE MAGAZINE in 1983 just two years after the official KISS ARMY stopped operations. It drove me crazy that there was hardly any KISS info in the rock magazines, so I decided to start my own magazine and give KISS fans all the KISS news they wanted! I must give credit to "The Oath" which was the first unofficial KISS fanzine. They were based out of Toronto, Ontario and as it happened they packed it in just one issue after I started, so I guess it was fate!
KA: Please give us a description of your fanzine and how KISS fans can subscribe.
Our magazine is a 8 1/2 inch by 5 inch and each issue is around 50 pages. Its professionaly printed with a colour cover. After 14 years, I think we have a great looking magazine. You can check us our on the web at: http://www.nextlevel.com/firehouse. The cost for a one year membership of 4 issues plus our one time membership kit is just $15. You can send check or money order to: FIREHOUSE MAGAZINE c/o Ronn Roxburgh, #66 7158 138 Street, Surrey, BC, V3W 7V7, CANADA.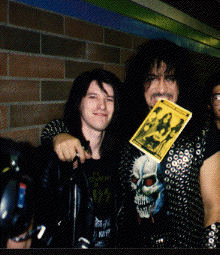 Me and Gene Simmons on the Revenge tour
---
KA: What sets your fanzine apart from the others out there in KISS fandom?
With over 14 years of experience, I think we have one of the best looking fanzines availble, and we also send all new members a FREE membership kit with KISS Army sticker, FIREHOUSE MAGAZINE bumper sticker and frige magnet, membership kit & certificate, and lots more!
KA: What are some of the "headaches" and joys of running a fanzine?
When I started FIREHOUSE back in 1983, I never dreamed I would be spending 30 hours a week filling subscriptions, sending out merchandise, ansewering mail, working on our web site, and producing the mgazine! Of course the joys are all the great people I have met over the past 14 years. A lot of my best friends were met through the magazine. I even got my current job (teaching computer in a public adult education school) because of FIREHOUSE MAGAZINE.
KA: What was the best interview or feature you have done as a Fanzine Editor?
The first time I ever got to interview a member of KISS was back in 1991. I got the chance to do a phone interview with Gene Simmons, which ended up lasting almost 60 minutes! I was very nervous, but he was great! Since then I have had the opprutunity to interview and meet many of the KISS members as well as many people invloved in the KISS world!
KA: Who would you like to interview (and why) but have never had the chance to?
At this point, I prefer to let others do the interviewing...
KA: Why did you decide to bring your fanzine online in the form of a webpage?
At the time I set up my web site, it seemed like a really space age thing to do! Its very cool that so many poeple around the world have access to the internet and can find ANYTHING they are looking for, including FIREHOUSE MAGAZINE.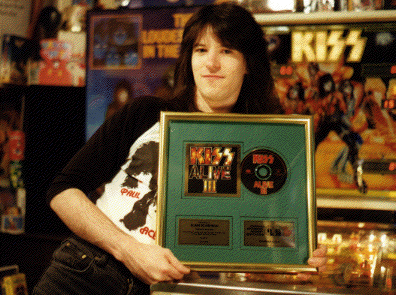 Me and my "KISS Alive III" Gold album which was awarded to me by Polygram
---
KA: How has the online world affected your fanzine?
Our magazine has not changed because of the internet, although it is a great way to advertise. I would never start a print fanzine today - when I started, it was because there was almost NO Kiss to be found anywhere. Now KISS is everywhere, including the internet.
KA: What were your thoughts when you heard about the Reunion tour?
I was always a believer that you can't recapture the past, and I liked the fact that there was that feeling of "I wish I could see them in makeup again". Now that it has happened, there is no real magic left in the make up. Now I wish I would see them with Bruce & Eric and without the makeup again!".
KA: What are your expectations for the upcoming Psycho Circus album and tour, as well as the future of KISS?
I never really have expectations with KISS. They have proved time and time again that they never follow the rules... which I think is why they are still around after so many years!
KA: This is your forum, say whatever's on your mind to all the fans online that are reading this Focus.
I would like to thank all the FIREHOUSE members who have subscribed year after year and continued to support KISS and FIREHOUSE MAGAZINE. The past 14 years have been incredible and I look forward to many more years of producing the coolest KISS fanzine on earth... "Get the FIREHOUSE!"
Other Photos:
1) Ronn and tribute band Black Diamond
2) Ronn and Paul on the Crazy Nights tour

---
Copyrighted (c) 1998 The KISS Asylum, all rights reserved.
Please do not reproduce this feature without prior consent!
---
---