KISSASYLUM.COM Fanzine Focus
---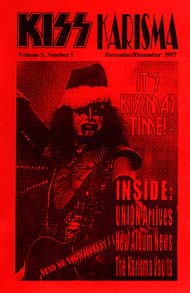 Karisma November/December 97 Issue
---
KA: Tell us a little bit about yourself and how you became a KISS fan.
Okay, my name is Michael Edwards. I'm 24 and have lived in North Carolina for most of my life. I first became a KISS fan in 1979 when my dad brought home the "Dynasty" album because he liked the song "I Was Made For Lovin' You." I thought (as any five year old would) that the band looked really cool, and fell in love with them once I heard the other stuff on the album. The first song I remember really grabbing me was "Magic Touch," which is one of my favorites to this day. During the time between that Summer and the following May when "Unmasked" was released, every birthday, Christmas, Valentine's Day, etc. gift to me that I requested was a different KISS album. I remember my grandmother buying me the four solo albums as a get-well present when I came down with the Chicken Pox in first grade! Anyway, during the course of the next few years, my life changed dramatically when my parents split up and I moved with my mother and future step-father to a remote part of Northern Arizona. This guy was your typical redneck, and hated rock music -- I suffered the consequences for it but still "kept the faith" when it came to KISS, nothing came between me and the band! I enjoyed everything they did, especially after the arrival of Bruce Kulick. He, in my opinion, changed the band infinitely for the better, and gave them the shot in the arm that they needed. My first KISS show was in 1990 on the Hot In The Shade tour, and I am so thankful that I was able to at least see Eric Carr before we lost him in '91.
KA: Why and when did you start doing your fanzine?
In 1993, a friend was showing me some work that he had done for another KISS 'zine. While the content was pretty good, I was dismayed to see that the majority of the fan press seemed to concentrate on the original band and not the current line-up and the current news. We decided to try to remedy that by doing our own fanzine, which, after starting slow, became something I feel I can be proud of to this day.
KA: Please give us a description of your fanzine and how KISS fans can subscribe.
Currently, we are the only print fanzine dedicated to UNION, as he pretty much took me with him when he left KISS. Bruce is a truly great guy and has set such an incredible example for all of us by taking the high road throughout the ordeal that he has been through since the reunion. He and the rest of UNION all have their hearts in the right place, and for me, that's the most important thing. I have also been working as the coordinator for the UNION Work Force for the last few months, something that I enjoy immensely. Subscriptions are twelve dollars per year and can be obtained by sending a check or money order to me, Michael Edwards, at P.O. Box 104, Pinetops, NC, 27864.
KA: What sets your fanzine apart from the others out there in KISS fandom?
Aside from it now being an exclusively UNION fanzine, I try to really make it a personal thing for our members, as if they belong to a family rather than a fan club. During the course of these five years, I've made many great friends through this club, and have shared in both their joys and sorrows -- it has been incredibly rewarding.
KA: What are some of the "headaches" and joys of running a fanzine?
Well, the joys are obviously making new friends and having people respect what you do. Opening KISSTORY or the Metal Edge "KISS ROCKS THE WORLD" special and seeing something you did is incredibly gratifying. As for headaches, you don't make any money doing this, so you obviously have to work a full-time job in addition to the fan club. Doing this takes a good chunk out of your personal life, and you have to find the balance between time for yourself and time for the band. Sometimes, the band wins, but I've really been trying to change that lately!
KA: What was the best interview or feature you have done as a Fanzine Editor?
Probably my first Bruce Kulick interview, just because it was the first time I had ever talked with anyone in the band at length, or my recent interview with John Corabi. Also, getting to photograph the band for the first time in Nashville in 1994 was really cool.
KA: Who would you like to interview (and why) but have never had the chance to?
I would like to have a chance to talk to Paul Stanley at length again. I have spoken with him before, but it was on personal business and not an official interview. I would definitely like to have a chance to talk to him "off the record" post-reunion tour.
KA: Why did you decide to bring your fanzine online in the form of a webpage?
Unless you're independently wealthy, which I'm definitely not, printing a fanzine in color is pretty much out of the question. I wanted to give people a chance to see some of the photos and stuff that has been featured in the fanzine in color, as well as give non-subscribers the chance to read some of our older features. I'm planning to overhaul the entire site soon, but it's not something that I want to take precedent over the printed fanzine.
KA: How has the online world affected your fanzine?
I've received many positive comments from the site, and a lot of our members have enjoyed seeing the photos in their color versions. We're still kind of new to this, so I don't know what the long-term affect will be. Also, with the shift in the fanzine from KISS to UNION, I plan to relocate to The UNION Asylum within the next few months.
KA: What were your thoughts when you heard about the Reunion tour?
Obviously, I was devastated. It was just something that I personally had no desire to see happen, and it was very hard to have to sit and watch two of your friends hurting while most of the world celebrated their misfortune. I wouldn't have had a problem with a "one time" tour, but to continue with the original line-up and completely ignore the contributions of Bruce, Eric Carr, and Eric Singer is, to me, unforgivable.
KA: What are your expectations for the upcoming Psycho Circus album and tour, as well as the future of KISS?
I really don't have any expectations or predictions for the band, as I personally feel that, no matter what they tell you, it won't really be the four original members of KISS playing on that album. I think they will do what they have to do. I also think the future of the flesh and blood band is limited to a couple of years at best, but the characters will probably live on in comics, action figures, etc.
KA: This is your forum, say whatever's on your mind to all the fans online that are reading this Focus on Karisma.
To anyone who supported Bruce and Eric, and to those of you who are working so hard for UNION now, I thank you from the bottom of my heart. Together, we can help make UNION the true future of rock and roll!
---
Copyrighted (c) 1998 The KISS Asylum, all rights reserved.
Please do not reproduce this feature without prior consent!
---
---