Hello, everyone. It's been a while since I got you all up to speed with things going on in the Kulick world. So here's the current news.
Many fans have asked about Joe, my precious dog who will reach 17 years old on June 10th.  For those friends of mine who have met Joe, they know what a special dog he is.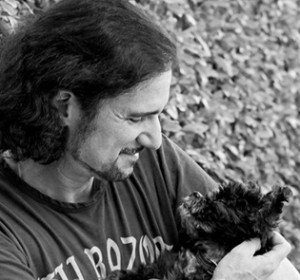 And happily, as a good dog who is just getting really old (kind of like in his 90's in small dog years), he is well aware of the love and devotion I give him. With the help of an excellent vet and his staff, I am happy to say Joe is doing extremely well. For all you dog lovers out there, I love the emails I get about the stories of your special pets.
Honestly, as I have never had a child Joe has certainly become my son.  I have had him since he was 2 years old, so our relationship is nearing 15 years. I found him exploring near a busy street in Woodland Hills.  Dangerous!  Our bond was immediate, but now as an older dog I will tell you all it's not easy to take care of a senior animal.
My girlfriend, Lisa, who is the best Mommy for Joe that I could ever imagine, knows what a burden it can be.  He can't see (cataracts), but he has good energy and gets around amazingly for his age, so he's like a bumper car in the dining room and kitchen just banging into things until I get his attention to play with a bone or out for a walk.
But even the walk to the patio for him to relieve himself every three hours during the night is fine with me.  His quality of life is far better than I could ever imagine at his age, so knowing he appreciates it, he has my devotion. I dread that day when I have to say goodbye to him, but who would imagine he would have surgery a few weeks ago for some nasty skin things, and currently be thriving? My nickname for him was The Kraken (mythical beast from "Clash Of The Titans" movie), but now he's affectionately known as "The Super Kraken" or SK for short.  So that is the update on Joe.  I am truly blessed with him in my life.
As for me, busy as usual with my guitars doing shows with Grand Funk, and soon an exciting Fantasy Camp in LA with Steven Tyler as the featured guest, with a big night rocking at the Playboy Mansion. Details at rockcamp.com. I also have some production work coming up in April with an artist I worked with a few years ago, Derek Ryan. Channel Theory is the name of Derek's band, and it is not straight rock which is why I, along with BK3 producer Jeremy Rubolino, love working with him.  I am sure I will bring some great guitars and amps along for the job.
So all in all the usual for me with my work, and of course there are some other surprises up my sleeve regarding some writing for future projects and sessions that I will share with you all when I am deep in it. Hope your spring is wonderful and thanks for all the support!
Take care,