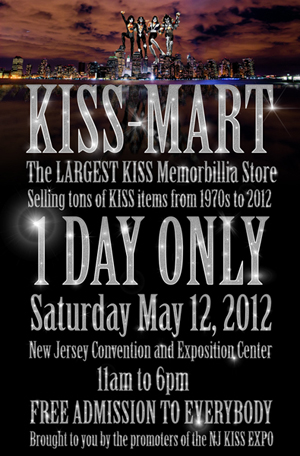 The promoters of the NJ KISS EXPO are throwing a free admission ALL KISS Memorabilia Show on MAY 12, 2012 at the NJ Convention and Expo Center 97 Sunfield Ave, Edison NJ, 08837
Show Hours will be 11am to 6pm with Free admission for everyone. Free and plentiful parking….Make plans to attend now!!!
All types of official KISS items spanning the bands entire career from 1974 to 2012 will be on sale.
Venue has a family-friendly cafe so lunch and snacks are available all day.
ATMs available on site.
Have a collection you want to sell? Want to thin out your existing collection? Want to just sell your doubles? DEALER TABLES ARE ON SALE NOW….Call Ross Koondel for details and to purchase 1-800-370-3315 …call and leave message if you don't get thru….or email at RossKoondel@yahoo.com
Visit the website for more info on this event.