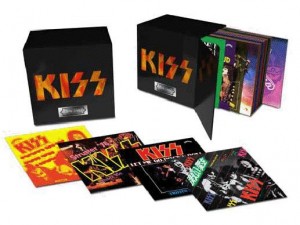 KISS have announced announced that they will be releasing 'The Casablanca Singles 1974-1982 Box Set' which will contain all 29 singles that the band released on the Casablanca label.
As they look to celebrate their 40th anniversary as a band next year, KISS are set to pay tribute to their formative years with two limited edition collection configurations. Fans can purchase the collections as a box set of either 29 CDs or 7″ vinyls.
The sets are housed in a beautiful die-cut shadow box with a limited edition, etched silver metal plate and ribbon-pull magnetic closure, custom KISS 45s box with 26 collectible picture sleeves from original single releases around the world, including Japan, Germany, Holland, Spain and Britain. Both sets also include a booklet which tracks the genesis and chart history of each single represented in the package and four individual KISS masks.
'Even I haven't heard some of this stuff, but this is all part of our master plan to celebrate KISS at this milestone in our careers,' says Gene Simmons. 'This box set represents us at the very beginning of our career, and documents the band's early success and subsequent growth.'
TRACK LISTING:
1. Nothin' To Lose / Love Theme From KISS
2. Kissin' Time / Nothin' To Lose
3. Strutter / 100,000 Years
4. Let Me Go, Rock 'N' Roll / Hotter Than Hell (GERMANY SLEEVE)
5. Rock And Roll All Nite / Getaway (HOLLAND SLEEVE)
6. C'mon And Love Me / Getaway (JAPAN SLEEVE)
7. Rock And Roll All Nite (live) / Rock And Roll All Nite (GERMANY SLEEVE)
8. Shout It Out Loud / Sweet Pain (JAPAN SLEEVE)
9. Flaming Youth / God Of Thunder (U.S. SLEEVE)
10. Detroit Rock City / Beth (JAPAN SLEEVE)
11. Beth / Detroit Rock City (GERMANY SLEEVE)
12. Hard Luck Woman / Mr. Speed (GERMANY SLEEVE)
13. Calling Dr. Love / Take Me (GERMANY SLEEVE)
14. Christeen Sixteen / Shock Me (FRANCE SLEEVE)
15. Love Gun / Hooligan (SWEDEN SLEEVE)
16. Shout It Out Loud (live) / Nothin' To Lose (live) (GERMANY SLEEVE)
17. Rocket Ride / Tomorrow And Tonight (live) (GERMANY SLEEVE)
18. Strutter '78 / Shock Me (GERMANY SLEEVE)
19. Hold Me, Touch Me / Goodbye ' Paul Stanley
CD: (U.K. SLEEVE + THE STARCHILD MASK) / Vinyl: (U.K. SLEEVE + THE STARCHILD MASK / PURPLE VINYL)
20. New York Groove / Snow Blind ' Ace Frehley
CD: (U.K. SLEEVE + THE SPACEMAN MASK) / Vinyl: (U.K. SLEEVE + THE SPACEMAN MASK / BLUE VINYL)
21. Radioactive / See You In Your Dreams ' Gene Simmons
CD: (U.K. SLEEVE + THE DEMON MASK / Vinyl: (U.K. SLEEVE + THE DEMON MASK / RED VINYL)
22. Don't You Let Me Down / Hooked On Rock 'N' Roll ' Peter Criss (GERMANY SLEEVE)
23. You Matter To Me / Hooked On Rock 'N' Roll ' Peter Criss
CD: (U.K. SLEEVE + THE CAT MASK) / Vinyl: (U.K. SLEEVE + THE CAT MASK / GREEN VINYL)
24. I Was Made For Lovin' You / Hard Times (GERMANY SLEEVE)
25. Sure Know Something / Dirty Livin' (GERMANY SLEEVE)
26. Shandi / She's So European (HOLLAND SLEEVE)
27. Tomorrow / Naked City (JAPAN SLEEVE)
28. A World Without Heroes / Dark Light (SPAIN SLEEVE)
29. I Love It Loud / Danger (U.S. SLEEVE)
Kiss will release 'The Casablanca Singles 1974-1982' box set through Universal on 3rd December 2012