Tim McPhate | KissFAQ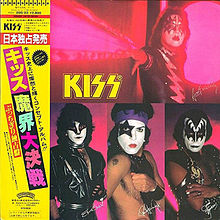 In more ways than one, "Music From The Elder" is the most mysterious album in the KISS catalog. And a large part of that mystique lies in the things that are unknown.
Case in point, the project's spoken word dialog component, which was designed to thread the album's concept between songs. While there was, in fact, dialog recorded, only a small portion actually made it onto the final album. The rest of the dialog? The specific whereabouts are unknown, though it would seem to be tucked away somewhere on a lost shelf deep in the bowels of the KISS vault. And as for why the dialog was ultimately discarded — and who made that final call — that is not entirely clear either.
What is known is that the services of Canadian-based actors Robert Christie, Chris Makepeace and Antony Parr were contracted. Though he is officially credited on the album's back cover, Makepeace is nowhere to be heard on the album. By process of elimination, that leaves Christie and Parr as the voices heard during the closing sequence.
Born April 30, 1925, in Nottingham, England (Robin Hood country), Parr was a versatile actor who impressively garnered roles across theater, film, television, and radio, as well as voiceover work. Born in 1913 in Toronto, Christie amassed a diverse career as well, acting in theater, TV and film, in addition to serving the Canadian Army during World War II.
Unfortunately, Christie and Parr passed away in 1996 and 2002, respectively. To our knowledge, neither actor ever went on record regarding their contribution on "Music From The Elder."
In a NovElder exclusive, KissFAQ hosted a conversation with Parr's daughters, Kate Parker and Jennifer Parr, who discussed their father's storied career and their recollections of his involvement on this mysterious KISS album, including the first-ever confirmation on which character he read.
The following are excerpts from the Q&A conducted by Tim McPhate:
KF: Do you recall anything about your father mentioning that he had been approached to work on a KISS album?
KP/JP: Yes, we remember clearly the excitement that this project engendered as it looked to be a larger-scale project that might lead to a film of the album.
KF: Did your father know either of "The Elder"'s other spoken word actors, Chris Makepeace or Robert Christie, personally?
KP/JP: Yes, he already knew Robert Christie. We believe they had worked together. Not sure if he knew Chris Makepeace personally, but Chris was a busy working child actor in Canada at the time.
KF: Sadly, the only piece of spoken word dialog that made it to the album is the dialog that concludes the album. There are two voices. One is Morpheus, the story's caretaker, and the other is a member of the Council of the Elder, which is the voice that is heavily processed with studio effects. Can you verify which voice is your father's?
KP/JP: Dad's voice is the leader of the Council of the Elder. We remember him talking about being asked to be the voice of a "God-like" figure.
KF: Do you recall your father mentioning anything about a possible "Elder" film project, aside from his spoken word contribution to the album?
KP/JP: Yes, there was talk of future projects taking the concept further — even possibly a film, but nothing specific.
KF: Your father's involvement on a KISS album seems like it might have been a fun addition to his résumé. This particular project was quite the bold departure for KISS, given its conceptual nature, Bob Ezrin's lush production, the additions of an orchestra and choir, and, of course, the spoken word component. Though it failed to perform well, commercially speaking, "The Elder" has garnered a dedicated legion of fans some three decades later. Do you think that your father enjoyed being part of this project?
KP/JP: Our father did enjoy being a part of this project. We remember him talking about it a lot at the time and enjoying the concept and process. He loved being a part of something so "current," that was a part of his children's (our) generation. He was philosophical although disappointed about it not going any further.
Full Q&A here:
http://www.kissfaq.com/novelder/feature_antony_parr.html
About NovElder:
Through a series of brand-new KissFAQ interviews, original features and related special content, NovElder will shine a spotlight on "Music From The Elder" like never before throughout the month of November. More than 10 hours of interviews were conducted with various individuals who either worked on the project or have a connection of sorts, including professionals who have never told their "Elder story." These interviews will provide interesting insights and unique perspectives regarding the album's creative process and this fascinating period in KISStory, in addition to fun anecdotes and personal recollections. A series of topical features will shed more light on KISS' activity in 1981 and early 1982 and dissect the album further with in-depth musical analysis, biographical information on the album's participants, a revised KissFAQ Album Focus, and much more. NovElder will also take a look at the climate of the rock genre in 1981 and look at the bloodline of rock concept albums.
The odyssey continues this November at http://www.kissfaq.com/novelder/