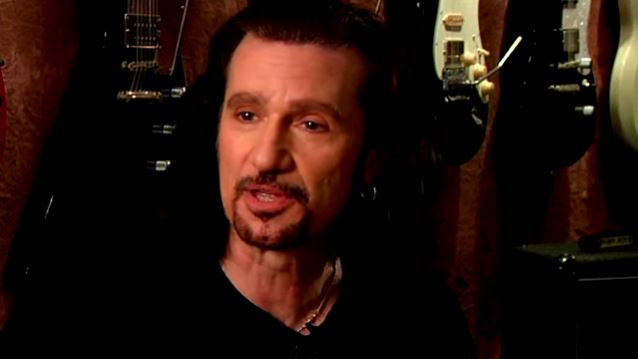 Journey Of A Frontman recently conducted an interview with former KISS guitarist Bruce Kulick. A couple of excerpts from the chat follow below.
On KISS possibly continuing to perform as a band without Gene Simmons and Paul Stanley:
"We're not there yet. [laughs] I know that Eric [Singer, drums] made some comments saying he wouldn't be into it. And I don't think he would be into it. I think it would be kind of weird, because you'd have twenty, thirty years in the band and then be playing with guys that are cover guys. Bands like JUDAS PRIEST having Ripper Owens pop in for a while, he did a good job. Or JOURNEY with the Philippine kid that can sing like Steve Perry. I think that that model works.
"I mean, look, Gene and Paul didn't wanna work with Ace [Frehley], [and] Peter [Criss] was done. It's possible to insert somebody else to do that. So I don't even think what they're doing now is wrong at all. And honestly, I think it would be completely different if Gene and Paul were actually ready to step down. They're not ready to step down yet. But, obviously, KISS fans love the conjecture of 'what if?' and 'what do you think?' Everyone goes wild, the boards and everything. It's very askew in many directions. And I know Doc [McGhee, KISS's manager] had said some things about it, then Gene says, 'It's not true! Paul would come out and say something like that. Nothing like that is happening!'
"It's silly to talk about while they're still very vital and hungry and relevant and out there. But I don't think just because Gene or Paul would say that they're retiring that Tommy [Thayer, guitar] and Eric would still hang around, even though they're little younger. Tommy's actually the youngest. I think it would be a whole different angle if something else would happen. That's just my opinion. I have no facts behind it.
Read more at http://www.blabbermouth.net/news/bruce-kulick-weighs-in-on-possibility-of-kiss-continuing-without-paul-stanley-and-gene-simmons/#1DD0auDWDQHRLHfs.99