John DeNobile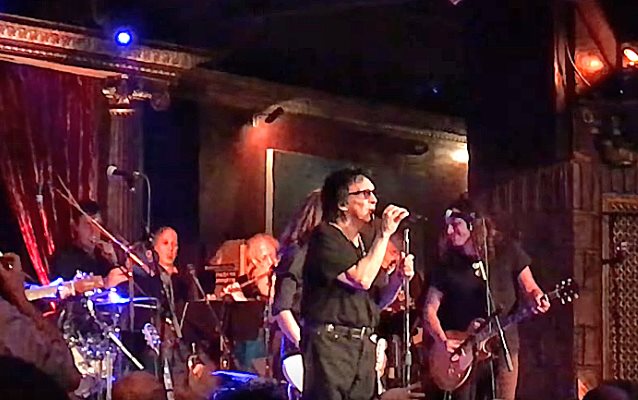 Peter Criscuola (Peter Criss)  Original Founding Member of the rock group KISS said  goodbye to fans, friends and  contemporaries in his final US Concert at the Cutting Room in NYC on June 17, 2017.
AS I watched Peter in the wings awaiting his introduction with his wife  Gigi Criss by his side. I couldn't help feel his anticipation to deliver a great setlist for his  300 + fans, friends and family.
Peter Walked out to sing 1978  Solo Album tune  "I Can't Stop the Rain" to  a cheering crowd! He settled into what would  be  a total of 12  Criss/ Kiss Songs, support by  the youthful Australian band Sisters Doll who Peter had  used for his final appearance in Australia in May. Other players  included Alex Salzman & Erik Rudic from the Asbury Park Band " Cold Seas" and a String and Horn section which fit Criss's R&B Big Band vocals and rockin' grooved percussion.
Audience notables  were  Carmine Appice( Vanilla Fudge), Richie Scarlett( Ace Frehley's Rythmn Guitarist)  Eddie Trunk(Sirius, That Metal Show), Paul Schaffer( Late Night w/David Letterman)as well Peter's "NJ Beauty Ball Girls" & Dr. Alex Swistel (Peter is  a male breast cancer survivor)  and  has championed early detection for all.
Highlights Included  A surprise dedication to superfan  Masami Monichy Kashitani   who flew from Japan to be serenated to "You Matter to Me" off Peter's 78 solo album , "Nothin to Lose(Kiss), Hard Luck Woman(Kiss)and of  course Peter's  Billboard 1976  #7 chart  hit  "Beth"  which he  delivered  flawlessly  while handed out his Red long stem roses to a crowd of roaring fans! And  "Rock and Roll All Nite" a Kiss Classic!
Peter ended the night with an ode to his drum hero Mr. Gene Krupa with a rendition of" Sing, Sing, Sing "which indicated the
71 yr old  drummer still had the chops and  concluded a career started over 50 yrs ago in New York's  Club Scene.
Will we ever see Peter Criss Perform again?
Maybe as the  current Kiss line-up contemplates their retirement – We may see a one off Kiss Reunion of  sorts with Peter guesting on a few of his hits!- One  could  Only hope!