Carson Gerber | Kokomo Tribune
PERU – Halloween night, 1974.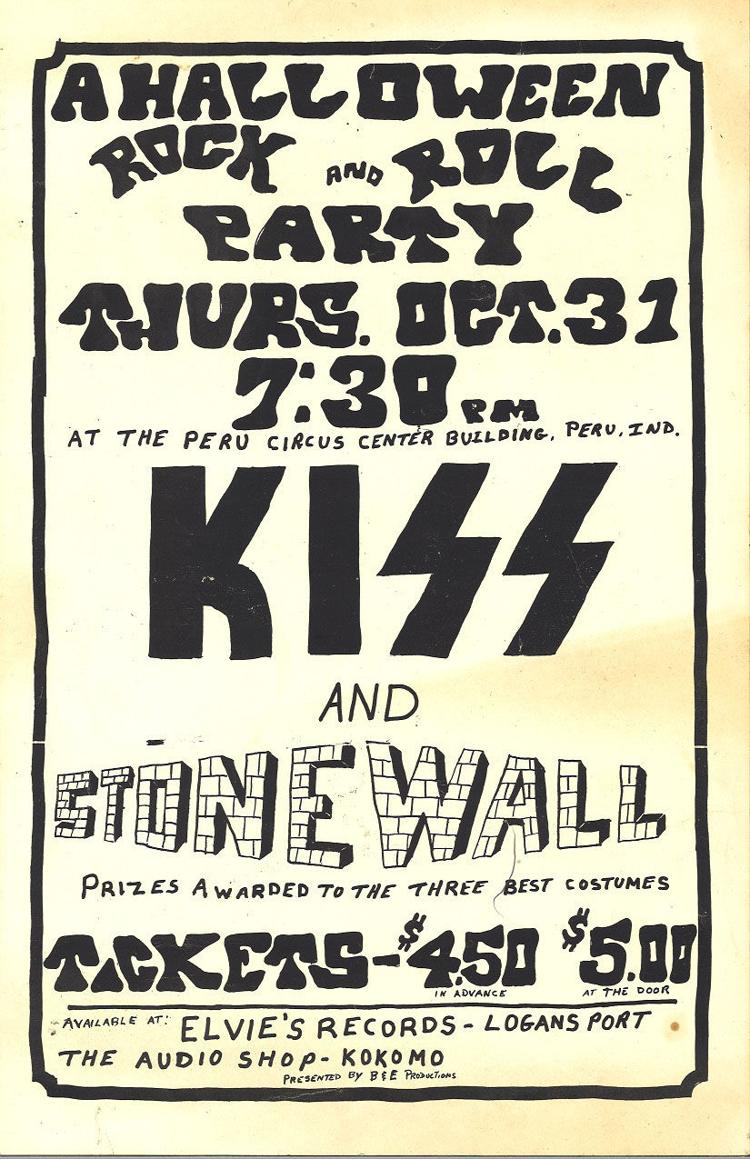 Dan Mongosa had just returned home from trick-or-treating around Peru when the sounds of a rock concert drifted from the Peru circus building to his backyard two blocks away.
"I thought, 'That's odd. What the hell is that?'" Mongosa said.
The then 10-year-old jumped on his bike and pedaled down to the building at 154 N. Broadway – the home to the Peru Amateur Circus – and snuck around to a back alley. The doors stood open, so Mongosa slipped inside.
On stage stood four guys with "dark, black, frizzy hair." The music was deafening. One of the songs had something to do with firefighters.
After the third song, a roadie spotted Mongosa watching the show from the back of the building and told him to get lost. But before he left, Mongosa had to know: Who were these guys?
The roadie told him. The band's name was Kiss.
"I said, 'Kiss? What kind of name is that?'" Mongosa said. "It sounds like a girl's lipstick.'"
That's right. Kiss, the iconic American rock band known for their face paint and over-the-top live concerts that included fire breathing and blood-spitting, played a concert in Peru. On Halloween night. Inside the Peru circus building.
What followed became the stuff of local legend. The crowd stormed the gates before the show, forcing organizers to push back the start time. Police and firefighters ended up on scene after someone called to report people were drinking and smoking marijuana inside the building.
"It's almost turned into an urban legend," Mongosa said. "It's like, 'Did that really happen? It's just one of those weird moments in life that you come across.
Today, it'd be tough to find someone who has never heard of Kiss, which was inducted into the Rock and Roll Hall of Fame in 2014, or at least heard one of their mega-hits like "Rock and Roll All Nite" or "Lick It Up."
But in 1974, the rockers from New York City were virtually unknown. The band had just put on its first show in January 1973 for an audience of three in Queens, New York.
Their stop in Peru was part of the Hotter than Hell Tour, which hit cities small and large all around North America promoting their second studio album, which ended up being a commercial flop. That was before Kiss developed their signature black-and-white-face-paint look and pyrotechnic-infused concerts.
At the time, Kiss was just four gangly rockers – Paul Stanley, Gene Simmons, Peter Criss and Ace Frehley – trying to make a name for themselves.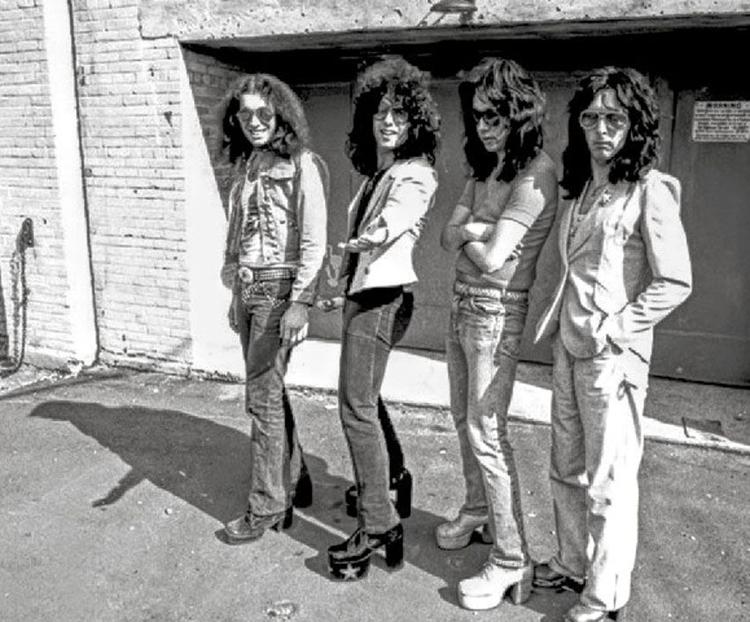 But that didn't mean the band didn't put on one wild show in Peru.
Jim Hoover, who at the time was in charge of the building and grounds of the circus building, said he was there to let Kiss in once they showed up that afternoon, followed by a semi hauling all their gear.
"They started unloading stuff and unloading stuff and unloading stuff," Hoover said. "I'd never seen so much stuff. I just had to stand back out of their way. I never saw so many speakers in my life. They had them stacked everywhere."
He said once the band was all set up, the speakers were stacked 18 feet high. And once Kiss started rocking, those speakers nearly "blew the roof off the place" as he watched from a balcony at the back of the building.
"It was loud," the 80-year-old said. "That building shook for a week after they left."
Alan Kaye said he also remembers that night well. The Kokomo native said he had no intention of attending the concert until one of his friends called and said they had just been booked to open for Kiss in Peru.
The opening act was set to be the band Stonewall, but they ditched out, Kaye said. Instead, his friends' band, named Thompsons's Machine Gun, got a last-minute call to see if they could open. Kaye agreed to drive them to the show.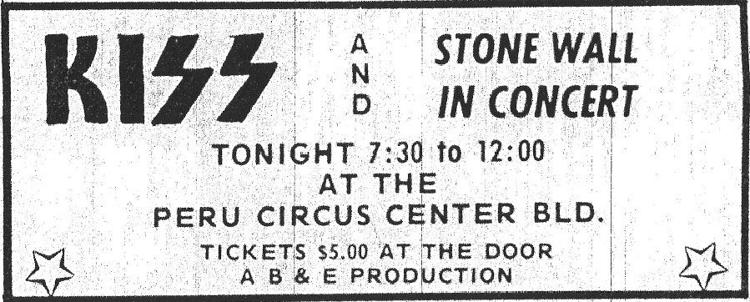 After getting pulled over for speeding by a state trooper on the way to the gig, Kaye and the band made it to the circus building. Downtown Peru was already flooded with people.
"The place was absolutely packed," said Kaye, who today performs himself as a singer and impressionist with his band Alan Kaye and the Toons "We had to park way down the street to find a spot."
Kaye and Thompson's Machine Gun eventually made it backstage to get ready for the show. And there they were – the four guys from Kiss dressed in their full-on heavy-metal costumes getting ready to rock.
"They were nice guys and everything. We just thought they were dressing for Halloween," Kaye said with a laugh. "People who didn't know about them thought the same thing. A third of the audience there was dressed for Halloween."
And the concert that followed that meeting was unforgettable, Kaye said. The circus building was jammed with an estimated 1,800 people all digging the wild, rock-fueled band from New York.
"The crowd was loving it," he said. "They went crazy for the opening act. And when Kiss came on, by the third song people went practically nuts over them."
The night got even crazier when someone called the police to report drinking and drug use going on at the concert. A Peru Tribune article published the day after said officers ended up stopping people from entering the concert who were carrying alcohol.
Charles "Bud" Wallick, who was in charge of events for the Peru Amateur Circus, denied there were any issues at the concert and told the newspaper "Someone pushed the panic button. I would have contacted the police had I thought it necessary."
Hoover said the concert literally ended with a bang when a hydraulic platform lifted drummer Peter Criss above the crowd, where he shot fireworks out of the end of his drumsticks.
"That wasn't my kind of music. To me it was noise, but I did enjoy watching them with their pyrotechnics," he said. "They did put on a good show."
Kaye said it was a memorable night, but no one at the time anticipated that within three years Kiss would be an international music sensation.
"I thought they were okay," he said. "Rex (from Thompson's Machine Gun) thought they weren't that good of musicians. I couldn't imagine what they could do to make it."
But Kiss did make it. Mongosa, who snuck into the concert as a kid, said he remembers seeing a photo of the band in a popular magazine a couple of years later and being shocked when he realized it was the same band he watched in Peru.
Kaye said he felt the same way the first time he heard national publications talking about the band Kiss. And even today, it's tough to convince people the iconic rock band played a concert in Peru on Halloween night.
He said for most people, it's just too much to believe.
"It's wild, you know? I tell people I saw Kiss in Peru, and they say, 'No way,'" Kaye said. "I just find it a little surreal that I saw somebody that became so big in their formative stage. But once it was over, it was like it never existed. Nobody ever really talked about it."