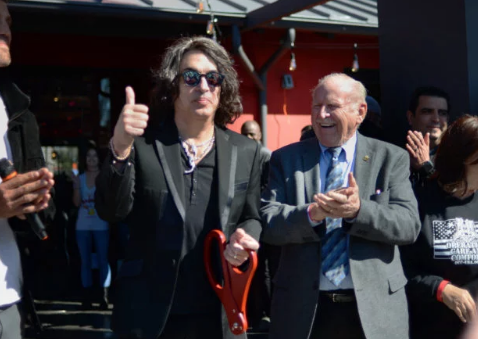 VACAVILLE — Paul Stanley, rhythm guitarist/singer/songwriter for the rock band KISS, made an appearance Tuesday in Vacaville at Rock & Brews, the chain of restaurants he, along with bandmate Gene Simmons and others, founded.
The purpose of Stanley's appearance was twofold: to promote the rock-themed restaurant and to honor military members, 200 of whom were treated to a free luncheon.
Stanley's career with KISS goes back more than four decades and includes selling more than 75 million records worldwide. In addition to his time spent touring while wearing the band's iconic makeup and recording both band and solo albums, Stanley has indulged in other interests.
They include writing a memoir, performing on Broadway in the title role of "The Phantom of the Opera," touring with Paul Stanley's Soul Station, which plays classic Motown and other R & B hits, creating fine art paintings and working with an organization called About Face that helps children born with facial differences.
Stanley answered a few questions for the Daily Republic before the military luncheon Tuesday.
Q: Do you have any stories about how your music helped fans?
A: The stories are so numerous, it's hard to pick one. I'm thankful the music can be an inspiration to them and something for them to hold on to. It's great to hear people say I helped get through tough times – getting through school or through a death in the family. It's always great to know you are an inspiration to people.
Q: Is there a song that you had a difficult time with, going from the original idea to finished song?
A: I don't think most of my songs are that tough to create once I know what I want to do. Like in the case of "Rock and Roll All Nite" somebody brought up the idea that we should have an anthem. Once it was explained to me that it would be something that people could rally around and get behind, I went back to my hotel and came up with "I want to rock and roll all nite and party every day." It kind of summed up what the band was about and what the fan experience was. I don't labor over songs. I don't just spit them out, either, but I don't work them into the ground.
Q: How did you get involved with About Face?
A: I was born with virtually no ear on my right side and was on that side. I had it corrected in my 30s. I support any organization that helps people deal with facial differences. Whenever I meet children with difficulties, it's always good to tell them that I may not walk in their shoes, but I've had similar dealings. It's important to be realistic with children. Some parents sometimes think it's better to tell a child they are just like everybody else, but they are not just like everybody else. So better to say life is tougher for some people than others, but it can have a really happy ending. You just have to struggle and you are not alone.
Q: What do you think about television music contest shows or YouTube sensations compared to how Kiss created an audience?
A: I think the bands and artists that will last the longest are the ones that did the most work prior to becoming successful. There's no substitute for experience. I think the best way to succeed at something is to work at it. To become an overnight winner of a talent show doesn't ensure a real career because you don't have the experience to know how to entertain.
Q: Is there an artist who you would like to record with whom you haven't?
A: I would love to get in the studio with (Led Zeppelin guitarist) Jimmy Page and one of these days I'm going to get him to come down.
Q: What are future projects you hope to do?
A: I'm working on my follow-up book, that's in the pipeline. I would love to go back and do Broadway again after doing "Phantom." I'd love to do a KISS Broadway show. It's very difficult to come up with something that works for me time-wise. I have three young kids and I want to be home with them. A Broadway show is a real commitment to do eight shows a week, which is what I did in "Phantom." To do a KISS show is really a matter of putting together the right team and the right direction for it. It's been in the works for years.
Q: Many celebrities just cut checks for events. Why did you choose to personally come here today for the military tribute?
A: It's very easy to write checks and it is a very good thing to do, but in my position I can draw more media attention by being here. The military is what makes this country great. If it wasn't for them, the French would be speaking German. The military freed the concentration camps. My mom was lucky enough to get out of Germany with nothing but her family. I grew up with people with numbers tattooed on their arms. Politicians can either move us forward or embarrass us or get us into trouble, but ultimately the military is what makes freedom free for those of us who don't have to sacrifice.