Keith Valcourt | Washington Times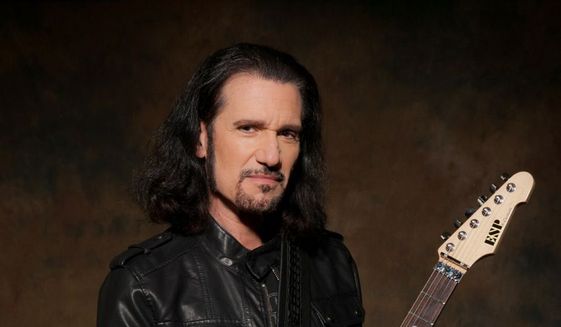 Not many people can lay claim to having played with two of the biggest bands in the history of classic rock, but guitarist Bruce Kulick can. He spent more than a decade in the nonmakeup run of KISS and has been riffing in Grand Funk Railroad for the past 15 years.
Away from those legendary groups, he was also the go-to guy for acts as diverse as Meat Loaf, Michael Bolton and Billy Squier.
Mr. Kulick checked in to chat about his time on the road with KISS, his early start in disco and the future of classic rock.
Question: When did you first pick up a guitar?
Answer: I was 10 years old. The Beatles changed my life, like so many others growing up in the '60s. I knew I wanted to learn and make guitar-playing my life.
Q: What drew you to guitar instead of bass?
A: I actually did visit bass early. Cream and The Beatles influenced me. My first electric instrument was a Gibson EB-3 bass like [Cream bassist] Jack Bruce's. My playing of the bass made my fingers stronger, and I moved to playing lead guitar. Drums never felt right to me.
Q: Did you listen to a lot of classic rock as a kid?
A: The British Invasion was my world. I loved Led Zeppelin, Cream, The Who, King Crimson, Yes. Plus Hendrix. I am thrilled classic rock is still important in the world of music.
Q: Does it blow your mind that you got to be in not one but two of the greatest rock bands of all time?
A: I am very honored. Grand Funk was a band I was impressed with, thinking, "Oh, an American version of Cream!" Naturally, KISS is world-famous and infamous! I have worked with a few other amazing, huge artists — Michael Bolton, Meatloaf and Billy Squier as well.
Q: Was your first professional playing gig with Michael Bolton?
A: Meat Loaf was before that. And before that I was touring professionally with some artists that had big disco hits. "Rock Your Baby" by George McCrae got me first on the road. And then Andrea True had a hit with "More, More, More," and I traveled in her band. All good experiences.
Q: How did you end up in KISS?
A: In 1984 KISS needed a "ghost" guitar player to help on a few tracks for the "Animalize" record that Paul Stanley was producing. I came in and did a good job. He told me not to cut my hair. I didn't understand till I got the call to tour with them as their guitarist, Mark St. John, had an illness. It became 12 years!