Andrew Hampp | Billboard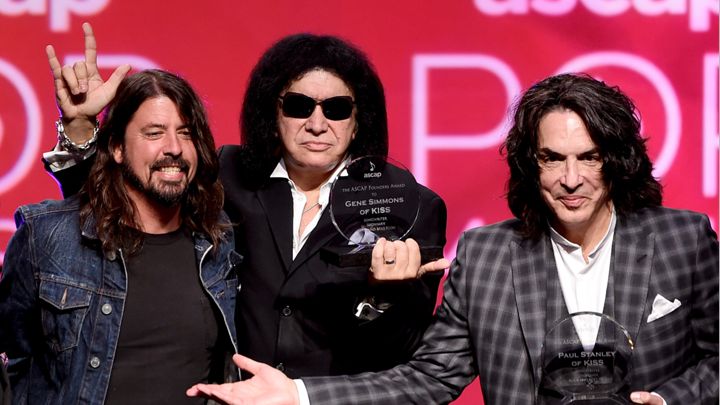 For 40 years, Kiss has built a legacy on being a must-see live spectacle, with elaborate makeup, costumes and pyro that can still pack arenas and stadiums around the globe. And indeed, the band's founding members Paul Stanley andGene Simmons had finished a sold-out South American stadium tourjust hours prior to returning to Los Angeles.
The occasion? The ASCAP Pop Music Awards, where Simmons and Stanley accepted the ASCAP Founders Award, an annual honor given to a music pioneer. Though Kiss will continue to tour throughout the year, with treks that are about to take them into Germany, the Czech Republic and Australia, "it was always about the songs," Stanley said in his acceptance speech. "For bands that last 40 years, it's not about the smoke, it's not about the makeup, it's about the songs."
Stanley, 62, and Simmons, 65, are the only founding members who still tour as Kiss, though they did reunite with Ace Frehley and Peter Criss for the band's 2014 induction into the Rock and Roll Hall of Fame. But in an interview with Billboard, the seemingly ageless rockers didn't spend much time dwelling on the importance of certain trophies. Instead, they seemed genuinely grateful to be in the position of being a still-vital draw on the road that, Stanley says, can crank out some solid new tunes when the inspiration strikes.
Billboard: Congrats on receiving the ASCAP Founders Award. Given all the attention paid to your live show, what does winning a songwriting-based award mean to you?
Paul Stanley: I believe we come from a philosophy that really covets and looks up the source, whether it was the Brill Building and Goffin and King or Barry Mann and Cynthia Weil, or the Gershwin Brothers or Lennon-McCartney, it really comes down to a great song. For us to be feted this way, join the company that have come before, it doesn't suck.
How did Dave Grohl come to be selected for your introduction tonight?
Stanley: I'm friends with Dave, and really when I said would you come and do this he jumped at it. Look Dave is arguably the last major rock star of the last three decades. He's filling stadiums worldwide because he understands his roots and that's what we're about. Some people have forgotten where we started and who inspired us.
It's been just over a year since you received another distinct honor, being inducted into the Rock and Roll Hall of Fame. A year out, what does that recognition mean to you now?
Gene Simmons: I'm not sure. When you're busy doing your own stuff it's like running a race. You try not to look over your shoulder to see who else is in the race, you do the best you can. I think there's a decided difference between the pop songwriters who are magnificent in their own way. I could never do what they do, which is to sit down and write a song and figure out which artist is gonna sing the song. I can't do that. I think what we're best at is writing songs for who we are. It's an individual sort of approach, it's defined, it's for the fans. I don't know that you can be all things to everybody, which is why there are different kinds of music. There are balladeers and guitar slingers and so forth. If your songs connect with the fans and they pump their fists in the air and go, "Yeah!!" that's when a song really works. That's the electric church of it. The glory hallelujah of it.