KISS Thought Vault: Issue #2
---
This issue: WOW by Wendy O Williams- A Lost Kiss Album?

Wendy O Williams. Tall and lean. Torn outfit, electrical tape for a bra, toilet cleaning brush for a hairstyle. A voice somewhere between 3M Sandpaper's medium and extra rough varieties. A natural Gene Simmons prot»g»Ś? Although what attracts the Demon cannot truly be whittled down to a formula, perhaps besides anything, this woman was over the top, even for him. How exactly did it come to be that Ms. Wendy would be the first official artist to be graced by the "Simmons Lead Touch" of record production?* Speculation could very easily run rampant, but in the interest of readability, and probability, I offer the following.
The era was late 1982-early 1983. Kiss was attempting a comeback in the face of many obstacles. Their first move was the Creatures of The Night record, featuring nine powerful songs that sounded off the battle cry. Next was an American tour. Kiss would hit the boards with a new look and stage set that would hopefully catapult them back into the limelight. For good measure, Kiss recruited opening acts that were capable of bringing more attention to the tour. Along with Billy Squier and a fledgling Motley Crue, The Plasmatics were one the bands that were enlisted. Fronted by Wendy O Williams, the group was notorious in its own right for its appearance and stage shows, and Kiss surely banked that some added controversy would result in some extra ticket sales.
Sadly all of this wasn't enough. As fierce as their attack, as immense their firepower, as hot the conflagrations that were left in their wake in the nation's arenas, Kiss ended up trudging through America on a tour that tanked (pun most definitely intended) at almost every stop. In fact, the true Creatures of The Night turned out to be the scant few who went to Kiss's shows at the time! Actually, they were the lucky ones. They probably all have Creatures Tourbooks. They saw the tank stage live, in all it's pea green, cold steel splendor. They viewed Kiss's modified full-frontal assault in the group's battle of '82-'83. The Demon at the left tread, covering the left flank. The Starchild in the center, eyeing the front-line. The Egyptian Warrior at (or riding? hee hee) the right tread (Note: I loved the Egyptian Warrior concept. Not necessarily Vinnie, but the character. How cool.). Manning the turret was the Fox, backing up his comrades. The victorious enemy was their stigma, which at that point hadgrown to seemingly insurmountable proportions at the hands of an unlikely collective of right-wing religious opportunists, an even more so than usual vicious press, and uninterested rock and roll fans.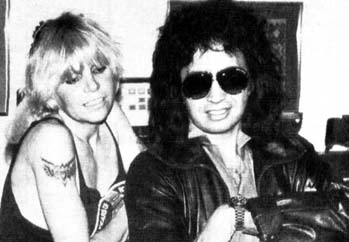 When the tank was put away (later replicated for South America, then taken back out and used for the Lick It Up tour) Gene jumped into producing a first solo effort for Wendy O Williams, who also needed a career boost, since in spite of all the hoopla surrounding the Plasmatics, they couldn't sell ten records. What resulted was an album that probably didn't mean much to hardcore Wendy fans, but to keen Kiss followers was a collection of question marks. Featuring a list co-writers and guest musicians largely comprised of then-current and ex-Kiss members, the ultimate anomaly was recorded. And yet today, fourteen years later, many still do not know it! The record came and went without a trace in the summer of 1983 on Passport/Jet records. It was released on compact disc in the early 1990s in Japan, but is currently out of print worldwide The album, titled and referred to forthwith as WOW, is a grab bag of Kiss-related curiosities, and ultimately serves as a bridge between the band's own Creatures of The Night and Lick It Up Albums. In addition, the Wendy O Williams/Gene Simmons connection spun off a slew of appearances of former Plasmatics members on Kiss albums, which I'll touch upon at a later date. But first I will review and attempt to demonstrate why the first Wendy O Williams solo album, WOW, is something that every Kiss fan should own...just like the EZO album (yeah, right!). It is a lost Kiss album, a wolf in wolf's clothing that surprises, entertains, and leaves you with a lot of questions.
First for the clothing. The packaging for WOW is sparse. The cover features a basic garden-variety shot of Wendy O in her usual attire holding a microphone like a whip. Underneath her name, in a smaller font it says "Produced by Gene Simmons". Modesty and humbleness have never been parts of Gene's psyche. The inside (I'm going by the cassette version) is where things get interesting. After one reads the song titles there is a list of all participating musicians. Included is Ace Frehley, Paul Stanley, Eric Carr, Vinnie Cusano, and Reginald Van Helsing. I first purchased this album when I was twelve, and was confused even then. Ace? what the hell is he doing on here? Isn't he on the outs with Kiss? Paul Stanley? He's got a band! Eric on drums on a song? Why? Vinnie ("Bridgeport. Bridgeport Connecticut") Cusano on guitar? The Ankh? The ancient Egyptian Warrior? The Wiz? Reginald Van Helsing? I knew that one! Gene was being clever, and probably all too aware of possible contractual obligations . Adding to the confusion was the obvious effort on the part of Gene to throw record comapny legal hounds further off the path by crediting additional backgrounds to "The Boys". What is all this? Someone explain! Of course nobody did then, nor ever, and this record has been relegated to mystery status for myself since day one.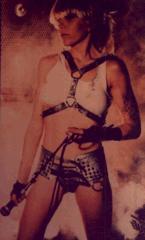 Now for the music. In spite of all the low-key activity that surrounded this record, it is largely forgettable. A majority of the songs are weak. Wendy's voice is severely limited. Gene's production is a second rate Screaming For Vengeance by Judas Priest, geared for heaviness, forsaking all nuances. The upshot is that this all made for a kitsch classic, something to throw on to laugh, and/or annoy your mate. In preparing to write this column I have listened to this album quite a bit, and often in front of my fianceeŚ. While the wedding is still on, things have changed. Only kidding! She too has enjoyed the record for its good points, like "It's My Life" and "Thief In The Night". She has also almost split her side during "Priestess", where Wendy O Williams informatively sings "I'm a psycho, a piranha, I'm set for the kill." There is a lot more to covered about this lost Kiss album, so below is my track-by-track analysis of WOW. If anyone out there reads this who has additional information, or was perhaps even involved in the recording of this album, please contact me.
WOW begins with "I Love Sex and Rock and Roll". A mid-tempo song, its drum intro immediately lets the listener know who was twisting the knobs. The drum sound is similar to the one found on Creatures, but slightly inferior. I have often wondered as to whether or not a drum machine was used on this tune; the tempo feels mechanical, alaŚ "Rise To It" on Hot In The Shade. Unfortunately the ultra-bombastic mix hides any additional hints. The main guitar riff features three chords played almost identically like the beginning of Donna Summer's "Hot Stuff", but slower. When the vocal starts, Wendy is singing a lot like Gene, and covering his favorite subject matter. The effect is very Kiss-like! There is change that occurs in the middle and fade out of the song that is a derivative of the middle part change in "Only You" on (Music from) the Elder . Gene must love any riff that repeatedly alternates between the notes G and open E; This combination first showed up in "Only You", got modified for "I love Sex...", Filled a space in "Lonely Is The Hunter" on Animalize, and was also featured in "Nasty Nasty" by Black -N- Blue, (which overall was a prehistoric version of Revenge's "Domino") Phew! Talk about getting mileage out of a riff!
Round Up: Co-written by Gene. Song is Kiss-like in riffs and subject matter. Gene probably sang back up in the gang-style choruses.
Lost Kiss Rating (scale of one to ten) - 7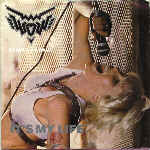 A drum intro (these are all over this album, you'll see) begins "It's My Life", the one and only single release from WOW. It is no surprise that this one was chosen as an attempt to sell the record by way of radio and video. It is head-and shoulders above the rest, thanks to it's writers, Gene Simmons and Paul Stanley. It was originally intended for their own band as well. It was worked on during the early stages of Creatures of the Night, and eventually considered for Asylum. "It's My Life" is a Kiss anthem of the highest order, and boasts the dominant band philosophy of independence proudly:
"I got a reputation, people know who I am. Rules are made to be broken; you can't kill what you don't understand."
It also serves as a great period piece for Kiss followers. The pre-chorus of "Been to hell and back. I've survived and that's a fact" is emblematic of the time it was written. During the early 1980s (specifically Creatures and Lick It Up), Many of Gene's songs had lyrics that indirectly spoke of the struggles that the band was having internally and externally. Songs like "Saint and Sinner", "Dance All Over Your Face", and to an extent "Rock and Roll Hell" show us what the Demon's spirit was like at the time: strong as ever, but on the defensive. So much was going down with his love life and band. The fighter in him was still alive, but he needed to remind himself a little more.
So what else does "It's My life" have going for it besides clues for psychoanalyzing Gene's state of mind at the time, its writers, and its attitude? The choruses- they're classic Kiss-style anthemic sing-alongs. I believe I hear Paul Stanley in them- it's not that easy to be sure, since the choruses are many-voiced, like "Shout It Out Loud" and "Rock and Roll All Night". And there's the solo- it is a memorable one, and could have been played by any Kiss guitarist.
The demo I have of this song with Gene on vocals is nearly identical to Wendy's version. In fact, She is the only major difference. Every thing else sounds the same. Perhaps the version on the album is the demo, modified and with a different production. Why not? It was done with another song on this record (more on that later).
Round Up: Gene on bass, probably on backups. Written by Kiss members. Song may be part of original demo. Kiss-like in subject matter and sound.
Lost Kiss rating - 10
By the way- Does anyone remember the video for this one? Anyone have a copy? I saw it way back when on USA Night Flight. I remember Wendy parachuting in it (it's her life). No Kiss cameos, though.
The final strains Of "It's..." make way for the bombastic "Priestess". This one is co-written by Vinnie ("This isn't music, it's an invasion") Cusano, and has his sound and style all over it. The guitar in the verses and solo is his Jackson V, no doubt. The main riff is pre-Metallica state-of-the-art metal. It's big and simple, and kills you with its weight and technique as opposed to technicality. That is, if the lyrics do not make you come apart first- the words to this one are nothing but a proclamation from Wendy O Williams on her "Priestess" status. They are funny-as-hell. They also adversely affected the song's rating.
Give this a listen, though. Fans of Vinnie Vincent rhythm guitar riffage with find another link in his songwriting chain somewhere between "Killer" and "Boys Are Gonna Rock". The bass guitar becomes audible for the first time on this record towards the end of the song, with Gene playing some great fills.
Round Up: Bass guitar by the Man of 1,000 Faces. Back-ups from about 100 guys, and I bet one of 'em is named Gene, and one Vinnie. Sound and mix on this one is very similar to that of Lick It Up.
Lost Kiss Rating - 6.5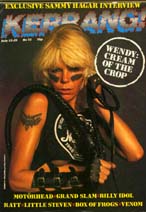 The next song starts with all of the instruments pounding in sets of double hits, like knocks. The song opens up, letting in "Thief in The Night" in its original incarnation. Between this and "It's My Life", are you beginning to get the idea that Gene spent the '80s trying to find places for every musical idea he ever had, twice?
Anyway, I have always favored this version. First, I prefer the tempo. Wendy's thief runs faster, and rolls into its choruses, stealing the pre-chorus of it's impact and distraction (which was highlighted on Crazy Nights). Second, the choruses are delivered staccato (less singing, more shouting). This makes for a looser, rougher feel. This thief is a blue collar one, bumping off laundromats. Gene's thief is a white-collar, blue-chip fund stealing type.
If I may elaborate, and I think I should after that comparison, Kiss's version of "Thief in the Night" is definitely better musically, but fails in feel, where the WOW version robs (punny, honey) the glory. Finally, I heard this one when I was twelve, and it's arrangement is inextricably tied to my development as a person.
Round Up: Electric Cello by Simmons, Back ups Kissed. Co-written by the Demon, too. Eventually got to be a Kisssong proper.
Lost Kiss rating - 9
The next song on WOW is entitled "Opus in Cm7", and is the most unlike Kiss tune in the whole pack. A relatively tender (as in getting kicked in the groin and applying an ice pack) ballad, this song is actually quite nice. It is readily apparent that Gene earned most of his pay for producing the album here; nailing the vocal parts must have been challenging. The results are worth it however. "Opus.." is a good song that has the best sound on the record. The use of piano is effective, as it easily flows between the dynamics found here.
Not much on the Kiss side of things , besides Gene being at the helm and probably playing bass. There isn't even background vocals!
Round Up: Gene's automatic qualifiers of playing bass and being producer.
Lost Kiss rating - 4
Are you ready to rock? I am not referring to the Vinnie Vincent Invasion's promotional slogan for their first record. I am asking you because in the next number "Ready to Rock", Wendy says she is, and wants to know if you are. I'm just trying to save you from an embarrassing situation. Starting off with some distant-sounding guitar tomfoolery that sounds a lot like helicopters, a drumbeat comes in and her priestess starts singing.
The riff in the verses is heavy, and was probably played by none other than Paul Stanley, who is credited as playing rhythm guitar on this track. I think the leopard print BC Rich is audible. However, I have studied this song for years, and still cannot determine what exactly was his entire contribution. For instance, there is a simple, under five-note lead in the beginning that is similar to the one in "I Love it Loud" that he played, and could in his sleep. Did he play this part too?
"Ready to Rock" is a halfway decent song with absolutely monstrous drums. When it comes to production, Gene's strength definitely lies in getting huge drum sounds. Let's hope he uses this talent on the reunion album.
Round Up: Bass and backups by Evil Incarnate. Guitar by Paul Stanley (Young Doctors in Love, The Return of Bruno), and perhaps some vocals. Song's subject matter not too far from Kiss, and neither is its sound.
Lost Kiss Rating - 7
The next song starts with a drum buildup (I am not kidding!) that soon has the main guitar riff warming up over it. With an "Uh!" from Wendy "Bump and Grind" gives us on an inquisition and offer from the reform school girl.
"Got a bangin' in my soul from the heavy rock and roll, do you want to bump and grind with me?"
And then an offer with alternatives:
"Let's do it in the sheets, let's do it in the streets, do you wanna bump and grind with me?"
This song is steamy stuff. The back up vocals sound like a march to a Roman orgy. Wendy never stops asking questions until the end, where she forgoes using words to express her feelings, and emits a primal scream. A cousin of "Deuce", the yell sums it all up. Line up, boys!
Now onto the guitar. The whole song is not entirely dissimilar to Kiss, but not really something they would use. The lyrics are much closer to their league. There is something about the solo I would like to mention: it is played by Ace Frehley! I do not know how or why, when or where, but the then lost in limbo Spaceman laid down one his most blistering leads ever, right here in the middle of obscurity. It is classic Frehley in composition, starting low, going high, then flying off into a fadeout. How did this come about? Was "Bump and Grind" a Gene demo from an earlier time, intended for the rock and roll album that Kiss almost made before going artsy with (Music from) The Elder? Did Ace just stop by the studio? In any event, this solo is the only commercially released work from him between 1982 and 1986. It also is notable because it was the only time in history that new Ace material (term used loosely) was featured along side new Vinnie material on a record.
Round Up: (Yell like Paul Stanley) ACE FREHLEY ON LEAD GUITAR!!! Gene producing, and adding to the Roman backups. Song talks about the old in and out.
Lost Kiss Rating - 8.75 (Ace is a major factor here)
For the next song, Gene doesn't merely reach into his bag of leftovers, he throws Wendy in, shakes it up, and makes "Legends Never Die". You may know by now that this one was tried for Creatures of the Night as "When a Legend Dies". Apparently it got pretty far along too: this incarnation is largely comprised of basic tracks laid down by Kiss.
First the drums. Eric Carr makes an appearance on WOW by default, since his parts on the skins (and vocals) are utilized. Various reports have the Fox on bass, but he is not credited in the liner notes. Given his contribution on the four string to "I Still Love You", it is certainly possible. Regardless, a Kiss member played anyway. Eric's drumming performance is excellent, and adds a tremendous amount of depth to the song overall. I love his part during the solo. His Creatures sound is fully evident.
The background vocals are well-done, and are carryovers as well. Eric and Gene are both clear to hear. As for the lead, Wendy's delivery is basically an effort to emulate Simmons. The song's topic once again takes us to the "fighting to regain lost ground" category. Remember what I wrote earlier about Gene using his ideas again and again, anywhere and everywhere? Note the lyric "Tuesday morning, New York Times...". It is astoundingly similar to a line in "Childhood's End" from the unreleased Carnival of Souls- "Monday Morning, New York Times. I read you died last night".
Round Up: (Yell like Paul Stanley) ERIC CARR ON THE DRUMS!!! Gene or Eric on bass, and both supply lush backups. Acoustic guitar is from the original demo. Gene wrote the song. Gene at the helm!
Lost Kiss Rating - 9.5
Drums kick off (I couldn't make this up if I tried) the album's final cut, "Ain't None of Your Business". Although a filler tune, it is Kissish (I am sick of typing Kiss-like) in many ways. This song, (which is similar to Peter's ultra-'70s Destroyer outake in name only) covers all "Kiss101-leave me alone" territory, such as dressing the way one wants to, and not following anyone's advice. This song is bucking-authority-by-numbers. It is co-written by the "Wiz", Vinnie ("Bobby Rock looks like a cross between Paul Stanley and Rambo") Cusano. I think he added some guitar as well, on the rythmn front, and the fadeout lead.
Round Up: Vinnie co-write. Gene responsible for equalizing the sound. Distinct possibility of both singing backgrounds.
Lost Kiss Rating - 5
Overall Lost Kiss Rating for WOW By Wendy O Williams - 7.8
*WOW was Gene's first outside Kiss production job, not counting the ill-fated Virgin record in 1978
In Short: Those Four songs on Killers- Are They Good?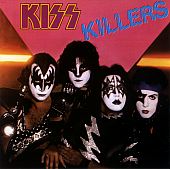 Years before the trend hit of bands including new songs on greatest hits albums, Kiss put four newies on the overseas Killers compilation in 1982. This was weird- the band was hard at work on a new full-length album, and looking for a replacement for Ace. The release was probably the product of Phonogram trying to stop the damage caused by (Music From) The Elder, to remind people of the good old days. Whatever the reason(s), Kiss fans got four new tunes and a cool Elder-era album cover when picking this record up. Since the record did not come out in America, and was really just a greatest hits album, the four songs are easily overlooked. The following is my fast-track analysis of the only four songs that can call Killers their true home.
"I'm a Legend Tonight"
This is a great song, and has been one of my favorites since 1982. Paul sings in his lower register to great effect. I suspect the use of a drum machine- the track is very simple and mechanical. It could also just be a scratch track. The roots of the live version of "Lick It Up" are here in the verses. The solo is a rare a riff/lick trade-off similar to "What Makes The World Go 'Round" on Unmasked. It's very clean sounding - and there is not another song like it in the Kiss catalog. Classic Paul Stanley.
"Down on My Knees"
This is not one of my favorites, but has a great bass line (Paul? Eric? Gene?). Was a drum machine used here too? Sure sounds like it. Paul's voice is too strained, but it points to his growth as a vocalist, with this performance falling right between his lower-range earlier work and the future's higher-pitched, more nasal style. Why the my instead of your in the title? He says your more...
"Nowhere To Run"
Awesome song. No drum machine! Paul sings his head off, and there is also that great falsetto part in the center. This is a really well-done song.
"Partners In Crime"
A true oddity. I like this one. It's not as immediate, but follows "Nowhere..." well. This is definitely a different type of Paul song. Does everybody have a copy of this from the 1989 radio station only promo First Kiss, Last Licks? If you do, you will note that it is not quite the version found on Killers. The drum track was replaced by another programmed one, the bass was brought out much more (and possibly augmented), and there is some different guitar work. Was this revamped edition intended for Hot In The Shade?
In closing, why were all of the songs done by Paul? Where was Gene? They should have contributed two each. Although they are not the strongest, these songs are canonical, and notable for many reasons. Give 'em a spin!
---
So This Wasn't a bad Idea!
Thanks to each and everyone of you for your readership and commentary. The '80s live! The response was enormous. And the subject matter-excellent! From Paul's boots during Destroyer, to the achievements of Eric Carr, It has been wonderful. There will be a boot variation article down the road.
I am sorry for the delay in new issues- I think that right now the Vault is going to open every two months. I am in the middle of launching a fanzine about Cheap Trick, and finalizing my wedding plans for August of 1997 ("Then She Kissed Me" will definitely be played!). I know what it is like to wait for something to get posted, so as a consolation, I am giving away 10 debut issues of One on Four (the 'zine). Answer the following question correctly at ONEONFOUR@aol.com and you'll get one.
What is the name of the band Ace Frehley was in prior to Kiss that recorded an album that never saw the light of day?

What have you been listening to?
For the last two months I have been watching any Creatures- era footage I can get my hands on and enjoying the sound I think the band was super-tight then, and played everything intensely. Watch "Cold Gin" from Rio and see what I mean. I also have been fascinated by the Egyptian Warror motif (hint, hint).

Original work (c) 1997 Ron Albanese. All rights reserved.
---
Photo Note: ALL photos (except KISS Killers) come directly from the Plasmatics/WOW Website. For more information about WOW and the Plasmatics the KISS Asylum encourages all to visit the Plasmatics/WOW Website. Special thanks to James Lewis, the web master, for allowing us to use these great picts! =)
---
All commentary: ONEONFOUR@aol.com