KISS Thought Vault: Issue #7
---
Peter Criss: Out of Control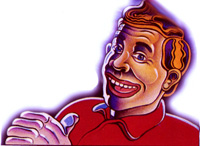 Consider Peter Criss' Out of Control album for a moment- has it really been eighteen years since its release? It seems just like yesterday that the music world and fans alike received this great big saucer of milk from the Cat. Perhaps a look back at the solo artist's runaway success story would clear things up. I hired a well known journalist in the Kiss community, That Creepy Reporter, to provide the lowdown on Peter's solo career. Let's see what he came up with.
Out of Control is released the world over. Polygram International launches a "Who is This Man?" campaign that gets major press attention for Peter Criss and his first post-Kiss album. The reflective and optimistic "By Myself" is culled from the ten-song collection as a single, and goes top ten in America, Italy, and Australia. In Japan, Casablanca/Mercury opts to release the equally future-looks-bright rocker "My Life," which goes top 15. On tour in the Land of the Rising Sun, Billy Joel hears the song and reportedly states, "I don't care what you say anymore-this is 'My Life!'"
1981: With Out of Control (referred to mostly as OOC forthwith) sitting pretty on record charts worldwide (the hostage-holding Iran can't get enough- they release four hostages for every carton of OOCs the United States sends them!). Peter commences the Out of Control World Tour. The first date announced is at the Palladium in New York City, U.S.A., which sells out in minutes. The whole road jaunt is sponsored by Coppertone, whose model Debra Svensk is now Peter's wife. "It's the perfect scenario," says Criss The stage's centerpiece is a giant jukebox that during the concert's finale (album title cut "Out of Control") rises up from underneath the stage. Its top flies off and dancers come out of it, twisting wildly while dodging flying records from the exploding centerpiece.
Members of Steely Dan decide to postpone their never-ending tour for their sleep-rock hit album Aja just to back up Peter on this song in concert, which bears a striking semblance in part to their own "Ricky Don't Lose My Number."
By popular demand Peter extends his OOC tour. Australia responds favorably to the now truly whiskered one. Throughout the tour Criss patiently answers questions from fans and reporters about his old band Kiss. the drummer/singer frequently responds that "Kiss is family, and they'll always be a part of me."
The Kiss Army is now the "You Better Run Raiders." MTV supports Peter Criss aggressively, and he responds by making one the most ambitious videos ever, for "Words" in which he engages in unique choreography with over 20 dancers and calls it "Break Dancing." The drummer is barely recognizable in the short film, having donned all types of makeup and prosthetics to appear to be a werewolf. OOC's sales truly are at this point, and top 20 million world wide. Gene Simmons of Kiss (who has been living in relative obscurity) shows up backstage at a show at Radio City Music Hall in New York.
Peter Criss performs "By Myself" at the Live Aid Festival in front of the biggest concert crowd in history. This show-stopping rendition even eclipses a reunion by the surviving members of Led Zeppelin! As if to add insult to injury, Criss declines on an offer to join Page, Plant and Jones on stage, reportedly saying to the three Zeppers, "Let an unknown obscure solo performer play with you- how about Phil Collins?"
Peter takes some time off from music to write his life story, entitled "Some Sure Can Do It, and Some Wish They Could."
Out of Control- the Collector's Edition is released, a remastered version of the original album that contains four previously unused takes of "By Myself." Interest in the album increases again, and Peter, whose time off has made him nostalgic about the early part of his career, implores Mercury/Polygram to re-release all of Kiss' albums. Because of Criss' international stature, they do, but begrudgingly, since they feel there is little or no demand for the albums. However Peter thinks the discs deserve to be available again, stating "That's where I got my start; those albums deserve to be heard."
While filming an acoustic performance at Sony Studios in New York for an MTV Unplugged special (where he sings "By Myself" with a 20-piece orchestra) Peter hears from ex-Kiss mate Paul Stanley. The performer invites him, Simmons, and original Kiss lead guitarist Ace Frehley on stage for a grand finale of "Tossin' and Turnin'." Could a reunion be in the works?
Mental Note: Sheesh, that's the last time I hire that guy. No wonder he was so anti-Kiss on the Unmasked album cover! He wanted to see Peter leave the band.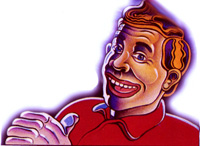 In spite of the creative rundown above we all know Peter's career didn't exactly transpire in such a successful. manner. From 1980 to 1995 Peter was confined to being a blip on many a Kiss fans' radar. But I can't fault the Creep Reporter for taking liberties in reporting the truth about Peter Criss solo career; if one takes the time to research the OOC era (which according to my estimates is all of two months) it almost becomes impossible not to soak up some of the enthusiasm the drummer had at the time for his music and life in general. Although he has gone on record as depicting himself as quite the chemical dependent man at that point, in interviews he appeared to be more focused than ever before or since. Simply put, Criss revealed an inner energy that never seemed to surface in the hustle bustle world of Kiss in the 1970s.
There are many reasons. For one, the album did not receive a major push from Casablanca, who by that point (late 1980) was really the Mercury/Polygram conglomerate in disguise. In addition, Kiss was still on the cusp of international stardom, and the collective company's money was on the three who were two, plus one who would find another one to be four.
For two, Peter's 1978 solo album received a lukewarm response from Kiss fans, general record buyers, and critics. Although this was more or less a reflection of each member's popularity and the success of a certain single ("New York Groove" made Ace's sell more than it would have- Paul's disc certainly would have sold as much as the Void enterer, if not for this fluke hit) there was not much else to go on to enthuse record execs to rally around the Cat.
Finally, I know what you thinking, and forget it. The successes of "Beth" and even "Hard Luck Woman" didn't mean much in the wake of Kiss solo album fiasco. While those two songs did astonishingly well, the solos helped to initiate the downfall of what was a major record company just twelve months earlier in 1977.
In the final analysis, perhaps the only major source of enthusiasm about Peter's solo endeavors stemmed from the man himself.
Well, how about the album's music? In general, Out of Control is a decent album, but mostly for Kiss fans only who like to round out their collections of their favorite member's output. Others who heard or hear the long player may like some of its moments here and there, but by and large it is too disjointed to sustain significant interest. OOC is a lopsided affair; it is stocked with light-as-air ballads, hard rock throwaways, and everything else in between. This disc also suffers from a touch of the "ex-member on the loose syndrome." There's no main vision here, just a confusing batch of music put together under a title. In the end, and in the end, yes in the end, the Out of Control album has no clear-cut direction. It's material is too scattered on the musical landscape. There was only one Faith No More for a reason, after all.
In all fairness to Lydia's ex-husband, who knows- perhaps he was pressured by the Casablanca, Mercury, Polygram, Glickman/Marks, and Aucoin contingents to have some rock numbers on the record as an insurance policy. Maybe there was a contention somewhere that when word got out that Criss still rock and rolled at least some of the night, sales would increase as Kiss fans would show their support.
I did not buy Out of Control when it was first released. My fanship of Kiss drove me to side with the band at that point. While Unmasked didn't kill me, there was a glimmer of hope with the group's acquisition of Eric Carr.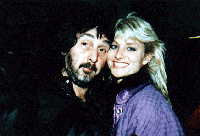 Obscurity is not so bad with the right person
---
In early 1981, while taking a break a break from shoplifting Zany Zappers (by Tomy- remember those?) I bought Out of Control for all of $2.99 at a local Bradlee's. So, while other kids were blasting AC/DC's Back in Black on their boomboxes, I was often in my room trying to like this album with the strange cover. It never really happened- Unlike "Tossin' and Turnin'," on Peter Criss, there was nothing among this collection to make me grab the old tennis racket and jump around.

The Turnaround

Through the years I began to increasingly appreciate the Peter side of Kiss I still had my copy of OOC (pronounce ebulliently, like ("OOK"), but now I was short a record player. A friend gave me a cassette copy of the record, and this time around I liked it much more. "Feel Like Letting Go" stood out as lost gem of a song; an epic heartfelt tearjerker worthy of a few hundred listens. I'll rave about it later.

When I learned in early 1998 that OOC (why is it that we fans will not hesitate to acronym-ize certain Kiss album titles [COS, PC, COTN, LIU, etc.], but will not do it with others? Does this phenomenon point to a subconscious caste system that we employ in our collective Kiss Army minds? We never seem to call Love Gun "LG", or Unmasked "U"...) was finally to be issued by the gods (ha ha) at the MolySam/Jerkcury label. I was happier than Vinnie Vincent during a guitar solo. One of the Kiss canon's long-lost albums would finally be readily available for purchase, permanently elevating it past White Tiger (roar) and Balls of Fire (ouch) status.

Over the last five months I have listened to OOC quite thoroughly. I have forced it on others, and even made Byron "Raise Your Glasses" Fogle jam on a couple of its songs from time to time. At the risk of losing all credibility (I'm sure) I want to go on record (get it?) and state that I feel Out of Control is an album not only worth having, but listening to again and again.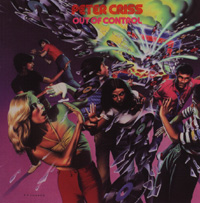 The following is a track-by-track walk through of one of the Kiss catalog's most forgotten and ostracized albums, Out of Control by Peter Criss.
By Myself
Peter Criss began his official solo career confidently and optimistically, armed only with his voice. A prominent acoustic guitar and an orchestra backed him up, in this song of renewal that has the beauty of "Beth" and sincerity of Cat #1's "Blue Moon Over Brooklyn." It also has a great hook; this song is definitely worthy of mention when discussing the Kiss and related hits that never were. Peter is vibrant and full of conviction that his was entering a new era, that this time he would be ready.
While there was not a promotional video for this song, during his Tom Snyder Show appearance Criss was shown sitting alone, against a black background as this track played from its beginning through the first verse. Some Kiss pictures faded in and out to the right of him as Peter sat still, but looked tense. He was really leaving Kiss behind. Upon hearing the refrain of "on my own," he seems confident about his new venture, and half-sings along with the song!
While "By Myself" definitely shares more than the letter "B" with "Beth," I feel it is superior due to its sincerity. Both songs do contain universal themes (love and hope), but in the former Peter seems to be more attached to the words he is singing. In fact, I believe that more than any other member, Peter has always injected the greatest amount of raw emotion into his vocal performances. Look no further than song one, side one of Out of Control for evidence. I must add that Gene Simmons' come in at a close second, with songs from his solo album, and even the '98 newie "We are One" proving that he has a soft side.
As much as I love "By Myself,", I do have one complaint about it: I don't like the flute part too much. It makes me think of H.R Pufnstuff.
In Trouble Again
This song is puzzling to me; why was it put on this album? I thought that in splitting from Kiss Peter specifically wanted to leave the hard rock behind, and in doing so the second track on his first outing is bad Foghat? Huh? What a mistake.
Think of it: you're a housewife in 1980. You see Peter on the Tom Snyder Program, and say "Gee what a nice man. His hair matches my kitten's. I'll buy his album. That 'By Myself" song sounds like it'll make me cry as I vacuum." You buy the purple platter, put it on, and by the second song you're furious, and don't even want to watch "Eight is Enough" that night.
That's the kind of scenario that happens whenever artists try to cover all bases with their records. Anybody remember Your Filthy Little Mouth by David Lee Roth? Although his hard-core fans loved it, most general rock fans dismissed it and the singer as a mess, a person adrift without a clear vision dabbling in different styles as an amateur, not a competent musician.
"In Trouble Again's" subject matter either covers big-rig truck driving or drugs; I am not sure; but I am slowly leaning towards the latter. It's been rough deciding, though; the lyric "I've been to New York, and L.A.'s twice as bad. Trouble will find me, it always has" is scary close conceptually to "We got a long way to go, and a short time to get there" or whatever that song was in Smokey and the Bandit.
Sonically, this number is a simple, unoriginal bombastic rock number that sounds like something Kiss would either have: 1) rejected (if Peter pitched it), or 2) recorded (if Gene authored it) around Rock and Roll Over. As a shred of a reason as to why the song made OOC's final cut, it should be noted the chorus riff is pretty Rolling Stonsey, and maybe that's what made Peter including doing it.
Gene Simmons Alert: Halfway through the second verse, Peter sings the lyric "There's always a key to get in" a lot like our favorite ponytail top merchandise salesman.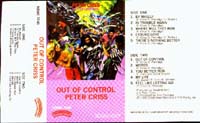 OOC on Cassette
---
Ringy Cymbal Alert: There is a crash cymbal that Peter used on this album ("Of course I use Zyldian. This is serious music."- Zyldian print ad, 1978-80) that overstays its welcome from time to time. Whenever it is hit (and lightly-it's Peter playing it!) it rings for way too long. Into other song parts. Past the endings. The Mother of all crash cymbals debuts eight seconds into this number, but really rings big time in 15th second of this goofy tale of trouble. Listen for it- it's all over this one. It eventually rings past the ending by four seconds. Talk about high fidelity.

In addition to metallurgy, the album's production is partly to blame. To my ears the sound is a little too "hot"- certain parts are too "up," or loud in the mix (check at the guitar and keyboard combo during "In Trouble...'s third and last verse; its piercing). While I might be inclined to cite microphone placement as the reason for all of this, I noticed that Peter's vocal performance suffers from the hot treatment as well. His parts are to prominent from time to time, sound above the songs instead of in them. This sometimes reveals his phrasing as being a little awkward. On the other hand Peter did not have that much full-time singing under his belt at this point, either.

Kiss-like Moment: The ending of "In Trouble Again" is straight out of Kiss Alive. Whenever I hear it I envision the original Kiss front line swaying to and fro in some type of choreography, with Gene grinning like, well, a Demon, Paul pouting and doing that 1975-76 shoulder move, and Ace on the verge of stumbling, barely keeping up. Imagine Paul afterward- "In Trouble Again! All Right!"

Where Will They Run?

Besides its title being in the form of a question (Creepy Reporter: "That's strange, Kiss had a song title with a question mark in 1980 too: 'Is That You?'" Ron: True, but don't forget Ace's "What's on Your Mind?") this third album cut introduces the middle ground of Out of Control:: soft rock. According to Mr. Crisscoula himself (on the Robert Kline syndicated radio program in 1981) this mellow rock number was inspired by Amarillo, Texas (Robert Kline show, 1980).

To these ears it seems more like it was inspired by a then-recent ten million copy selling album. With a crisp, tight sound, keyboard accents on a certain "G" chord, and subdued vocals in the verses, it's not hard to imagine "Where Will They Run" on Fleetwood Mac's Rumours. Yes, "Where..." is laid-back rock all right. While he's emulating Stevie Nicks' vocal style here and there (don't tell Paul Stanley), Peter also provides a Mick Fleetwood feel on the drums. The bass part (performed by Stu Woods? He's credited as one of the four-stringers on this opus) moves the song along nicely, and occasionally breaks free of the bottom end to add some blues and funk flavored fills.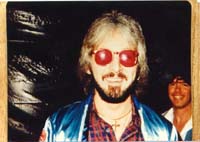 I got these glasses at a Devo garage sale!
---
There are some strange touches here, courtesy of synthesizers and saxophone. The sax adds a nice flavor, but it is way too high in the mix. As for the electronic keys, although Peter was attempting to leave his Kiss cat persona behind they won't let him, they emit sounds that suspiciously sound a lot like "meow".

In addition to the above, there are also some great Kiss-Isis buried in this track. In the short bridge parts that go "Here I am standing alone..." (note: the concept of solitude abounds on this album) Peter plays some tom fill parts like he did in many K(r)ices tunes such as "Got to Choose" and the pre-chorus of "Love 'Em and Leave 'Em."

There's one more Kiss-alike to listen for. During the tail end of this song's fade out, the then-country squire Peter sings, "I mean like we're doing a 100 miles an hour". Does that ring a bell? It should- it's also in "Baby Driver."

I Found Love

This song is not one of my favorites. Beginning with what sounds like a group of chickens clucking, there are some great drum parts that keep things lively, but not much else to offer to provide a saving grace. "I Found..." lacks the "Peter feel," and I think I know why: OOC's main producer David Wolfert had a hand in its writing. Evidence of a singer/song mismatch is clear in the form of the line "Since I found you" right at the start of the guitar solo. It comes off as though Peter snuck into a Huey Lewis recording session, barked (purred wouldn't work here, sorry) his head off and then bolted out the door to let the News guys finish up their audio litter.

On the Snyder program Peter described the music on this album as being "balanced with rhythm and blues; it's mixed." That's as good as any description for this winner. This high-spirited number is more along the lines of where I think Peter wanted to go: there are horns, abundant backup vocals, and even some old-style saloon piano along for the ride with the song's guitar, drums, and bass foundation. There are some great drum parts here, particularly toward the end, where Peter completes repeated refrains with a different fill each time. I must say, it is moments like these, and all of the ones on the entire Cobo Hall 1976 video that make Peter Criss my favorite Kiss drummer, now and forever. Perhaps he is a shadow of what he once was, and sure, there are thousands better than him on the skins, but he is a true pioneer in regard to style. He "introduced jazz-style fills into rock phrasing" (The Neon Glow fanzine, 1992) after all!

Mega fan Julian Gill has gone on record as saying he believes that that the original demo version of this song from 1979 is superior to the final edition, but I disagree. The original was a great blueprint for the final product, and has some different drum work (in the "'cause honey I love you" parts especially), but it sounds incomplete. Here, the song is flushed out with horns, great backup vocals (yes! Dig those harmonies!), and doesn't lose its intended feel.

Needless Fact for You: Along with such numbers as "Suite from Terror of Mechagodzilla," this is one of (activate slang now) me and my wife's theme songs!

There's Nothing Better

Here's another number Peter had for a while and presumably presented to Kiss for Dynasty, only to see it get rejected. It's easily obtainable in collector's circles in demo form, and was probably done during the same estimated 1978-79 sessions that also spawned the original "There's Nothing Better" and pre-Poncia "Dirty Livin'."

Out Of Control

Whereas those two songs were basically kept the same save for added effects when finally used, "OOC" was majorly revamped, given a feel that must have felt good to Criss, Penridge, and album producer Wolfert in 1980. However, today it comes off as sounding tremendously dated.

Although he is my favorite Kiss drummer, I am definitely not above acknowledging Peter's flaws which are unfortunately numerous (sigh). It's hard to track down, but it is somewhere around the second half of the solo (about 2:26?). the Catman slows down. Also, listen for a quick cover-up during the chorus out section after the solo. Right at 3:04, it sounds as though Peter almost forgot what he wanted to with his snare hits; he plays three in a row out of a four count before reverting to hitting the snare on the "2" and the "4" of every four beat measure for the rest of the song.

One more thing while we are here at the "Out of Control" exhibit: In the verses, listen closely to the guitar: doesn't it drive the song along, just like it did in Paul's "Kissco" hit "I Was Made for Loving You?" And how about the way the choruses end? Doesn't it sound similar to the way the choruses stop in "Strutter?" Huh?

With all this talk about drums, let me not forget to point out the piano part here. It is similar to "Ricky Don't Lose my Number" by Steely Dan. I am at a loss to try to figure out how that happened.

With all this talk about the piano, let me not forget to mention something else: this song has possibly the funniest sound effects on any Kiss or Kiss-related album ever. Weirder than that sound in the last verse of "Tomorrow," more prominent than the pseudo-x ray noise in the super throwaway "X-Ray Eyes," and funnier than the toilet bowl flush at the end of the studio version of "Hotter Than Hell," the "Out of Control" effect put on Peter's voice toward the end of the song makes the Kitty sound as though he's from Xanadu.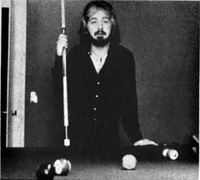 Peter's got balls
---
Overall, "Out of Control" has the highest camp factor of all of the ten songs on this same-named album. This one's a hoot on acoustic guitar, too. Trust me. Sing it like Alice Cooper. The main chords are "B." "G," and "A," with a slight change in the solo. Hey, those chords figure heavily into "Strutter!" Wait a minute....

Cool Fill: After the second "Baby you drive me" Peter does a familiar-sounding cow bell part.

Vocals-With-Too-Much-Gusto-at-the-Wrong-Part Part: During the whole song Peter sings furiously, but erupts with a "C'mon" after the first chorus that can wake the dead.

"Out of Control" truly is. With new wave effects, marching drum parts, inane lyrics, Steely Dan-influenced piano parts, funk guitar (remember the early '70s hit "Treat Her Like A Lady?"), and overwrought vocals, this song easily captures the first ever Thought Vault Highest Camp Award.

Words

This entry is an interesting mix: adult contemporary country, topped off with a slightly Phil Spector-like production in its middle. Somehow it succeeds. "Words" has dumb ones for sure, but they're sincere. Peter puts on a cowboy hat with his tuxedo here and goes for the wedding crowd in this mellow love festival.

As for his vocals, the mix again works against Peter's voice from time to time, but the good news is that the middle section gets my award for being currently my favorite instrumental section on the album. It's done up big time with sweeping instrumentation and tasteful drumming, that just may have been done with brushes in lieu of sticks. Speaking of drums, listen carefully at the end where Peter livens things up by alternating snare hits.

Great Fill: At 1:38 Peter just counts for a bit on his hi-hat- no triplets or double bass, just a simple and effective diversion.

That damn Pat Benatar! Around the same time our hero Peter reworked this classic, the then-hot rock chick did it up hard rock style and to great success. After that, I couldn't take this version seriously; it sounds like someone's grandfather trying to be hip.

Today, I still think it's incredibly corny, but has some merit. Firstly, remember about three years ago, when in my first-ever Thought Vault I wrote that "That's the kind of Sugar Papa Likes" features a derivative of the "Detroit, Rock City" beat? Well, there's another mutation here too!

You Better Run

Also, although he was riding with his new gig as singer of AC/DC in 1980, Brian Johnson apparently still found time to do a cameo here in the land of OOC. Okay, maybe not, but Criss' delivery of the line "you're not take my mind" sounds almost exactly like the hat-wearing screamer.

Do not misses the "yeahs" on this one, provided by some unknown backup singers. Man, there are some major Brady Bunch vocals on this one. You can see where I am heading with this- the camp factor is too high to resist. If you don't like to laugh, "You Better Run!"

Listen For: The whistle sound in the beginning of the solo. For about two seconds, it dominates the entire track! Oh, the horror!

My Life

Here's one that grew on me. This mid-tempo rocker's words read like a page from Peter's diary in 1980, with the dominant theme being the future, and how it is so bright, blah, blah, blah. If it only went that way....

"Don't You Let Me Down" from the green album gets revisited, or at least recycled in a way, as the verse lyrics all begin with a similarly sung "baby." Call me crazy, but the main guitar part and its sound are evocative of "Mainline."

This song was co-written by David Buskin, and whoever this guy is, his contribution is evident in the middle breakdown, which is too atypical to be from the Criss-Penridge cookie cutter. However, to get out of it Peter bangs out two quick snare rolls, that are identical to the ones he does in "Deuce." Take that, purists!

Feel Like Letting Go

The night is winding down. Valet parking is clearing out all of the cars, everyone has their coats, and a few people are still dancing to just one more song from the band. Peter is in one corner, sitting at a piano, with Stan Penridge leading the band.

"Feel Like Letting Go" sounds and feels despondent, like the unfortunate souls who are alone when a nightclub closes up. I would love to know what Peter's inspiration was for this song. It does not fit in with the rest of album's positive vibe, but earns it keep by being a fine piece of music.

From Peter's lead to the female backups vocals to the Beatles-esque guitars in the verses and melodic lead, this song is a suitable bookend to the album along with "By Myself." It's just what's inside that makes things confusing.

Too Much Gusto Vocal Parts: The lines "Ooh Baby, what keep us together?" and "OOOOOHHH Baby-he" are so raw you will see sandpaper in your mind.

Of course, after "Feel Like Letting Go" Out of Control is not totally over. Placed at the very end of the disc is a snippet of Peter singing "You must remember this: a kiss is still a kiss." accompanied by just a piano. Although he is quite out of tune, he sounds contrite fro leaving Kiss, like he knew in his heart that someday he would return.

The artwork is effective in spite of failing to cash in on one of the greatest marketing opportunities ever. Featuring faccia di Peter would have been an excellent marketing tool! It was conspiracy, I say!

Peter is credited with coming up with the concept, which in addition to early '80s people running away from a jukebox on the fritz features his second wife trying in vain to dodge an incoming 45 record. Unfortunately the disc looks to be about one second away from slicing her neck (sic).

For a an ex-Kiss member, the design seems quite low-key by design. Speaking of which, rumor has it that there was no official presskit for this album. Can anyone confirm/denounce this?

While it is common knowledge that Out of Control tanked around the world, exact statistics are unknown. I once heard that the album sold about 20,000 units in America, which would put it somewhere below dismal for 1980.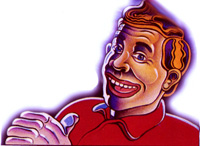 Why hasn't McFarlane made a figure of me?
---
People, October 20, 1980. This is the closing thing to a press kit you can find. There is information on Peter leaving Kiss and moving on toward domesticity and a solo career, not to mention great pix.

Circus., late 1980. A short article and photo.
Hit Parader, late 1980. They ran a small piece about the release of the album.
Robert Kline (syndicated radio), early 1981. A great 20 minute interview.
Tom Snyder Show (television), Fall, 1980. About 20 minutes.
Kiss Thought Vault, Kiss Asylum web page, 1998: a little late, but hey....

One more thing: late in the game (early 1981), Modern Drummer ran a cover story on Peter! Stay tuned to the Kiss Thought Vault for more on this holy grail for Peter fans!

Print Ads:

Were ads ever placed in magazines promoting this album?

Where else has the phrase "Out of Control" appeared in Kiss lore?

1) "Danger," 1982, Creatures of the Night

2) ""Good Girl Gone Bad," 1987, Crazy Nights

Hmm, you will note that both appearances came after 1980.

I hope the above essay results in getting at least some of you givingOut of Control a chance. The album contains a few well-done pieces of music, good singing, some interesting drumming, and enough high camp to make it well worth its list price as part of Mecurial's (look it up) "super saver" series or whatever they call it.

Do you have anything you would like to add to this material about Out of Control? Do you live in the Northern New Jersey area and would you like to jam on these and other rar Kiss-related songs? Any other comments? Mail me at ralbanese@webexpert.net. Special thanks you to the following people for providing some great scans: Mike Casale, Byron Fogle (real first name: Charles), and Steve Gerlach of the the Peter Criss Cat Club web page.

Next Time: Ron Repsonds, an interview, and more!

Issue #0: A Defense of the Peter Criss Solo Album
---
(c) 1998 Ron Albanese & KISS Asylum All rights reserved. Unauthorized use prohibited.
All commentary, negative, positive, or somewhere between welcomed and apprecitated. Ralbanese@webexpert.net