Brazil is the largest catholic country in the world!

This is from Metal Head (Brazilian Magazine) that talks a little about that show. I'll try to translate to you. Here it goes:

"Welcome to Brazil"

In 1983 Kiss was losing their popularity in the USA, so they realized they must go to somewhere they never were before and where they are still popular, so they came to Brazil. There was 3 megashows: First one in Maracana Stadium (Rio de Janeiro - RJ) second in the Mineir"o Stadium(Belo Horizonte - MG) The Third in Morumbi Stadium (S"o Paulo -SP)." "In the Maracana Stadium (Rio de Janeiro), 200,000 crazy fans In Belo Horizonte, there were 20,000, In S"o Paulo, 90,000.

These S"o Paulo Show was delayed by the rain, and in the show the sound wasn't very clear and for the first time Kiss played the same music twice in a show: People wanted the best, so they played "I Love it loud" two times in the same show. This music was played by the Brazilian radios even in AM frequency. There were Kiss photos in the outdoors and even television made a documentary on KISS.

Now let me explain something:

I don't know how the US radio works, but here in Brazil we have 2 principal frequencies, AM and FM: AM plays religion shows, news, and few world music programs, and FM plays the normal music, like rock, blues, dance, you know that kind of music, and it's true, in '83 I Love It Loud was such a famous song that even the AM stations played it. The television also every day told us something new about KISS. They say that Gene Simmons eat chicks. (Hey Byron here ha ha get your minds out of the gutter now he means chickens) They say that they are homosexual, (Byron again Um.. maybe he didn't mean chickens) and had a deal with the Devil.

I think "I Love It Loud" is the second most famous KISS song here in Brazil. The first one sure is "Forever"! Everybody knows that song! The girls love it! You know, if you have an acoustic guitar just play "Forever" to a girl and the girl will give you "everything"! (AHEM anyone have a plane ticket & know how to play Forever on guitar) "Let's put the X in sex" is also famous and sure "Rock And Roll All Nite"

August Poll Results:

| Rank | Song | Votes |
| --- | --- | --- |
| 1. | King of the Nighttime World | 8 |
| 2. | Goin Blind | 5 |
| 3. | Take Me | 4 |
| 4. | Rock Bottom/She | 2 |
| 5. | Let Me Go R&R/Makin' Love | 1 |
Member Who Gave The Best Performance
Rank
Member
Votes
1.
Paul
11
2.
Bruce
6
3.
Eric
4
4.
Gene
2
Rare song you'd like to hear live
Rank
Song
Votes
1.
Mr. Speed
6
2.
Strange Ways
3
3.
Almost Human/Love Her All I Can
2
4.
Hooligan/Getaway/Comin Home-1 Kissin Time/Let Me Know/Room Service/Christine 16/Then She Kissed Me/Flaming Youth/Two Timer
1
The Show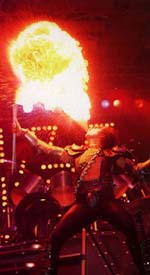 Ok Folks it's me again, thank you Paulo for those great pieces of Kisstory. Now I can back up what Paulo is saying because in the KISS cover band I was in we had a Brazilian guitar player named Helio (pronounced ELLIO or L-E-O-). Phonetics really suck when you're writing and don't know how do explain it. Anyway he always wanted to do Killer he said 'Guys I wanna play Keeelerr" (trying to type accent's also sucks) over & over did we? Nope but, we did Creatures of the Night even though I played the drumbeat wrong. Oh well, you can't do everything right. Anyway, he told us Brazilians love the Creatures album as much as you love (insert your most cherished possession here). Well, I hope you enjoyed hearing from someone who lives in Brazil and hope you all learned something so far. Also in between here whenever there is a newsclip interview it will be put in exactly where it runs on the tape. Basically when you read this it will be like watching the tape. The translations are brought to you by the hard work and dedication of: Gustavo Garcia Now it's time to do the review...AND I SAY WELCOME TO THE SHOW
Reporter: KISS! O KISS NO BRASIL! MARACANA, MINEIRAO E MORUMBI. PRA CHEGAR ATE AQUI, A BANDA ANDOU MUITO PELA ESTRADA. FORMADO EM 1973, O KISS E FIEL AO LEMA HOTTER THAN HELL, MAIS QUENTE QUE O INFERNO.
Reporter: KISS! KISS IN BRAZIL! MARACANA, MINEIRAO E MORUMBI. [the names of the stadiums where Kiss played]. TO GET HERE, THE BAND WALKED A LOT ON THE ROAD. FORMED IN 1973, KISS IS LOYAL TO THE MOTTO: HOTTER THAN HELL
COLD GIN - Gene starts this one off singing the wrong verse. He sings the 2nd verse instead of the "My heaters broke" line. Now I forgive him cause he's never ever messed up lyrics before. His voice really cracks a lot here and in other songs the Demon had major jitters and in front of 150-200,000 people who could blame him. The song itself is played very well and has a lot of oomph to it.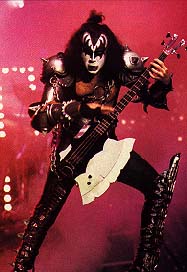 Reporter: VINNIE VINCENT, GUITARRISTA, 31 ANOS. EM SEU ROSTO ESTA A CHAVE DE YAN [?], O SIMBOLO EGIPCIO DA NOVA VIDA. ESSE E PAUL STANLEY, 31 ANOS, GUITARRISTA. ELE E O KISS ROMANTICO. USA BATOM VERMELHO E PINTA UMA ESTRELA NO OLHO ERIC CARR, BATERISTA, 31 ANOS. HABIL E ASTUTO, ELE E A RAPOSA DO KISS.
GENE SIMMONS, BAIXISTA, 34 ANOS E LIDER DA BANDA, E ELE QUEM DIZ: "SOMOS BARULHENTOS, SE ACHAR ALTO DEMAIS, VOCE ESTA VELHO".
Reporter: VINNIE VINCENT, Guitarist, 31 years old. On his face is the ankah key, The Egyptian symbol of the new life.
. This is Paul Stanley, 31 years old, Guitarist. He is the romantic Kiss. He wears red lipstick and paints a star on the eye.
Eric Carr, Drummer, 31 years old. Clever and astute, He is the fox of Kiss.
Gene Simmons, Bassist, 34 years old & leader of the band, He is the one who says: "We are noisy, If you think it's too loud you're too old"
A woman then talks to a reporter about her granddaughter or her daughter, not quite sure what her relationship is with the woman:
Woman: ELA E PEQUENA, ELA TEM 15 ANOS.
Woman: She's little she's 15 years old.
Reporter: E O QUE QUE A SENHORA ACHA DO SOM DESSE CONJUNTO?
Reporter: And what do you think about the sound of this group
Woman: EU ACHO BOM, MAS UM POUCO BARULHO, NE?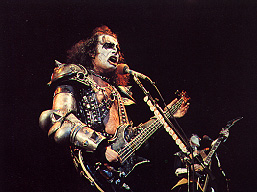 Woman: I think it's good but a little noisy
CALLING DR. LOVE - Gene forgets the 1st line now we know it's nerves and he not being the occasion forgetful guy we all know and love. His voice once again cracks throughout the song but Vinnie Vincent saves the song with a ferocious lead. You know whether personally he's a putz like Gene says or not, one thing you can't deny the Egyptian Warrior "Double V" was a pure asskicker on the guitar.
Then a reporter asks a question to a girl:
Reporter: QUE QUE O KISS REPRESENTA PRA VOCE?
Reporter: What does KISS mean to you?
But the girl says something I didn't understand. Watch it, you'll know what I'm talking about. (Byron-Ok I did it's harder than trying to understand the lyrics to Smells Like Teen Spirit or for any of you older folks Bob Dylan.)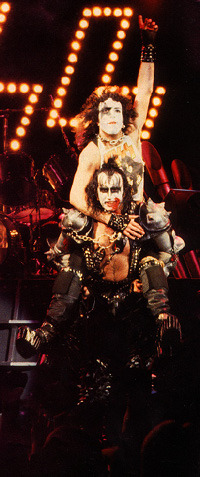 FIREHOUSE - Paul's first lead vocal of the tape. The funny thing here is the whole band is in full Creatures costumes but Paul is wearing a Creatures tank top odd huh. Guess he didn't like his studded tank top. This also marks the 1st time during their make-up years Paul didn't wear his outfit very out of image. This also is the first time he wore a Kiss shirt on stage. Gene followed suit in 1989 when he donned a Hot In The Shade shirt for almost the entire tour. As for the song they do it justice. Vinnie even does the first half of the solo like Ace but then shreds into his own solo.
I LOVE IT LOUD - Like I stated earlier, Brazilians love Creatures and to prove it watch them during this song. It's almost mesmerizing. The only thing I can think of to compare this to is if anyone reading this is a fan of Queen and knows when the fans all clap in unison during the chorus of Radio Ga Ga. It's kinda as mind-blowing as that. A weird echo happens towards the end of the song those who have this tape know what I'm talking about. The band also messes up right before the last crowd chant "AYE AYE AYE AYE AYE" but save themselves and do the chorus part one more time before going into the crowd sing-a-long part.
Then comes the interview with the band:
Reporter: COMO SE SENTEM NESSE SHOW AQUI NO BRASIL COM MAIS DE 130.000 PESSOAS ESPERANDO POR VOCES?
Reporter: How do you feel in this show here in Brazil with more than 130,000 people waiting for you?
Paul: MUITO, MUITO FELIZES E MUITO LISONJEADOS. QUANDO VOCE CANTA E TOCA POR TANTO TEMPO, VOCE SEMPRE QUER IR A OUTROS PAISES, E QUANDO ALGUEM TE CONVIDA PRA VER O MODO DE VIDA DE OUTRAS PESSOAS E TOCAR PARA ELAS, E MUITO BOM VER ESSA GENTE TODA.
Paul: Very very happy and flattered. When you sing and play for so Long , you always want to go to other countries and when somebody invites you to see the way of life of other people and play for them, it's very good to see all those people.
Reporter: PARA UM BOM SHOW DE ROCK N' ROLL E NECESSARIO TODO ESSE VOLUME?
Reporter: To a good Rock & Roll concert, Is all this volume necessary?
Gene: PARA O NOSSO TIPO DE ROCK N' ROLL E. TEM GENTE QUE TOCA GUITARRA ACUSTICA E QUE QUER FALAR DE PASSARINHOS E ARVORES. NOS GOSTAMOS DE CANTAR COM O BARULHO DE UM MILHAO DE PESSOAS GRITANDO JUNTAS. ESSE E O NOSSO ROCK E QUANTO MAIS ALTO MELHOR. SE VOCE QUER ALGUMA COISA MAIS SUAVE, FIQUE EM CASA.
Gene: To our kind of Rock & Roll it is. Some people like to play acoustic guitar and want to talk about the birds and the trees. We like to sing with the noise of 1 million people screaming together. This is our rock and the louder the better. If you want something sweeter, stay at home.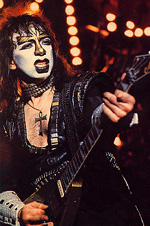 Reporter: VINNIE, COMO VOCE VE O PUBLICO DO BRASIL?
Reporter: Vinnie, How do you see the Brazilian audience?<-----(uh with his eyes)
Vinnie: ACHO QUE TODOS ESTAO COM A GENTE, COM O KISS. E ACHO QUE REALMENTE QUEREM O MELHOR. E E O QUE VAMOS DAR A ELES, O MELHOR SHOW QUE JA VIRAM.
Vinnie: I think everybody's with us, with Kiss. And I think they really want the best And that is what we'll give them, The best show they have ever seen.
Reporter: O KISS TEM ALGUMA PREOCUPACAO COM AS QUESTOES SOCIAIS E COM A POLITICA?
Reporter: Does Kiss have a preoccupation with the social questions and with the politics?
Gene: NOS APENAS ACREDITAMOS QUE AS PESSOAS TEM O DIREITO A UMA VIDA BOA, ACHAMOS QUE TODOS TEM QUE SE DIVERTIR ENQUANTO ESTIVEREM NESSE PLANETA, SO ISSO. A GENTE NAO LIGA PARA MAIS NADA, SO DAMOS IMPORTANCIA A AQUILO QUE SABEMOS, A CERTEZA DE QUE AS PESSOAS QUE VEM VER O NOSSO SHOW ESTAO NA MAIOR FESTA DO MUNDO.
Gene: We just believe that people have the right for a good life. We think that everybody has to have fun while they are on this planet. That's it. We don't pay attention to nothing else. We only give importance to what we know. We are sure that the people that come to our show are on the biggest party in the world. That's the only thing we know.
Reporter: E O QUE E ROCK N' ROLL PRA VOCE?
Reporter: And what is Rock & Roll for you?
Eric Carr: E SE DIVERTIR, SOM ALTO, MUITA ENERGIA, MUITO DIVERTIMENTO MESMO, FESTA, E ASSIM QUE DEVE SER.
Eric Carr: Rock & Roll for me is having fun, a lot of energy, a lot of fun, a party. This is the way it has to be.
Reporter: VOCES FAZEM SACRIFICIO DE ANIMAIS NO PALCO? POR QUE?
Reporter: Do you do animal sacrifices on stage? Why?
Gene: NAO FAZEMOS NADA DISSO, NENHUMA DESSAS ACUSACOES E VERDADEIRA. A UNICA COISA QUE FAZEMOS E TOCAR ROCK N' ROLL E POR NOSSAS LINGUAS PRA FORA.
Gene: We don't do anything like that, none of these accusations are true. The only thing we do is play Rock & Roll and stick out our tongues.
Reporter: VOCES TEM MEDO DE PERDER O CONTROLE DESSA MASSA DE GENTE?
Reporter: Are you scared of losing control of all these people?
Vinnie: DE JEITO NENHUM. TODO MUNDO VAI SE DIVERTIR, VAI SER UMA FESTA, UMA CURTICAO.
Vinnie: Oh no not at all. Everybody will have fun. It will be a party.
Reporter: VOCE SABE QUE 130.000 PESSOAS ESTAO ESPERANDO POR VOCE?
Reporter: Do you know that 130,000 people are waiting for you?
Answered in English no translation needed
Vinnie: Woo! Yes! What? No it's gonna be great Hi Rio! Hello.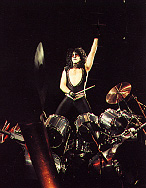 ERIC'S SOLO - Even just little clip of this solo shows what a Fox and his tank are capable of !!
WAR MACHINE - This is a very heavy version true to album form. Unfortunately for Gene his voice is still cracking. I wish I had a definitive answer for why maybe he was sick? Who knows?
Reporter: KISS, OS CAVALEIROS DO APOCALIPSE. DIZEM QUE KISS E O SEGUINTE: JUNTAR DOIS LABIOS E FAZER O QUE QUISER COM ELES.
Reporter: KISS, The knight of the apocalypse. People say that KISS is this: Getting together two lips and doing what you want with them. (Shows couples kissing)
BLACK DIAMOND - Eric delivers a great vocal performance here but it is cut short by the editing of the TV station that showed this special. When it cuts out it goes into the "new" ending of BD with all of them on the tank. Ron from the Thought Vault said it reminds him of "Come Sail Away" by Styx. We get 2 blasts on the right, 3 on the left, & 1 really big boom boom dead center. While all this is happening pyro is going off everywhere. How they came out of this alive is a miracle. Ironically the stage was a tank cause with all this pyro it looked like a warzone.
Then a reporter does an interview with a group of people:
Reporter: ESSA TURMA AQUI, SAO QUARENTA, VIERAM DE BRASILIA ESPECIALMENTE PARA O SHOW. VALE A PENA VIAJAR TANTO TEMPO PRA ASSISTIR UM SHOW?
Reporter: These people here, They are 40, They came from Brazil Especially for the show. Is it worth traveling so long to see a concert?
Guy: O NEGOCIO E O SEGUINTE. O PESSOAL TA AI, O GRUPO TA AI. SO FALTA LIGAR O SOM E O POVO DELIRAR.
Guy: That's it the public is here, the group is here. Now it's just turn on the sound and the people will go crazy.
Then a reporter does an interview with a boy:
Boy: EU GOSTEI MAIS DO VISUAL DO SHOW.
Boy: I liked the visual of the show more.
Reporter: E O SOM DELES, E BOM?
Reporter: And their sound, Is it good?
Boy: E.
Boy: Yes.
Reporter: VOCE VIROU FA DO KISS?
Reporter: Are you a fan of KISS now?
Boy: NAO.
Boy: No.
Reporter: NAO? VOCE NAO ESCUTA O KISS, NAO?
Reporter: No? Don't you listen to KISS?
Boy: NAO.
Boy: No.
Reporter: QUE QUE VOCE GOSTA DE OUVIR?
Reporter: What do you like to listen to?
Boy: EU GOSTO DE OUVIR BEATLES.
Boy: I like to listen to the Beatles.
Then a reporter does an interview with a guy:
Guy: BOM, DE VISUAL E BACANA, MAS ASSIM, EM TERMOS DE MUSICA NAO E MUITO BOM NAO, O HEAVY METAL DELES NAO E AQUELE LANCE TODO QUE O PESSOAL TAVA ESPERANDO, NE. MUITA GENTE NAO CONHECIA O ROCK N' ROLL DELES. EU JA CONHECIA ASSIM HA MUITO TEMPO, JA TINHA ESCUTADO DISCO DELES MAS NUM GOSTAVA, FUI MAIS PELO VISUAL E PRA VER COMO ERA O SOM DELES MESMO AO VIVO, NE?
Guy: Well, the visual is cool, But the music isn't very good, Their heavy metal isn't what people were waiting for. A lot of people didn't know their Rock & Roll I already knew for a long time, I already listened to their records But I didn't like it, I went to the concert more because of the visual and to see how their sound was live.
Reporter: E AI, VALEU?
Reporter: And was it worth it?
Guy: VALEU, NE. ENTREI DE GRACA, VALEU, NUM PAGUEI NADA.
Guy: It was I went for free, I didn't pay anything.
Then a reporter does an interview with a girl:
Girl: A MAIORIA DO PESSOAL QUE GOSTA DE ROCK MAIS PESADO ASSIM NAO GOSTA DO KISS.
Girl: Most of the people that like heavy Rock don't like KISS.
Reporter: VOCE GOSTA DO QUE?
Reporter: What do you like?
Girl: AH, EU GOSTO MAIS ASSIM AC/DC, LED ZEPPELIN, ROLLING STONES TAMBEM ADORO, RUSH, ESSES ASSIM.
Girl: I like AC/DC, Led Zeppelin, Rolling Stones I like RUSH a lot too, bands like this.
Then a woman answers a question:
Woman: OLHA, NAO E NADA DO QUE DISSERAM, ELES SAO FORMIDAVEIS.
Woman: Look, It's nothing like people told me, They are formidable.
Then a reporter does an interview with a pregnant girl:
Reporter: VOCE NAO ACHA QUE E ARRISCADO PRA VOCE FICAR AQUI VOCE ESTANDO GRAVIDA?
Reporter: Don't you think that it's dangerous for you to be here, being pregnant?
Girl: NAO, PORQUE EU VENHO ACOMPANHANDO O SHOW DESDE O RIO, FUI PRA BELO HORIZONTE TAMBEM, E AQUI EU ACHO QUE TA BEM MAIS ORGANIZADO.
Girl: No, Because I'm following the show from Rio, went to Belo Horizonte too, & here I think it's much more organized
Then a guy says:
Guy: KISS, EU ACHO QUE E UMA LIBERTACAO, TA ENTENDENDO?
Guy: KISS, I think its liberation, you know?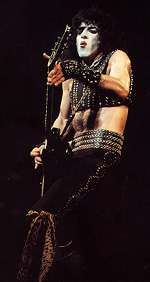 CREATURES OF THE NIGHT - You hear the intro of KISS so you know this was the opener if you didn't know already. It also show how cut up and edited this show was. It's given a killer performance here very solid and another great solo by Vinnie.
ROCK AND ROLL ALL NITE - Oh boy here we go again my favorite song. That weird echo thing that I talked about earlier happens again before the guitar solo. There's one point after the solo they shoot the crowd with the camera and comes back to the stage and the falling rain pyro start coming down fast and furious.
Now the credits roll but we're not done yet. One thing I have to mention is that in the credits they mention Love Gun but, it is no where to be found on this tape. Maybe it was to be included but cut at the last minute and the producer forgot to cut it out of the credits?
News reports follow as well as a great clip of God of Thunder but it's not worth going into detail cause they don't show the whole song. Now here comes the fun part of watching this video in order these are the people you will see:
1. A really sweaty guy with an African hunter type hat.
2. A guy with big-nose glasses and a clip on doll that Eric steals
3. A guy with a big Afro and a really white tongue. (Try water it cures dry mouth buddy)
4. A guy singing I Was Made For Loving You horribly out of key
Now the band gets a really interesting thing, a Gold record for Creatures of the Night. It's literally a gold record in a cheap glass frame that you could get in your local K-Mart during a Blue Light Special. Next up really bad music sounding like Menudo plays in the background while they show some of the Brazilian KISS fans. Next up is the Dazed & Confused element of Brazil
1. 2 stoned fans trying to sing Killer & I Love It Loud
2. 2 drunk fans singing I Was Made For Loving You
(I'm embellishing a bit I have no proof they were stoned and or drunk but it makes for good copy)
One thing I don't know this can fall into the one of these things are not like the other category from the last Spotlight. What's with the dangling piece of cold cut (Salami, Ham whatever it is)? Ok now really here is the best this is my all time favorite thing on this video The crying woman singing!!! HA HA HA You know she would be a great opening act for KISS on the Psycho Circus tour!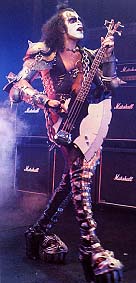 Last but not least this video ends with the return of the sweaty guy but he's reformed. He's dancing to I Love It Loud but someone's hand come through the window and steals his radio. Now I have a final thought. If this guy's hands weren't so sweaty maybe he would've had a better grip on the radio and he might've still had his radio. What do you think??
RATING OF RIO 83
This video unfortunately is the only pro-shot footage of Creatures but I know of an unreleased show from Canada that hopefully will be released in the future. There is a handheld from Ottawa Canada but it's only 60 minutes, it cuts out and is a bit shaky. So being with all that I've said here I'd give this video an 8 for set list, playing, and all around interesting stuff that you never really get to see. Overseas treat KISS differently in that there is much more coverage when they play there so naturally there's more footage.
Thanks for reading this I can't believe I typed this all in one night! Thanks to coffee, the Creatures Of The Night CD, the Irvine 11-1-96 video playing in the background they all kept me going.
Now a huge round of applause for my two buddies who helped me out
Paulo Eduardo Sampaio- for all the facts supplied in the beginning of this issue!!
Gustavo Garcia- For all your hard work in translating this whole tape for all of us to enjoy & a big thanks also to his dad who helped out Gustavo with some stuff he wasn't sure of.
I'm eternally grateful to all 3 of you for helping me complete this.
'Til next month
See Ya,
Byron
---
KISS Video Spotlight (C) 1998 KISS ASYLUM
---
---