Click Above For Info On KISS Nite At The Ball Park II
---
July 31
---

KISS To Play "Detroit Rock City" Premiere Party
From: Entertainment Weekly & Gerri Miller
Gerri Miller, of the Metal Edge Metal Wire, reported to KISS ASYLUM that KISS is planning on playing live at the August 9th Detroit Rock City premiere party bash. According to the August 6, 1999 issue of Entertainment Weekly (page 14), this will take place at UCLA's Lot 32 (with the actual screening of the movie happening at Mann's Village Theatre). Gerri reported that KISS is planning on playing about a 30 minute set and that Everclear is scheduled to perform a couple of songs, with Cheap Trick joining in.

"Today Show" Appearance Cancelation News
From: Gerri Miller
For those wondering why KISS' appearance on the Today Show was canceled, Gerri Miller informed KISS ASYLUM that, "It was apparently due to logistics. Since KISS had to be in LA for the presentation of the star on the Walk of Fame, along with playing at the DRC Premiere party, they just did not have enough time to pack up all of their equipment to play in NY on the Today Show."

Cinescape Online Reviews "DRC" Movie
From: Cinescape Online via starchild@hin.ch
"Darth Maul, Austin Powers, Tarzan, John Travolta, Julia Roberts, Cartman, James West, and killer sharks... What else would summer 1999 require? KISS. That's what we need. With all the teenager movies stinking up the multiplexes recently, the only relief is a film featuring the Knights In Satan's Service. Recalling Dazed And Confused and channeling Rock N' Roll High School, Detroit Rock City is a heaping portion of good fun. Filled to the brim with energy and acted by a cast of clever actors who probably can't even shave yet, this new music-packed comedy might just be what the doctor (Dr. Love, that is) ordered.... Detroit Rock City is silly and sometimes childish, but it never stoops to the constipated laughs of American Pie or the plain ugliness of other similar "boy" intensive teenage comedies. Detroit is often sharp, always silly, slightly tasteless, but a seriously rocking late summer film that makes up for the usual garbage that litters August. You wanted the best, you got the best.--------- 9/10"
Click Over To Cinescape to Read The Full Review

"Detroit Rock City" Soundtrack Review from EW
From: Doug Brod of Entertainment Weekly
In the August 6th issue of Entertainment Weekly on page 65 they review the "Detroit Rock City" movie soundtrack giving it a "B." It reads: "The soundtrack to this writer's youth mixes deathless dirtbag anthems like "Running with the Devil," "Iron Man," and "Shout It Out Loud" with covers ranging from why-bother (Everclear's "The Boys Are Back In Town," and the Donnas' "Strutter") to just plain strange (Marilyn Manson on the "Highway to Hell"). Highlight: the resurrection of Sweet's sublime glammy-gum "Little Willie." Low: the schmaltziest KISS ballad since "Beth."

Enter TNT Roughcut.com's "KISS Off Kontest"
From: TNT Roughcut
At roughcut.com August is Movie Music Month, so what better way to get it going than by giving you a chance to win some "Detroit Rock City" stuff? How about hats, T-shirts, posters and stickers? Winning is easy! All you have to do is answer some questions. We'll pick the winners randomly from those with the correct answers. Good luck! And, if you live in or around (of course, "around" is relative to how far you're willing to roadtrip!) Atlanta, GA, Nashville, TN, Birmingham, AL, Charlotte, NC or Raleigh, NC, scroll down past the entry form for a chance at FREE PASSES to the "Detroit Rock City" premiere in your area! Click Here To Enter The Contest & Get Your Free Movie Passes!
---
July 30
---

Gene Simmons Signs "Sable"
From: USA Today July 28, 1999
WWF wrestles name from Sable: Rena Mero, a.k.a. Sable, has settled her lawsuit with the World Wrestling Federation. Mero sought $110 million, claiming that the business had become "obscene and violent." Neither side will talk about the details, but Sable's husband, wrestler Marc Mero, said from the couple's Orlando home Tuesday: "We're very happy about it and glad to get on with our lives." Since signing the settlement Friday, Mero says, his wife has gotten four movie scripts, has made a deal with KISS' Gene Simmons and is in talks to re-create the 1985 Red Sonja movie character for a TV series. "She's been offered guest spots on everything from V.I.P. to Walker, Texas Ranger to Martial Law." Mero did not retain the rights to her Sable name and is not allowed to wrestle for three years.

Official KISS Magazine #2 from Starlog
From: K. Coughlin
I just received a preview copy of The Official Kiss Magazine #2 put out by Starlog and it it is chock-full of up to date info on KISS and their soon to be released motion picture "Detroit Rock City." The 100-page glossy mag, fully authorized by Gene Simmons, contains photos of the recent Psycho Circus Tour by KISS' own on-tour photographers and on the set clips from the "Detroit Rock City" film. Also, included is a conversation with Bruce Kulick and his relationship with his former band. The magazine is set to hit news satnds around August 10th, in time for the movie's release.
"DRC" Movie Website Update - M.A.T.M.O.K
From: KISS Asylum
"Mothers, it would be down-and-out devilish of us to ignore the marching music of evil troops approaching our Holy City. The troops I speak of, of course, are comprised of the leather-wrapped, high-booted hate-soldiers of KISS; the Holy City I speak of is the scared space we have created here for our children. Are we to sit idle while the devil's minions get busy all over our once peaceful dominion?"
Yes, the "DRC" movie website at www.detroitrock.com has been updated again with another funny message from the M.A.T.M.O.K (Mothers Against The Music of KISS). The website also added some more features which include a Bulletin Board, Detroit Rock City Trading Cards, and their DRC Website Magazine. Visit the Detroit Rock City movie website to sign up for their mailing list and read the latest messages from the M.A.T.M.O.K.
"Nothing Can Keep Me From You" Going For Top 40
From: Jason Savage, Program Director WNUQ
I am the program director for WNUQ radio in Albany, Georgia. Just thought I'd let everyone know that KISS is going for CHR (Top 40) airplay with "Nothing Can Keep Me From You." There is a full page add for the song in a radio trade magazine (Radio and Records) this week! I think it would be awesome for KISS to have another Top 40 hit since they haven't had one since 1990's "Forever." As the program director of a CHR station you can be sure I'll be adding the song!
"Tale of the Fox" Canadian Availability Information
From: Mitch
The "Tale Of The Fox" home video, which chronicles the life of the late, great KISS drummer Eric Carr, will be available in Canada for 24.99$ (CND) from Stand Back Entertainment Inc., 3488 Paul Sauve, Vaudreuil-Dorion, QC J7V 8P5. Shipping is 4$. It will also be available in stores and from the Canadian distributor's website at www.hardelmuzik.com. You can pre-order it in person at the Montreal Kiss convention on Aug 8th.
---
July 29
---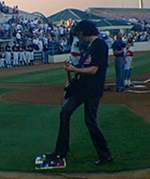 KISS Nite At The Ballpark II Reviews & Photos
From: Pat Filippone, Quakes General Manager
The second KISS Night at the Ballpark is in the books and was another rousing success. The attendance for the game was 6,494 and they had a great time. The night unfolded as follows: Mr. Speed kicked off the night with a powerful 45 minute set. They set the tone for a fun night with their energetic performance. Highlights included the band's performance of Psycho Circus and the fire breathing. During this time the Detroit Rock City posters and temporary tattoos were handed out. Also handed out were Psycho Circus promotional posters.
To read the rest of Pat's review, other reviews and see photos Click Here!

Gene Simmons Punisher Bass Contest


From: Island DefJam
Want your chance to win an autographed Gene Simmons Punisher Bass? To celebrate the release of New Line Cinemas' "Detroit Rock City," Island DefJam is giving online fans a chance to win an awesome Gene Simmons "Punisher" bass guitar personally autographed by Gene Simmons, Art Alexakis of "Everclear," and "Detroit Rock City" cast members Edward Furlong, Giuseppe Andrews, James DeBello, and Sam Huntington! Twenty (20) runners up have a chance to win a special limited edition autographed "Detroit Rock City" poster! All you have to do to be eligable to win these great prizes is fill out the form and tell Island DefJam in 30 words or less how this Gene Simmons Autographed "Punisher Bass" will change your life from being lame to complete! Click Here to enter this Island DefJam contest!
Sneak Preview of the KAOL Soundtrack
From: Kathy Labonte
As you know, the Dale Sherman novel "A World Without Heroes" is being released in late fall by MusiCare Online. The KISS Army OnLine is creating a spectacular 25 song Soundtrack CD to accompany the book, each song representing a different chapter as the music follows the storyline from beginning to end. Starting now until the release date, each week we'll bring you a 60 second sample of one of the Soundtrack cuts.
CHAPTER 3 - Mr. Blackwell: This week we'll feature Chapter 3 - Mr. Blackwell, performed by one of our International KAOL bands, SAND from Sweden. Click Here to listen to "Mr. Blackwell" in either WAV or MP3 format. Enjoy, and while you're listening to the sample read how you can email your reservation for the book and have your name printed INSIDE of the novel - forever a part of KISStory! Watch for a new audio sample next week!
TNT Roughcut's "KISS Off Kontest"
From: TNT Roughcut
At TNT Roughcut August is movie music month. What the hell does that mean? Well, many things. But what you will be most interested in is a our "Roughcut.com KISS Off Kontest" to celebrate the August 13th release of Detroit Rock City. We are giving away Detroit Rock City merchandise and movie passes, and we'll also have Q&As with the Detroit Rock City filmmakers and Gene Simmons. And, if all goes well, we'll be hosting a Yahoo! Chat with Gene Simmons, as well! Stay tuned to TNT / roughcut.comfor more details!
New England KISS Expo Update
From: Loukiss98@aol.com
The first 200 fans to buy a VIP ticket (available in advance only) will recieve a free DETROIT ROCK CITY promo movie poster! The Expo will be held September 26 in MA with special guests Mark St. John and Andre Augustine. Frank Dimino and Barry Brandt of the legendary 70's band ANGEL will be performing some of their classic hits, and New York's own DRESSED TO KILL will also be performing live! And of course, KISS dealers from around the world will be buying, selling, and trading new and vintage KISS merchandise. For more details visit The New England KISS Expo webpage!
Louisville "DRC" Movie Party
From: William Ramos
The Louisville "Detroit Rock City" movie party will take place Friday, August 13, 1999 at 6:45 p.m. at Tinseltown Theater (Westport Rd). The Fox 100.5 (WTFX) plans to be handing out promotional prizes, and we'll also be holding a KISS look-a-like contest. Contestants who dress up in make-up will have an opportunity of winning "Detroit Rock City" posters and CD's. Also joining us will be one of the best KISS tribute bands! They will not be playing live, but will be there for the fun. Our friends at Camelot Music will be donating KISS CD's as well. A Detroit Rock City hotline has been set up, and you can call (502) 412--0455 to keep updated about our amazing event and get involved if you choose!
---
July 28
---

"Tale of the Fox" Video Goes Global
From: KISS Asylum

Due to overwhelming presale response, Big Dog Presents and Creative Worx are proud to announce that the "Eric Carr: Tale of the Fox" video will be distributed worldwide by Thoughtscape Sounds. With an international clientele as well as global distribution partners, Thoughtscape was the natural choice for a project of this importance. Thoughtscape CEO Scott Sosebee had this to say: " When Nick Fa-Kouri and Jack Sawyers came to me with this project, I couldn't wait to get involved. Eric was such a positive force in this business, it only seemed right that we at Thoughtscape should attempt to give something back. It felt like a natural from the start and we couldn't be happier to be involved. With the quality of the projects that my partners have worked on in the past, we feel this will be another important piece of music history. In fact, it should come as no surprise that this is only the first of many collaborations between Thoughtscape Sounds, Big Dog Presents and Creative Worx."
Those who sent orders to BDP will receive your confirmation letter from Thoughtscape in the mail. This partnership with Thoughtscape will also facilitate the addition of credit card orders, both online and offline, so keep checking the official "Tale of the Fox" website at http://www.kissasylum.com/taleofthefox/ for more information about ordering by credit card as it becomes available.

KISS DRC Limited Edition 7" Clear Vinyl
From: Metal Edge
Two songs from the Detroit Rock City soundtrack, KISS' title tune and The Donnas' cover of "Strutter," will be available on a limited edition 7" clear vinyl 45, beginning August 31. Only 5000 copies will be pressed. The DRC soundtrack hits stores August 3, as does The Official KISS Detroit Rock City Movie Magazine. The movie itself will be released August 13, following a Hollywood premiere on the 9th.

KISS Joins The Donnas On Vinyl
From: MTV Online via Steve Araki
Has KISS cast aside the major-label life to hook up with an indie punk label? Not exactly, but the band will turn up on Lookout Records sharing a 7-inch with Palo Alto, California's foremost rock daughters, The Donnas. The band's cover of the KISS classic "Strutter" will grace the A-side of the single, while KISS is kicking in a version of their "Detroit Rock City" for the AA-side. Only 5000 copies of the clear vinyl 45 will be pressed, and they should hit stores on August 31. The Donnas recorded their contribution to the 7-inch for the soundtrack of the upcoming KISS-themed flick, "Detroit Rock City," which hits theaters on August 13. "They wanted us to do a Heart song at first, 'Barracuda,'" guitarist Donna R. recalled. "They asked if we wanted to do any song, and they had a list." "I really wanted to do [the KISS song] 'Mr. Speed,' but they said I wasn't Mr. Speed," singer Donna A. said. "She's not a mister," Donna R. added. While the band had its sights set on something from the KISS catalog, the folks putting the soundtrack together had other ideas. "Also, they wanted us to do a Runaways song," drummer Donna C. said. "We kind of have this rule against that." "We really like them, we've just been compared to them so much," Donna R. explained. "We don't want to bludgeon that metaphor to death," Donna A. added. "And we just love 'Strutter,' so we were like, 'Yeah, let's do it,'"Donna C. concluded. You can check out the results of that decision when the Donnas-KISS split 7-inch hits stores on August 31 or when the "Detroit Rock City" soundtrack arrives on August 3.

Andre Augustine Book Signing Appearance
From: KISS Asylum
Detroit/Pontiac area KISS fans take note! Former KISS security director Andre Augustine will make an in-store appearance at the Barnes & Noble on Telegraph Road in Bloomfield Hills on August 14 from 2-4 p.m. to sign copies of his new book "Guardian of the Gods." Author Mark Rodgers will also be there with Andre to meet fans and sign the book. For more information about this appearance you can call 248-540-4209. Also, Andre will be having a table for his book at the Detroit KISS Expo August 1.

"Guardian of the Gods" Reviewed in Detroit News
From: Lisa Jackson of The Detroit News
"'Guardian' Digs Into the Challenges of Keeping Rock's Stars Safe."
If you've been gently "escorted" from a KISS or an Aerosmith concert in the last several years, it's likely that Andre Augustine was your personal guide to the parking lot. Augustine, a bear of a man and a former defensive lineman for the New York Jets, is probably the top rock 'n' roll security expert, with gigs ranging from Run DMC to the KISS Reunion Tour that began at Detroit's Tiger Stadium in 1996. Now his experiences in the entertainment security business have been compiled by Mark Rodgers in a new book, "Guardian of the Gods." Most fans might think that keeping a band safe is a cakewalk. Not so, according to Augustine. Not only is it difficult with sex and drugs and sycophants running rampant, it's a huge mental strain. But the job isn¹t without its joys. Augustine says he holds fond memories of his employers and most of the fans who love them. Told in a breezy, anecdotal style, the book is broken down into three different sections best described as rap, rock 'n' roll and heavy-metal extravaganza. Click here to read the full review!

Gene on Bass Frontiers Cover


From: KISS Asylum
For those who haven't checked it out yet, don't forget to pick up a copy of the July/August (Volume 6 Number 4) issue of Bass Frontiers magazine. Gene Simmons is the cover story, interviewed by Caroline Paone. Caroline has interviewed Gene for a previous Bass Frontiers cover story, and once again gets some interesting information out of the Demon. The Gene cover issue is on the stands now, so go grab a copy! And on a related note for UNION fans, Caroline's interview with UNION bassist Jamie Hunting will be appearing in the August/September issue of Bass Frontiers.
Detroit KISS Expo News
From: Jeff Necker
Just wanted to let everyone who is planning on attending the Detroit KISS Expo (August 1) know, that New Line Cinemas will be in attendance throughout the day. They will be showing the movie trailer and doing some give aways. They will have an "Enter To Win" box for DRC related prizes, which could include pre-screening movie passes for August 10th. I was told they are also bringing T-shirts, hats, lighters, stickers, posters, and they even have lip balm. We should also have a copy of the soundtrack playing throughout the day, so you can hear it before you buy it next tuesday. To round out the DRC theme, Metal Edge has given us the opportunity to make available their "Detroit Rock City" Special magazine, which doesn't officially hit news stands until August 9th. Hope to see you all Sunday.
Click Here For More Detroit KISS Expo Information!
Detroit DRC Movie Party
From: Brett Meyer
Detroit area KISS fans, take heed, the Metro Detroit DRC movie party will be held at the Livonia AMC 20 theater in Livonia, MI on August 13, 1999 at 7:00 p.m. There will be free giveaways and a make-up/costume contest. Check out my website for more info. I will be at the Detroit KISS Expo on August 1st. Stop by and get the latest news on the party.
---
July 27
---

MTV Premiers Everclear's "Boys Are Back In Town"
From: Grmrsrcr@cs.com
MTV premiered "The Boys Are Back In Town" video, Everclear's contribution to the "Detroit Rock City" movie soundtrack, on 120 MINUTES last night at about 1 AM EST. The video is really cool and features the cast of the movie trying to sneak backstage at an Everclear concert (based in 1978). While running from the security guard they jump into a trailer and there is Gene Simmons in full "Love Gun" costume and makeup with all of these beautiful women. The teens are shell shocked by this, but eventually jump out of the trailer only to keep running from the guards. I won't give away the video's ending but it IS funny.

Official "Detroit Rock City" Movie Shirt
From: David Snowden Promotions
Just announced! Be the first KISS fan in your town to have the official "Detroit Rock City" Movie T-shirt. Full color image printed on white cotton t-shirt. Available in sizes Large & Extra Large! Due in stock first week of August! Item DRTS. Price: $17.99 Accepting preorders now exclusively at the KISS Asylum KISS Shop
KISS Today Show Appearance Canceled
From: KISS Asylum
According to the "Today Show" website KISS is not scheduled to perform on August 13th as was previously reported by Metal Edge. The calander of performers on the Today Show website lists Hootie & The Blowfish as the scheduled performers on that date. KISSonline confirms that the performance has been canceled.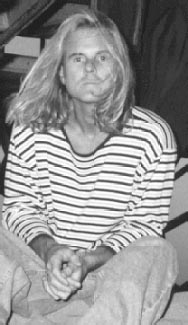 "Camp Tod" Website Update
From: KISS Asylum
Just wanted to remind everyone that former Frehley's Comet guitarist/lead vocalist Tod Howarth's new website Camp Tod is officially up and running. In addition to being able to pick up Tod's first two solo albums "Silhouette" and "Cobalt Parlor" via the website, you can also hear sound clips and get great updates straight from Tod about the progress of his latest solo album "West of Eight." You can check out all that and more out at http://www.todhowarth.com

KISS Asylum Online Poll - Rock The Vote!
From: KISS Asylum
Last week KISS Asylum redebuted our online KISS Poll. We had incredible response in only days, but unfortunetly we had some technical problems that caused a loss in the statistical data. Thus, we are encouraging everyone who voted in the poll to vote again so we can get everyone's feedback on our latest question, which is: "Do you think the 'DRC' movie or its soundtrack will be more successful?" Click Here to vote or use the "Fan Feedback" form on the right side column of the front page.
KISS Nite II & UNION Show Reviews
From: KISS Asylum
Wow! We've received some cool reviews and photos of both KISS Nite II and the recent UNION shows. The reviews and photos of both will be posted soon, so stay tuned in the next few days!
---
July 26
---

Peter Visits Paul at Phantom Show
From: Scott Harloff
As you may have heard, Peter recently visited Paul in Toronto at a performance of the Phantom of the Opera production. Here's a picture that appeared in the July 23, 1999 edition of the Toronto Sun. The photo was taken when Peter caught up with Paul at the Four Seasons Hotel. Click the picture to see a larger image, including the caption from the Toronto Sun.


Autographed "Guardian of the Gods" Winners!
From: KISS Asylum
Well, the autographed "Guardian of the Gods" contest is over. In addition to entries from every corner of the United States, we received hundreds of entries from all over the world including such places as: Australia, Italy, New Zealand, Germany, Holland, Sweden, Canada, South America, Japan, Russia and even the Czech Republic! The winners have been selected, and the individuals below will be receiving a copy of "Guardian of the Gods" autographed by both Andre Augustine and author Mark Rodgers.


Tuck Watts of Ft. Oglethorpe, Georgia
Darren Copple of Rickreall, Oregon
Anna Castelli of Italy
Grant Armstrong of New Zealand
John Wahlstrom of Pittsford, Vermont
Congratulations to the winners, and thanks to everyone who visited KISS Asylum and entered. Don't forget, even if you didn't win in this contest you can still enter for a chance to win an authentic Ace Frehley Signature Les Paul Guitar!

Last Week To Enter Ace Les Paul Contest
From: KISS Asylum
Don't forget that this week is the last week of the Ace Frehley Signature Les Paul Guitar giveaway contest from KISS Asylum and David Snowden Promotions. Entries will be accepted through July 31, 1999, and then one lucky winner will be chosen at random to receive an authentic Ace Frehley Signature Les Paul Guitar valued at $5365.00! And if you don't win the guitar, well, the runner up prizes aren't that bad either. The Second Prize winner will receive a $500 shopping spree from KISS Shop and the Third Prize winner will receive a $100 shopping spree from KISS Shop! Click Here To Enter!

KISS Asylum Bulletin Board Update
From: KISS Asylum
As some of you may have noticed, we are experiencing a little bit of difficulty with the KISS Asylum bulletin board system. Due to the immense popularity of the bulletin board system the server has experienced an internal error in handling the large volume of traffic (a similar problem occurred in the same time frame on the Bret Hart wrestling bulletin board housed on the same server). Rest assured this is actively being looked into and will be corrected as soon as possible. Please bear with us in the meantime.

KISS Freaks Special Delivery CD-ROM
From: Steve Stierwalt


KISS Freaks.com Special Delivery Volume 1 takes you through the first nine issues of this innovative fanzine that helped up the ante on the KISS fanzine world. The idea behind the KISS Freaks.com Special Delivery magazine was to fill the void for fans that were not online and unable to experience the features of some of the Internet's best KISS websites. With submissions and involvement from several different KISS sites across the Internet, something very special was achieved. The gap between the Internet KISS fan and a non-Internet KISS fan quickly dwindled. The main goal, get them out quickly! The worst thing about a fanzine is the speed at which you receive it. Often fanzines are out of date by the time you receive them. KISS Freaks SD was shipped within a week of the latest news. Nine issues were issued the first year, making it the most published and fastest KISS fanzine on the planet! So whats on the cd you ask..... The cd contains the first nine issues of the KISS Freaks.com Special Delivery magazine in full color. The cd also includes several of the features from the website. Such as reviews from the KISS Expos, Roch Vaillancourt's Celebrities in KISS Makeup, Newspaper articles on the band, concert reviews, album reviews and so much more. Also included are several files from the Downloads section of KISS Freaks.com, such as desktop themes, fonts, screensavers and much more. So hurry up and order one before they are all gone! Click over to KISS Freaks.com for information on how to order this cool CD-ROM.
Howard Stern Gives Two Thumbs Up To "DRC"
From: Charlie Reussner
This morning on The Howard Stern Show he had on porno star Kendra Jade. She was talking about making the video with Everclear for the movie "Detroit Rock City." Howard commented, "I just saw Detroit Rock City and thought it was great, a really funny movie."
---
July 23
---

KISS Nite At The Ballpark II - July 23
From: KISS Asylum
Just a reminder to all KISS fans that the second KISS Tribute Night At The Ballpark takes place tonite, Friday, July 23, 1999, in Rancho Cucamonga, California (5 minutes from Ontario International Airport/40 miles from LA), home of the Ranco Cucamonga Quakes baseball team. It is going to be an incredible evening and below is a list of all the cool stuff that is going to take place:

Bruce Kulick and UNION will be appearing (Merchandise available & autographs).
KAOL will also have a table set up to showcase their projects, which are dedicated to raising money for the Eric Carr charity.
Special KISS dedication from Mark Anthony, who co-wrote King of the Nighttime World
Mr. Speed Tribute Band to play before the game (6:05pm).
First 500 fans receive a "DRC" Movie Poster
Players will wear special KISS uniforms.
KISS music will be the only music played during the game.
Will have face painting booths.
KISS trivia contests will be held.
A KISS wedding will take place after the game!
A spectacular fireworks show will be held after the game.
All of this and much, much more! It is going to be a very fun evening! For a more complete look at KISS Nite At The Ballpark II, visit its official home page here at KISS ASYLUM by Clicking Here.

Cleveland KISS Expo '99
From: Stephen
Here is all the information on the August 29th, Cleveland KISS Expo.

Special Guest Bruce Kulick
Tribute bands Creatures Of The Night and B-sides KISS
Free door prizes and giveaways
KISS dealers from across USA, Canada and Europe
Massive location
Takes place August 29th, 1999 from 11am to 8 pm at the Roller World Center, 5310 Hauserman (I-480 and Teideman), Parma, Ohio. Tickets are on sale at Ticketmaster ($13.00) or $15.00 at the door. To charge by phone call (216) 241-5555. The Airport Ramada is offering KISS rates. Call (440) 267-5700.

Message From Tod Howarth - Frehley's Comet
From: Tod Howarth
I'm busy putting the finishing touches on my new solo CD here at the home studio, and took a break to let everyone know that I've built my own website at http://www.todhowarth.com. I have .wav files of some of the stuff I am working on, as well as past material, pictures of Frehley's Comet, information on myself and the previous bands I've been in and more. Drop by and check it out!

Sign Up To The KISS ASYLUM Mailing List
From: KISS Asylum


After 4 years of bringing KISS fans KISS News Around The Clock, continually updating the website WHEN news happens, KISS ASYLUM has decided to create a KISS ASYLUM Mailing List. For years we put off creating a KISS ASYLUM Mailing List because we always believed it was not a necessary feature since we updated the website everyday, and thus fans are used to visiting the website on a daily basis. In that light, regular postings of daily news, features, photos, reviews, etc will continue to appear on the website every day and will not be sent out via the mailing list. The list will be used as a suppliment to the KISS ASYLUM page and is not intended as a substitute for visiting KISS ASYLUM on a daily basis. KISS ASYLUM has plans to add a wealth of content to the website over the next few months and we thought it would be wise to create a mailing list to keep everyone abreast of this new, innovative and exciting content as it is added to the website. The list will also be used to announce contests (like the great Andre and Ace Guitar ones going right now!), major/unusual pieces of KISS news, and late breaking KISS related events.

UNION Rerelease, Weekend Concerts & More!
From: UnionAsylum.com
UNION's debut album was rereleased by Spitfire records this week on July 20th. The rerelease contains a bonus track, the Beatles cover "Oh Darlin.'" You can pick it up at major record stores, or order it online at CDNOW by clicking here. California UNION fans will also want to check out the band tonight at the KISS Nite At The Ballpark II event in Rancho Cucamonga, California (5 minutes from Ontario International Airport, 40 miles from LA). UNION Merchandise will be available and they guys will be on hand for autographs. Also, don't forget to check out UNION this weekend as they play Pleasures (3570 E. Foothill Blvd, 626-795-1259) in Pasadena, California on July 24th, and the Mason Jar in Phoenix on July 25th. For more upcoming UNION tour dates make sure to check out the UNION Asylum Tour Dates page. Also, don't forget to pick up the ESP album which was released nationwide July 20th. The album features UNION band members Bruce Kulick and John Corabi, and can be ordered online at CDNOW by clicking here.
---
July 22
---

KISS Revenge's Gordon G. G. Gebert Interview
From: KISS Revenge
As promised yesterday when KISS Revenge's interview with Bruce Kulick was posted, KISS Revenge also recently conducted a quite detailed and lengthy interview with KISS & Tell author Gordon G.G. Gebert. Just when you thought you've heard it all from Gordon he goes and surprises yet again! Click here to read KISS Revenge's complete Gordon Gebert interview.

KISSin UK's KISS Lyrics Server
From: Paul Finn
KISSin' UK is pleased to announce the launch of the KISS Lyrics Server, this new server will let you search for any KISS lyrics that you're after in a number of ways:

Search through all KISS songs by lyric(s)
Search by song title
Search by album
Search by song writer
Search by vocalist
The database is very much in it's early stages and will hopefully grow into a site that most KISS fans will find useful. Many thanks to KISS ASYLUM for letting me use their versions of the KISS lyrics, without which this would've taken months more to get off the ground! I'm hoping to add as many search options as possible, all I ask is for people to let me know what they'd find most useful and I'll try to add it. The lyrics server can be found at: http://lyrics.kissinuk.com/
---
July 21
---

Autographed ESP CD Final Contest Results
From: KISS Asylum


The response to the ESP Autographed CD contest/Eric Singer Q&A was amazing; hundreds of questions poured in from all over the world! The final results of the contest's daily & grand prize winners are:

July 13 - Kent Andrews of Ontario, Canada
July 14 - Gabriel Ravarini of Buenos Aires, Argentina
July 15 - Mike Moon of Bethany, Oklahoma
July 16 - Neil Gido of Albuquerque, New Mexico
July 17 - Tenisha Buchanan of San Francisco, CA
July 18 - GR Matheson of Nova Scotia, Canada
July 19 - Mike Wren of Bronx, New York
July 20 - Eddie Helms of Monroe, NC is the Grand Prize winner!
And don't forget, the nationwide release of ESP is available in stores now!

"Detroit Rock City" Movie Website Update
From: KISS Asylum
The "Detroit Rock City" movie website at www.detroitrock.com has been updated with a funny mock letter from the M.A.T.M.O.K (Mothers Against The Music of KISS) "asking parents to NOT let their kids go to the movie on August 13th." An excerpt from the funny promotional letter reads, "Down with DETROIT ROCK CITY! I implore all responsible parents to go to your local theaters on AUGUST 13th and prevent your child and others from attending this vile movie which promotes pre-marital sex, rebellious and irresponsible behavior in our country's youth." Visit the Detroit Rock City movie website to sign up for their mailing list and read the full letter.

Happy 1 Year Anniversary KISS Army Russia!
From: KISS Asylum
Wow! One year has already passed since KISS Revenge began bringing online KISS news to Russian fans. It's great to have a situation where fans from different countries all over the world can be united in their common interst and love for a band, with no thought to the distance and differences that seperate us. We are proud to help KISS Revenge keep all the great Russian members of the KISS Army up to date with all the latest news about KISS and the band's activities. We are equally as proud to receive the latest KISS related news from Russia to share with all the fans here in the United States. And to that end, check out the Bruce Kulick interview recently conducted by KISS Revenge Russia, and stayed tuned for KISS Revenge's Gordon G.G. Gebert interview tomorrow!

KISS Hell Online Interview with Adam Mitchell
From: Joe D.
Last month Joe D from KISS Hell fanzine had a chance to sit down with songwriter Adam Mitchell to fill in the KISS fans on what is going on with this former KISS song co-writer. Adam is best known to KISS fans as a co-writer on suchs albums as "Killers," "Creatures of the Night," "Crazy Nights," and "Hot In The Shade." Most recently Adam Mitchell along with Bruce Kulick and Loretta Caravello have put out the "Rockheads" CD filled with 4 songs by Eric Carr to have been used for the "Rockheads" cartoon. Adam talks about all that and much more in this very cool interview. Click Here To Read The Interview!

KISS Song Sample in New NIN Album
From: Timo Harjunen
The band 'Nine Inch Nails' released their new single 'The Day The World Went Away' on the 20th of July (yesterday, that is). The single featured a b-side called 'Starfuckers, Inc.' which contaided a sample of KISS' 'Shout It Out Loud'. There is a sample at the end of the song from 'Shout it Out Loud' in which Paul Stanley thanks the audience. The sample is taken from the 'Alive II' -version of the song. There are also a few smaller, harder-to-notice samples.
---
July 20
---

Clownwhite Fanzine Issue #2
From: Deno
August 20th sees the release of the second issue of 'CLOWNWHITE' - the UK's premier and only Kiss Magazine. Featuring news, updates and exclusive features, plus a McFarlane Productions promotion. Readers will have the chance to win a host of signed goodies, including the Psycho Circus comics, magazines and action figures. Available at selected music stores throughout the UK or by mail order from: CLOWNWHITE, 21 Bembridge Drive, Bolton, Lancs, BL3 1RJ, England (cheques or Money Orders for the value of UK £3.60 or US £5.00 - sterling only - made payable to DCT-Design).

New Line & DRC Join KISS Nite II
From: Pat Filippone
Great News KISS Fans! New Line Cinemas is going to provide 500 Detroit Rock City posters for KISS Nite at the Ballpark II! The Quakes will hand them out to the first 500 people who arrive to see tribute band Mr. Speed. Mr. Speed will go on at 6:05 PM and will be playing in the Plaza section of our stadium, which is the East side (closest to the main parking lot). There will then be a brief intermission where we will play KISS Trivia, with KISS gift packs and other items from KCAL being awarded as prizes. To find out about what other great surprises are already lined and how you can get your tickets for this awesome event click over to the Official KISS Nite II webpage athttp://kissasylum.com/kissball/

Update on Paul Missing Phantom Shows
From: Joe Teresi
I thought everyone might like to know more about Paul. I also was there. I spoke to many different people in management at the theater and they all told me the same story. Paul seems to have pinched a nerve in the back of his neck. This effected his ability to move around. He called the theater an hour and a half before the show was schedualed to begin. Since Paul had the last 3 days off, many of the people employed at the theater said that Paul may have gone home to California to rest and be with his family. His next performance is schedualed for Tuesday the 20th. If at any time Paul doesn't perform, the ticket booth with trade your tickets for another show as long as you trade them in before the show begins.

Paul Expected To Return Tonite
From: Metal Edge
Paul Stanley missed his first performances in The Phantom of the Opera this weekend when he became ill just before going on. His understudy filled in for him, but he is expected to return to the Toronto stage musical tonight (7-20). Those holding tickets to the missed performances who were disappointed by not seeing Stanley in action can fax a copy of your ticket with a letter of explanation to Grant at (416) 324-5468.

WCKW "Detroit Rock City" Movie Party
From: Gerald & Colleen
KTAV and Rock 92.3 WCKW has teamed up to bring you, the fan, the biggest and best party around. We all know "Detroit Rock City" opens Friday the 13th of August, but lets have a Rock And Roll party to celebrate. Listen to WCKW to win your tickets to the early screening of the movie and join us at the theatre on August 13th for the party! Wear your KISS t-shirts! Wear your make-up! There will be a look-a-like contest with special prizes to be given away! Also, a live band will be in the parking lot playing KISS songs! WCKW's Rolling Thunder will be their also! There will be many other activities to celebrate this great event. There will be TV and newspaper coverage for this event, so shout it out loud! Listen to WCKW 92.3 FM for more news or come check out our web site for the times and places this will take place at http://www.kissintime.com Thanks and hope to see you all there.
---
July 19
---

KISS ASYLUM Redesign
From: KISS Asylum
As you have probably noticed upon your visit to KISS ASYLUM today, the front page has gone through a little bit of a redesign. In our tireless efforts to bring KISS fans the best possible KISS webpage, we are always striving to make sure we can provide the best layout/design and the best features for the viewer. We believe with the server change over to NextLevel and with our new page redesign KISS ASYLUM will provide KISS fans the optimal KISS website experience. With that in mind, to better help everyone fully appreciate the new features added to the website we thought we would detail for you exactly what has been added to the front page.
Click Here For More Information!

KISS Eye Kandy Moves to KISS ASYLUM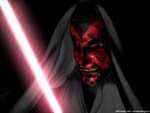 Darth Simmons
Demon Sith Lord
---
From: KISS Asylum
Patrick Vick is well known as one of the best online KISS artists for his work featured at the great KISS Eye Kandy webapge, as well as his work here at KISS ASYLUM in the monthly feature Patrick Vick's Digital Art Gallery. KISS ASYLUM is pleased to announce that Patrick Vick's KISS Eye Kandy website is officially moving to a new location right here at KISS ASYLUM! If you haven't visited KISS Eye Kandy in a while, or have never visited it, do yourself a favor and click on over to www.kissasylum.com/kek/ and check out some of the unbelievable KISS Digital 3-D art Patrick has put together for all his fellow KISS fans!

KISS Army Q&A with Andre Augustine
From: KISS Asylum
Once again the worldwide KISS Army came through, sending tons of great questions for Andre. Some were about Andre's time with KISS, some about Andre's book "Guardian of the Gods", and some were general questions about what it's like being the the security director for a major rock band. From all the great submissions Andre has answered the dozen questions below, trying to address those that had either not been asked before or found a new perspective on an "old" question. These questions represent only a brief glimpse at the kind of great, behind the scenes material Andre talks about in "Guardian of the Gods." Roughly 1/3 of the book, including some awesome photos ( wanna see Paul, Eric & Bruce at Disney World?), is dedicated to Andre's time with KISS, and the other chapters that chronicle his time with bands such as Aerosmith, George Thorogood and Bon Jovi are equally entertaining and informative. This book really is a must read for rock fans, particularly fans of KISS! And remember, the Autographed "Guardian of the Gods" book contest runs until July 25th so send in your entry before it's too late!! Click Here For Andre's Fan Q&A '99!

Paul Misses Phantom Performances
From: Andy B.
Paul Stanley was unable to perform both performances of the Phantom of the Opera Saturday, July 17th. No notice was given until seconds prior to the opening of the matinee performance. An immediate outpouring of boos and hisses came from many in the audience. We learned after the end of the first act that Paul withdrew from the performance only 10 minutes before the show began. He was in full stage makeup. One of the ushers told me he became sick in his dressing room. My wife and I visited the ticket office at the end of the first act. About 20 people were in line demanding their money back; a very ugly scene. The ticket officers would only comp seating for a future show. We opted to go to the 8:00 p.m. show and, again, he did not perform. We were, to say the least, very disappointed -- especially due to the treatment we received from ticket office staff. Hope all is well with Paul.

KISS, ICP Line Up For WCW
From: MTV Online via Javier Chavez
Following the lead of Master P and Megadeth, both KISS and the Insane Clown Posse will turn up at World Championship Wrestling events in the coming weeks. On Monday, when the WCW heads to Rockford, Illinois for this week's edition of its live "Monday Nitro" broadcast, ICP will hit the stage to perform, much like Megadeth did earlier this month. Meanwhile, KISS' involvement with the Ted Turner-owned wrestling outfit is a bit more elaborate. The band will essentially loan their endorsement and legendary makeup to a group of wrestlers dubbed in the press as "The KISS Warriors" (though a spokesperson for WCW says that a name for the collective has yet to be chosen). The first man to grapple under the KISS banner will be fashioned after Gene Simmons' demon persona and will be introduced during WCW's "Monday Nitro" on August 23. That broadcast, which will come live from Las Vegas' MGM Grand, will see KISS turn up and perform to help introduce the new WCW personality. The move is similar to one that recently saw Master P guide his No Limit Soldiers into the ranks of the WCW and turn up at a number of WCW events.

New 24" KISS Figures - Love Gun Version
From: Jeff Necker
I went to the Chicago Comic Con this past weekend. The people from Art Asylum were in attendance and had a really cool display of the 24" Destroyer Figures. It really brought them to life. Their back drop was a back-lit version of the boxes when lined up. Behind their booth they had logos of all the products they were licensed to produce and I noticed that under the KISS logo it said "Destroyer" and "Love Gun". I was told that they were doing another set of 24" figures. They will use the same Body style and Head, however these figures will have the "Love Gun" outfits and the boxes will reflect the "Love Gun" Album. I think She said they would be available by November again, exclusively at Spencer's. Also, for any Ozzy Fans they are doing an Ozzy figure. It won't be the same type of body style as the KISS figures, it will look more like the large Jason and Freddy figures that Spencer's sells.
---
July 18
---

Gene's Appearance at Playboy Expo
From: Greg Muse


I was at the Playboy Expo yesterday, (7-17-99). Gene was scheduled to appear at Hefner's round bed, Hef's original bed where you could take a picture with a playmate on it for $12.00, for a photo session at 2:00. He was late by over an hour for some reason. It was fairly hot inside and he was sweating profusly. He kept trying to dab himself with a tissue to mop up the sweat. He completely took over the whole Expo. There were photographers, video cameras, Access Hollywood and Extra were there for sure. Thirty minutes later he made his way across the Expo to an area where at least 100 fans were waiting in line for him to sign their Kiss posessions. I had a friend wait in that line while we were at the bed area taking pictures. There were two full size posters for DRC as well as small posters that Gene signed if you did not have anything to sign. Copies of Kisstory were there, unfortunately nothing about Kisstory II.
Click Here To Read The Full Report!

KISS On The Ropes
From: Entertainment Weekly via Elvira
In the July 23, 1999 issue of Entertainment Weekly on Page 13 there is a picture of Gene with his tongue sicking out and it says "Simmons To The Mat." There is an article: KISS ON THE ROPES - "Sure, Goldberg is a bad-ass but can he breathe fire? Professional wrestling is about to heat up: Aging rock group KISS have decided to sponsor an army of WCW grapplers named, approximately enough, the Warriors of Kiss. According to front man Gene Simmons, the inaugural Warrior - dubbed the Demon-will sport Simmons' famed make-up and come equipped with his own formidable combustible breath. The Demon will debut sometime this fall, though no firm date has been set. "The bottom line is, other bands can't have fun. They consider what they do art," says Simmons. "If we were R.E.M. we couldn't do this."
---
July 17
---

Eric Carr "Tale Of The Fox" Video Sneak Peak
From: KISS Asylum
The creators of the "Tale of the Fox" video proudly invite you inside the world of Eric Carr. You will be taken on an extraordinary journey of his life from his growing up as a boy in Brooklyn to his rise to glory as drummer for one of the most successful and Exciting bands in Rock and Roll History.... KISS! Now for the first time anywhere, live the story of Eric's life through rare footage, childhood photos and behind the scene photos of his KISS career. We open up to you, Eric's private photo albums and home videos. See exclusive footage of Eric at home as he takes control of the camera and gives you a guided tour. Enjoy his unique sense of humor through his own drawings and recollections from those who knew him, including never before seen video footage from Carrie Stevens & Bruce Kulick's archives. Learn about all of Eric's pre-KISS bands through rare photos, interviews and unreleased original music. Watch actual footage of Eric being interviewed in 1974 about the tragic fire at Gulliver's Discotheque where his band Creation was performing. Be the first to hear numerous never released songs performed and written by Eric Carr during his eleven year career with KISS . Many of these songs were to appear on KISS albums. To read more of the "sneak peak" click over to the Official "Tale of the Fox" webpage at: http://kissasylum.com/taleofthefox/

Year 2000 - The Year of the KISS Army Online! The Year of K.A.O.L.
From: Kathy Labonte
We have 2 KAOL projects left before calling it a day. The 2 previous KAOL CDs have raised $4,000 for The Children's Hospital of Wisconsin in the name of the KISS Army and in memory of Eric Carr. At the $5,000 mark, a KAOL plaque (along with Eric's name) will be hung in the pediatric cancer wing. The KISS Army will raise that and a lot more with the final 2 projects coming up.
Click Here To Read All About The Final 2 KAOL Projects!

"Detroit Rock City" Movie Advance Screening
From: Jeff Spector
I saw an advance screening last night of "Detroit Rock City" and I'm happy to report the fans will not be disappointed! This is every KISS fans' story so this 90 minute comedy no doubt will have all army members clamoring for more. I was most impressed by the producers careful attention to detail (when the camera pans on side 1 of "Love Gun", you actually hear "I Stole Your Love"!) They evoked 1978 perfectly, right down to period-era cereal boxes!! Moreover, I found the film to be a loving tribute to hardcore fans everywhere who were really put to the test in defending their love for this band (you know who you are). From disapproving parents to disco-obsessed meatheads who denounced KISS at every turn, "Detroit Rock City" at last provides a cinematic voice for all of us who've stayed true to the ideals of KISS throughout the years.
Click Here To Read The Rest Of The Review!
---
July 16
---

KISS Nite II Needs You!
From: Pat Filippone

Ok KISS Army, KISS Nite II needs you! As was previously announced, the Quakes are planning a fireworks show to end the fun filled KISS Nite at the Ballpark. The team plans to play a KISS mix tape along with the fireworks display and would like KISS fans to send in their best 15 minute mix tape so the band can pick that one perfect tape that really fits the planned spectacular. So come on KISS Army, get those CDs spinning and tapes rolling to create the perfect KISS fireworks soudtrack and send it to:
KISS Nite II Mix Tapes
P.O. Box 4139
Rancho Cucamonga, CA 91729
If your tape is selected for use during the fireworks show the Quakes will send you a special KISS Nite surprise! And remember, KISS Nite II is scheduled for next Friday, July 23rd so get busy and get those tapes in the mail soon!

KISS Part of the Pro Football Hall of Fame
From: Metal Edge Magazine
KISS has become part of a permanent exhibit at the Pro Football Hall of Fame. To commemorate KISS' performance at last years Super Bowl, Wasburn created a special one-of-a-kind Paul Stanley Signature PS2000 guitar which is unique in that instead of the normal mahogany bass it is green to symbolize the NFL playing field as well as includes engraved logos of the NFL, the Super Bowl, and last years two participants, the Denver Broncos and the Atlanta Falcons. The guitar is signed by each member of KISS and will be part of a special display honoring those entertainers that have made the Super Bowl great.

UNION Tour Dates
From: UnionAsylum.com
Great news UNION fans! The guys have 6 shows lined up over the coming month to help fans get their UNION fix until the new studio album comes out. If you've checked out the guys' live album you know what a treat these shows will be so make sure you get out to see them! And don't forget to bookmark and check the tour dates page at UnionAsylum.com regularly for announcements concerning future appearances!

July 24th - Pleasures in Pasadena, California
July 25th - Mason Jar in Phoenix, Arizona
July 29th benefit jam for West Arkeen at the Coconut Teaser in L.A.
July 31 - The Shack in Anaheim, California
August 5th - The Key Club (formerly Billboard Live). Gazzarri night - dont miss it!
August 7th - Ataloto in San Bernadino (outdoor Rock Festival w/Warrant & others)

Gene On The Cover of "Bass Frontiers" Magazine
From: Robert
I just got back from Tower Books here in Nashville, and picked up a copy of the new issue of "Bass Frontiers" Magazine ($3.95 USA, 4.95 Canada $4.95) with a fantastic Live shot of Gene Simmons from the Psycho Circus Tour on the cover. The issue has a 4 page interview with Gene, and some other cool photos. Gene basically discusses new projects he's working on to keep the KISS machine rolling along. Gene is a very busy (businessman) these days.

KISS Kollector Kontest
From: KISS Kollector Online
Another great KISS Kollector Fanclub contest, in fact it's the first one on the KISS Kollector Online web site. Thanks to the wonderful people at Juniorpress, who publish the KISS: Psycho Circus comics in Holland, we have ten copies of the second issue of the Dutch edition of KISS: Psycho Circus (Image Special 15) up for grabs. Plus five copies of the awesome French made Carnival Of Souls CD booklets donated by Florent Villeret. To try and win one of these great prizes, all you have to do is answer five simple questions. Read the rest at KISS Kollector Online http://kiss.animalize.com/

KISS in UK's Top 50 of Most Bootlegged Artists
From: KISS Kollector Online
While Led Zeppelin have been named as the most bootlegged artist in the UK by the Anti-Piracy Unit of the British Phonographic Industry recently, KISS appears at number 27. Or, at least in the Top 50 as listed by the APU following their latest round of clampdowns on bootleg CD traders in the UK. The latest APU figures only cover recordings available on CD, vinyl or video and go no way towards gauging the extent of bootlegging of artists on the Internet. On a worldwide base, at least based upon our figures, KISS would easily be at the number 4 or 5 spot, even if it only would be for bootleg CD's. So, why the APU has only found or listed so few illegal KISS titles remains a mistery. Read the rest at KISS Kollector Online http://kiss.animalize.com/
---
July 15
---

KISS Gets Star On Hollywood Walk of Fame 8/11 &
Preform Live on The "Today Show" 8/13
From: Metal Edge
Two days before "Detroit Rock City" hits theaters, KISS will receive a star on the Hollywood Walk of Fame on August 11, presented by Dick Clark. On the 13th, the band be on the other coast, performing live on the Today Show as part of the morning show's summer concert series.

Autographed ESP CD Daily Winner Update
From: KISS Asylum
The response to the ESP Autographed CD contest/Eric Singer Q&A has been amazing, with hundreds of questions pouring in from all over the world! The first two daily winners are:
July 13 - Kent Andrews of Ontario
July 14 - Gabriel Ravarini of Buenos Aires
Future daily winners will be posted on the contest entry page. Remember, each day a new winner is selected from the questions actually submitted on that day, so every different day you submit a question you have a new chance to win! Click here to submit your question!

ESP Sneak Preview
From: All Access with Eric Singer
We did it again! Listen to the new songs from the forthcoming ESP album, we got a 90 sec. sample of 'Twenty Flight Rock' and 'Won't Get Fooled Again' in streaming Real Audio. You can also download the sample. We also got the 2 demos from the Japanese version of the ESP album, 'Snortin' Whiskey' and 'American Band'. Check out our multimedia section for the exclusive soundclips. http://www.nextlevel.com/ericsinger/

KISS Events In The Works
From: Metal Edge Magazine
There is a great interview with Gene Simmons in the most recent Metal Edge Magazine (October Issue). Gene was quoted as saying the following things are in the works for KISS: upcoming KISS TV special on Fox, KISStory II, Sold Movie Rights to CBS for a movie-of-the-week called "Rock & Roll All Nite", KISS Toilet Paper, new studio album / live album and videos. Gene also stated that on the fall KISS tour "Jesse Camp and the 8th Street Kidz" will be the opening act. To read more about what Gene had to say in the interview pick up the latest Metal Edge magazine on newsstands very soon.

New England KISS Expo Update
From: Loukiss98@aol.com
We are proud to announce that Frank Dimino and Barry Brandt of the legendary 70's band ANGEL, will be performing live at the Expo! They will be playing 3 classic Angel hits and signing copies of their new CD "IN THE BEGINNING". New York's Own DRESSED TO KILL will follow with a full concert! Mark St. John (former Kiss Guitarist), Andre Augustine (former road manager and security chief) will also be in attendance!! The New England Expo will be held September 26 in MA.(10 minutes from Providence, 40 minutes from Boston, and 2 1/2 hrs from NY city!) Tickets are $12 in advance and $15 at the door. (children under 12 are free). Charge your tickets by phone by calling 1-401-725-7156. Expo info 1-401-722-3981. Special room rates av. at the Quality Inn 1-508-678-4545 (mention the Kiss expo). A really large dealer turn out is expected, to reserve your table call 1-401-722-3981 ASAP! Check out our half page ad in the Metal Edge Special Detroit Rock City, coming August 10. For more info please check out our web site by clicking here The New England KISS Expo
---
July 14
---

Guardian of the Gods Autographed Book Giveaway!
From: KISS Asylum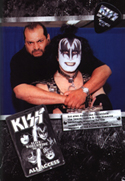 Hey KISS fans! KISS ASYLUM has teamed with former head of KISS security Andre Augustine and author Mark Rodgers to bring online KISS fans another great contest! In the awesome collaborative effort "Guardian of the Gods", author Mark Rodgers tells Andre's story of life as a concert security director and life on the road with numerous artists who helped create and shape the music history. Packed with insight, "Guardian of the Gods" offers a new and rarely seen perspective on the music business and reveals dozens of untold stories! And to thank online KISS fans for their early and strong support of this book, Andre and Mark have autographed some copies of "Guardian of the Gods" to give away to five lucky fans!
Click here for details on how to enter!

KISS To Invade WCW: "Warriors of KISS"
From: Metal Edge Magazine
In addition to the upcoming live KISS performance at WCW on August 23rd, Gene Simmons has recently signed a contact with World Championship Wrestling (WCW) to develope a series of KISS wrestlers. The first one to debut is going to be called "The Demon" where Gene is quoted as saying "the back story is, he's going to look like me but grew up worshiping KISS and that is what he wants to do as a homage." According to Gene, later on the rest of the band members likenesses are going to show up in various forms as characters with other wrestlers named "Wild Child" and "Lady Demon" as well as beautiful women in KISS make up. They will be known as the "Warriors of KISS."
---
July 13
---

Eric Singer Fan Q&A - Autographed ESP CD Contest
From: KISS Asylum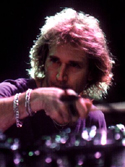 The release of the ESP CD is scheduled for July 20th. To celebrate the release, KISS ASYLUM is giving online fans a chance to ask ESP drummer & vocalist Eric Singer questions about the ESP album, his possible tour with the Alice Cooper band, his days with KISS, or anything else you want to ask Eric! Of course Eric won't be able to answer every question sent in, so be sure to be creative and original with yours. To further celebrate ESP's release, a copy of the limited edition European version of the CD, fully autographed by the band, will be given away each day from now until the re-release on the 20th! Daily winners will be selected from only those entries received on the day of each drawing, so if you send a different question every day you'll have 8 different chances to win! And as a grand prize, the daily winner selected on the 20th will receive an autographed copy of the Japanese release of ESP, and a phone call from the ESP member (Eric, Bruce Kulick, John Corabi, Karl Cochran) of their choice! What are you waiting for? Send in your questions every day! Click Here To Submit Your Questions

KISS To Perform on WCW Nitro August 23rd
From: KISS Asylum
Eric Bischoff, president of WCW, announced tonite on WCW Nitro that KISS will be appearing and performing LIVE on WCW Nitro, Monday, August 23rd in Las Vegas on the TNT Network. Tickets go on sale July 17th for the Las Vegas WCW Monday Nitro
---
July 12
---

Gene Interview In New Metal Edge Magazine
From: KingCool@aol.com
Here's a couple interesting tidbits from the Gene interview in the brand new Metal Edge (Oct. 99 issue with Iron Maiden on the cover):
Metal Edge: Will there be another studio album?
Gene Simmons: Oh, yeah. Live record and videos up the ass. Really exciting stuff.
Metal Edge: You didn't answer the question before... Is it going to be a farewell tour, or is it to premature to call it that at this point?
Gene Simmons: Well, I don't want it to... I don't want KISS to ever end, if that's what you're asking. We haven't decided anything. We could decide to say, "You know what? To hell with the tour. We're quitting right now." Or we could decide "No, we want to do it for 10 years..."

KISS Nite At The Ballpark II News Update
From: Patquakes@aol.com
Big news for Kiss Nite II - Bruce Kulick and UNION will be appearing! As he did last year at the first KISS Nite at the Ballpark to great reception, Bruce will play the National Anthem prior to the game. UNION will also have a table set up displaying their merchandise and will be available for autographs. Bruce & UNION bandmate John Corabi were fantastic at the game last year, and we are flattered that the entire band will be appearing for KISS Nite II. KAOL will also have a table set up to showcase their projects, which are dedicated to raising money for the Eric Carr charity. A bunch of other surprises are still in the works and we'll keep everyone updated down to the wire. For more information and details about what is already in place, check out our Official KISS Nite II page at KISS ASYLUM.

Mark St. John CD Release July 27th
From: Stephen Campbell
Mark St. John has returned with his best effort to date in the form of his new band THE MARK ST. JOHN PROJECT. The self-titled, limited edition (only 5000) five song EP is set for release July 27th. The band also consists of vocalist Phil Naro (CRISS, Naro), bassist Stan Mizcek (Sass Jordon, Honeymoon Suite) and drummer Roger Banks (Empire, Naro). The musicianship of this band is at a level equal to or above any other band around today, and Mark's playing alone really shows the talent we never really got to see. Songs "AWOL" (instrumental), "Between The Lines", "Love For Sale," "No I'm Not Afraid" and "Bagdad" (instrumental) will really be a pleasent surprise for all fans who give this CD a listen. A full length CD (14 tracks: 10 with lyrics, 4 smokin' instrumentals) is scheduled for sometime late this year. Make no mistake, Mark is back. You can order the 5 song MARK ST. JOHN PROJECT CD by sending $9.99 US plus S&H ($3.00 in US/Canada - $5.00 International) to: Loch Ness Monster Records, P.O. Box 39253, Etobicoke, Ontario, M9P 2M5 Canada.

KISS Bio Film; DRC First Single From Everclear
From: KISSonline
A major film company is reportedly stepping up to work on a biographical KISS motion picture that chronicles the birth of KISS in the glitter-glam era of New York City circa 1972. Wesley Strick, who wrote Cape Fear and Final Analysis, will be writing the movie, with Gene Simmons producing. In other KISS news, the first radio single from the Detroit Rock City soundtrack will be Everclear's cover of "The Boys Are Back In Town." The single will be released to radio for adds on June 19th.
---
July 9
---

"Nothing Can Keep Me From You" Hits Radio Airwaves
From: Byron Fogle
KISS has struck gold again with the new single "Nothing Can Keep Me From You." This is a song where if you looked up 'power ballad' in the dictionary this song would be there. It starts off with heavy distorted chords and an orchestra and then song changes gears within seconds to an acoustic guitar and orchestra where Paul delivers the first verse. It picks up again for the chorus and repeats that format for the duration of the songs with exception to the bridge, which could be the only weak point of the song. The lyrics are meshed together and I feel it loses some of the emotion of the song but it has a nice build up and climax to the chorus. It's good song writing wise but it's only the bridge lyrics that have a hint of cheesy 80's ballad to them. There is no guitar solo in this song so that would kill all the "Did Ace play on this song" rumors, well, at least the "did he play the solo rumors." The drums are simple enough to state it is Peter on this unlike most rumors I've heard which state the only KISS member on this song is Paul. The fills have a very "Hard Luck Woman" flavor to them on the toms. This is by far Paul's best vocal to date and a sure fire hit and Grammy nomination for Diane Warren & Paul. They've been playing the single quite frequently on WDHA 105.5 in New Jersey. It's a small station that's kinda hard to pick up due to the low frequency and lack of a good satellite. When my friend Blaine taped this song last night in order for it to come in good he had to tape his antenna to the wall so that shows you 2 things 1. How determined a KISS fan is 2. How bad the signal for WDHA is.
Call 1-973-480-1055 and request it if you're able to receive this station.
Click Here To View The LYRICS to "Nothing Can Keep Me From You."

KISS Freaks Special Delivery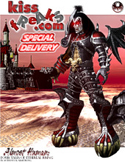 From: Steve Stierwalt
KISS Freaks.com Special Delivery Issue 16 Highlights:

KISS Nite at the Ballpark III from South Bend, IN

Byron Fogle's Video Spotlight featuring issues 1 & 2

Information on the KISS Freaks CDRom Volume 1

Tons of News!

Almost Human: Four Tales of Ethereal Rising by Anthony M. Armstrong. These are the stories of four tortured spirits, each in a different age, a different time, who stood up and took control of their lives. Throughout centuries, they have existed seperately, guiding others in turmoil to the point where they can stand up and believe in themselves. However, by some strange circumstance over a quarter-century ago, these four spirits met. A union of unparalleled magnitude was formed, and, well... you know the rest.
To order your copy of KISS Freaks Special Delivery Issue 16 send payment of $3.50* payable to Steve Stierwalt, Jr. to: Steve Stierwalt, Jr., Attn: KISS Freaks SD 16, 5246 Padre Lane, Indianapolis, IN 46237, USA.
Issues shipped out of the USA are $5 each payable in USA funds.
Want more info on other issues stop by: http://www.kissfreaks.com/special.htm
---
July 8
---

Playboy Model Cindy Guyer Tells Gene to - "KISS Off"
From: NY Daily News via Chris Florio
Playboy model Cindy Guyer has a message for rocker Gene Simmons ‹ kiss off. Guyer, who counts herself a fan of Simmons' "Kiss" group, tells me she got word to Simmons recently requesting his autograph on a copy of the March Playboy. The magazine had Kiss on the cover and featured a pictorial of Guyer inside. Simmons sent a message back to Guyer that he'd gladly supply his autograph ‹ if he could do it in person. Guyer says she okayed a meeting, and suggested the lobby of the Sunset Marquee Hotel in Los Angeles, which is near her home.Well, the meeting took place last week, but it didn't go quite as Guyer had expected. "He came on very strong, and kept trying to hug and kiss me," she says. "I told him, 'Could you please chill out a little bit?' All I wanted was an autograph. Nothing more." Simmons' manager, Doc McGhee, says that Simmons' alleged behavior "is uncharacteristic for Gene. "He's far from star-struck," says McGhee, "far from girl-struck." And by the way, Guyer has yet to get her autograph.

KISS Sighting On "Tonight Show"
From: Charles Purvis
Last night on The Tonite Show with Jay Leno, while mocking some fake summer recreation products, Jay unveils the Gene Simmons slip and slide complete with a 7 foot roll out tounge and with actual Gene Simmons saliva!
---
July 6
---

KISS Among Acts Who May Perform at Beatles Fest
From: Sonicnet via Scott Villardi
A weeklong festival celebrating the Beatles in their native Liverpool, England, will climax Aug. 30 with a citywide Yellow Submarine Day, spotlighting the premiere of a new version of the Beatles'-inspired 1968 animated movie "Yellow Submarine." According to organizers, this year will mark the first time the Fab Four's record company, Apple, will participate in the Beatle Week festival, which has been held annually in Liverpool since 1984.The surviving members of the Beatles, as well as several well-known rock acts, may take part in this year's festival. Among the possible performers are New York hard-rockers KISS, who are "toying with" the idea of playing an acoustic set Aug. 30. They would appear at the Cavern Club, the storied venue where the Beatles first began to build a fanbase, according to Bill Heckle, director of Cavern City Tours, which organizes Beatle Week. Three KISS members are "huge fans" of the Beatles, who are considered to be among the most influential acts in rock history, he said. Bandleaders Gene Simmons and Paul Stanley cite Beatles' primary songwriters John Lennon and Paul McCartney as their biggest influences.

"Details" Proclaims "Alive" Greatest Live Album
From: Kenn Hoekstra
The July issue of Details Magazine cites KISS - Alive! as the greatest live album of all time.
---
July 3
---

KAOL - World Without Heroes Soundtrack Lineup
From: Kathy LaBonte
The KAOL Soundtrack to Dale Sherman's novel, "A World Without Heroes" has been finalized. The book is 25 chapters long and each chapter will be represented by a musical track. The CD will accompany the book in the back sleeve. Release date is this fall. Several new bands have submitted incredible tracks for this project. All profits from sales will go to The Children's Hospital of Wisconsin. Pre-orders for this KAOL project will take place early this fall. All those who reserve their copy when the announcement is made, will have their names printed inside of the book as KISS Army OnLine members and CHoW supporters! If you'd like to get a headstart and make sure your name will be in KAOLstory, email us and you'll be put on a special pre-order list.
Click Over To The KISS ASYLUM KAOL News Page To View The FULL CD Track Listing!
---
July 2
---

On Location At Everclear's Video Shoot
Porn Stars And Kiss Tongues
From: cdnow.com via Sean Cowie
We didn't see any drugs, but it was definitely all about sex and rock and roll on the set of Everclear's new video, a cover of the Thin Lizzy classic "The Boys Are Back in Town," in downtown Los Angeles on Tuesday (June 29). The video for the song, part of the soundtrack to New Line Cinema's upcoming ode to Kissmania, Detroit Rock City (allstar, June 25), takes place backstage at a Kiss concert in 1978. Included in the hedonistic atmosphere were a slew of romping porn stars cavorting with the boys in Everclear as well as the God of Thunder himself, Kiss' Gene Simmons, onstage and on a mock Kiss tour bus. But Everclear's Art Alexakis, who is co-producing the video, wasn't so sure the porn stars fit into his band's agenda. "It's the closest we have ever come to porn and it's probably the closest we will ever come again," he said after a day of filming. "It's great, but it's not my thing. I respect these girls for doing what they do. Everybody makes choices in life, and they are very sexy girls who like sex and get paid to have sex. People pay money to watch them have sex. I'm not immune to that, but I don't necessarily think it fits into what we do." At any rate, some 10-plus porn stars, including Vivid Video's Janine and Chasey Lain, among others, lit up the already Lite Brite-like, glamorama-themed stage clad in eye-popping bikinis and flashy '70s garb. Janine welcomed the change in scenery. "I like taking the backseat to these videos where I'm just a little prop," she said. "As opposed to one of my own films -- the pressure isn't completely all on me." Simmons, whose tongue could have made him millions in the adult film industry, thinks the recent influx of rock and roll and pornography morphing is merely a reflection on life. "Porn and life go way back," said Simmons. "It's called procreation without the babies. We all do it. Some of us take photos of it. The only thing that they have managed to do is charge you for it." The soundtrack to Detroit Rock City, which also includes tracks by Marilyn Manson, Van Halen, David Bowie, and Kiss, among others, will hit stores Aug. 3 on Mercury Records. -- Kevin Raub

ESP Update
From: Keith Leroux
The self titled ESP CD will be released July 20th on Rock Hard Records through Island Def Jam Group distributed by Universal. The Cd is a totally repackaged version of the internet release that came out last winter. The Cd includes 2 additional tracks - "Twenty Flight Rock" sung by Eric and "Won't get Fooled Again" sung by John. The Cd will be in most stores. Chains whose orders are already in include Strawberries, Camelot, Coconuts, Circuit City, Record Town and Tape World among others. It will also be available from Amazon.com, CdNOW and other web companies.
Visit Eric Singer's All Access with Eric Singer website for more info.

4th of July KISS Marathon
From: malignant@rocketmail.com
Live from Lewiston Maine this 4th of July, its the eighth annual KISS MARATHON, hosted by yours truly and Mr. Rivas. Broadcasting live from Bates college Maine. You can listen live via the internet @ www.bates.edu/wrbc or if you are in the Androsscoggin area of Maine then tune to 91.5 WRBC on your f.m. dial. This is an all request program so while you're listening, e-mail us your request and we will deliver. The show starts at noon and will air till 6:00 p.m. eastern standard time.

E! Plays "Detroit Rock City" Movie Trailer
From: Keith Hayse
Just wanted to let everyone know that E!'s Coming Attractions show played the movie trailer for "Detroit Rock City" which was the same as the one shown before Austin Powers in the theaters. The show airs a couple of times a week and during the weekend so check your local listings and set the VCR.
---
July 1
---

KISS, AC/DC Among Acts Eligible For Rock Hall Nomination
From: cdnow.com via Steve Araki
The Rock and Roll Hall of Fame has issued the names of 19 artists eligible for the first time this year, and the pickings are the leanest to date with KISS, AC/DC, and Bad Company heading the class of 2000. To be eligible, an artist must have had an album released at least 25 years ago -- 1974 being the cut-off year. Others eligible are Ace, Joan Armatrading, Be-Bop Deluxe, Gap Band, Graham Central Station, John Hiatt, Hot Chocolate, Jefferson Starship, Judas Priest, Kansas, K.C. and the Sunshine Band, Robert Palmer, Phoebe Snow, the Mighty Diamonds, the Residents, and Utopia. It should be noted that no heavy metal bands have been inducted outside of Led Zeppelin, who are not considered a true "heavy metal" band. Among the notables who are eligible but have never been nominated are Abba, Aerosmith, Fleetwood Mac, LaBelle, Willie Nelson, Laura Nyro, the O'Jays, the Penguins, Queen, Paul Simon (solo), Steve Miller Band, Donna Summer, Traffic, Barry White, and Yes. Interestingly, Eric Clapton and George Harrison were inducted only as members of groups, never nominated as solo artists. A slate of 15 nominees will be announced in early fall, with only six to eight of them to be named to the Rock and Roll Hall of Fame. -- Bob Grossweiner and Jane Cohen

Ace Signature Guitar Giveaway Contest Expanded!
From: David Snowden Promotions & KISS Asylum
Due to the incredible amount of interest shown by the KISS Army online since David Snowden Promotions & KISS Asylum debuted the Ace Frehely Signature Model Les Paul Guitar Giveaway this past Monday, we have added two runner up prizes to this already awesome contest. The Grand Prize remains the Ace Frehley Signature Guitar, but there will now also be a 2nd and 3rd Prize winner chosen during the drawing on August 1st. The 2nd Prize Winner will receive a $500 Shopping Spree and the 3rd Prize Winner will receive a $100 Shopping Spree to select the merchandise of their choice from any currently available at KISS Shop!! So, if you've already entered you now have three chances to win - there's nothing left to do but click over to KISS Shop and check out all the great merchandise you can pick from if you win! And if for some reason you haven't already entered yet (what are you, crazy?!) just click over to the KISS ASYLUM KISS Shop for more details and to enter the most awesome online KISS Kontest ever!
---
---
KISS Asylum News Disclaimer:
The KISS Asylum is an Unofficial KISS web site. The KISS logo and likeness are © KISS.

All news should be considered an unconfirmed report until proven fact, and all information published at The KISS Asylum is attributed to the source from which it was received so that one may judge the validity of the statements for themself. All information is confirmed where possible, and all publication is governed by common sense.

All data contained in The KISS Asylum is property of its respective, individually credited owners and/or creators.

The KISS Asylum © 1999-1995, all rights reserved.
Webmasters: Chris, Elizabeth & John White