"Black Diamond 2: An Illustrated Collector's Guide to KISS" by Dale Sherman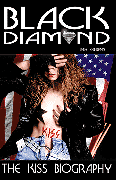 "Black Diamond: an Unauthorized KISS Biography" by Dale Sherman
From: Brett Meyer
Visit the Black Diamond Web site
I just wanted to tell you and other fans that there is a new soft cover book about KISS called BLack Diamond: The Unauthorized Biography of KISS by Dale Sherman. It is about 200 pages with several black and white photos. It is the standard historical perspective, but written by a fan, so the stories have interesting twists that we are'nt use to hearibg from Paul or Gene. It's a great read. It contains info about the band, merchandising, touring, management, and Casdablanca records that are also covered in the other new book KISS and Sell by C.K. Lendt. The biography comes with a bonus cd of an interview with Eric Carr from 1990. There is soon to be a second volume about KISS collectibles coming shortly, as well. The book retails at 19.95 (U.S.). It can be ordered from Music Machine outside of Baltimore, Maryland. I have an extra copy if anyone is interested.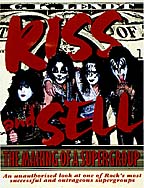 "KISS & Sell: the making of a supergroup" by C.K. Lendt
From: KISS Otaku
Visit the KISS & Sell web site
Billboard Book's "KISS and SELL" has started to show up in stores. But, I just got off the phone with them and they are extending this special offer to KISS OTAKU fans...
By calling 800-278-8477 and mentioning the website KISS OTAKU, they will give you FREE freight in the US.
Overseas orders are accepted, but they can't extend the offer overseas. You'll definitely want to read this book! I'm interviewing the author, C.K. Lendt, tonight and will have it posted on my site soon.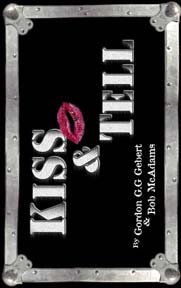 "KISS 'n' Tell" by Gordon Gebert and Bob McAdams
From: Gordon Gebert
Visit the KISS 'n' Tell Web site
Interview with Gordon Gebert
KISS 'n Tell!" includes over 200 pages of "REAL", never before told, TRUE stories of KISS from a collaboration of TWO people that knew a side of KISS rarely seen. "KISS 'n Tell!" promises to be REVEALING, SOBERING, SHOCKING, HILARIOUS and much, much more. The photos alone are worth the price of admission. BONUS!!! - Additional color photos on disk included with each first edition book.
SHIPPING DATE - May 30th - ORDER TODAY!
Ordering info:
United States $19.95 (+ $4.00 S&H)
Canada & Mexico $19.95 (+ $7 S&H)
Foreign $19.95 (+ $10 S&H)
Priority Rush Shipping (regular shipping and additional $3.00 - domestic only) Foreign Priority Rush Shipping (foreign shipping and additional $7.00) Overnight Domestic - regular shipping plus $12 (Shipping date May 30th) Overnight Foreign - regular shipping plus $20 (Shipping date May 30th)
Make check or money order payable to: Pitbull Publishing
Mail to:
"KISS 'n Tell!"
c/o Pitbull Publishing
P.O. Box 350
Fleetwood, NY 10552-0350
Also accept VISA, MASTERCARD and DISCOVERY credit cards!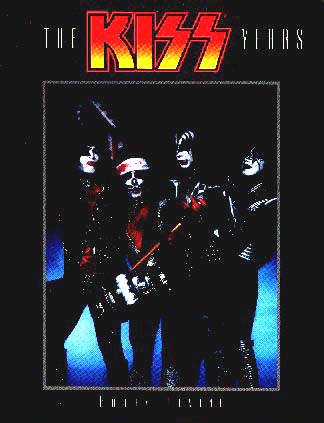 "The KISS Years" from Barry Levine
From: StudioChikara
Visit The KISS Years' Web site
Studio Chikara is proud to announce that its first book, Barry Levine's THE KISS YEARS, is now an official licensed product authorized by KISS!!!
Because of this great news, and to thank the fans and stores who had preordered the book over the past few months, Studio Chikara has added a few surprises in the First Edition. Not only will the book include a bonus interview CD as solicited, but now it will contain a free trading card from Cornerstone Communications, a special offer for new KISS products, and an additional surprise!
Even better news: advance copies of the book will be available at the New Jersey KISS Convention on Sunday, April 20. These rare advance books will not have the CD or card, but will be collectible because they will have an "ADVANCE COPY" stamp on the inside front cover. Additionally, Barry Levine will be appearing at the show to sign copies of THE KISS YEARS and answer questions about photographing the Hottest Band in the World over the past twenty years!
Because demand for THE KISS YEARS is sure to rise now that its an official product, the first edition with CD, card, etc. is limited to 20,000 copies. All copies surpassing the 20,000 mark will NOT have the inserts mentioned above.
You can still order your First Edition copy through H&H Global at 1-330-856-6238, but you'd better hurry; supplies are limited.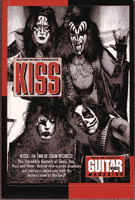 "Guitar World Presents KISS"
From: Kevin Knuth / Rock Bottom Mail Order
Here is the latest KISS book on the market. Here is the text from the back book cover:
"GUITAR WORLD PRESENTS KISS"
WHEN GENE SIMMONS apologized to fans for a string of ill conceived KISS albums during the Eighties, GUITAR WORLD was there. When Ace Frehley and his former KISS bandmates engaged in a violent war of words, GUITAR WORLD was right there on the front lines. And when original members Frehley, Simmons, Paul Stanley and Peter Criss KISSed and made up for the 1996-97 worldwide reunion tour, who thrilled you with the inside story? GUITAR WORLD.
GUITAR WORLD PRESENTS KISS is the complete collection of KISS interviews, articles, guitar lessons and facts that have appeared in GUITAR WORLD magazine over the years- and anything and everything a KISS fan would want to know about rock and rollıs legendary masked marauders is right here. No magazine has maintained a closer relationship with KISS than GUITAR WORLD-and that intimacy is clearly illustrated throughout the pages of GUITAR WORLD PRESENTS KISS.
GUITAR WORLD PRESENTS KISS is part of a continuing series of books featuring articles and interviews with some of rock and rollıs most legendary artists - all compiled from the pages of GUITAR WORLD magazine.
GUITAR WORLD PRESENTS KISS is 129 pages packed full of interviews and is highlighted by black & white photos. The book has an artfully altered reunion photo on the cover and is paperback bound 9"x6". Get the interviews you missed in GUITAR WORLD! The book retails for $14.95.
Get your copy now from Rock Bottom! Mail Order today. Only $13.95 plus $1.00 shipping & handling or $3.00 for speedy priority mail. * FL residents add 6% tax.
Send check or money order to:
Rock Bottom! Mail Order
P.O. Box 720938
Orlando, FL 32872-0938

New Kiss Book from Virgin Publishing, Ltd., UK
From: Kevin Knuth / Rock Bottom Mail Order
Virgin Modern Icons - KISS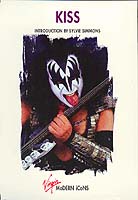 Dressed to kill, Kiss dominated the US Seventies Rock scene, stomping their way to success with a frenzied mix of glamour, Alice Cooper-style theatrics, vibrant stage shows and that tongue.

Formed in New York in 1972, the bandıs first four albums were released in two years: 'Kiss' and 'Hotter Than Hell' in 1974 and 'Dressed to Kill' in 1975; but it was when 'Alive!' (1975), their double live album, hit the streets that they finally made the big time. With the release of 'Alive!', America bowed down to the new gods of Rock. Like all great bands, Kiss attracted moral outrage and critical hostility, but the success story continued, with their voracious fans (the majority of whom were women) lapping up all that Gene Simmons and co. could provide. The band's popularity lasted until 1977, when the arrival of Punk and Kiss's bizarre decision to release four solo albums seemed to bring about a decline. The ensuing years saw a cast re-shuffle with Frehley and Criss replaced by a variety of newcomers. The new music seemed to lack the Kiss spark - until that golden moment of re-union in 1995, when the original four recreated the electric, quintessential Kiss energy, proving that the best never can be bettered.

Sylvie Simmons has been obsessed with both rock and writing since well before the age of consent. One morning in 1975 she woke up to discover that you could put them together, and got a job as pop writer on a teen magazine. Since then she has spent seven years in the States working on Sounds, Kerrang and Creem, among others, as well as co-hosting a radio show. Sylvie now writes for Mojo, Kerrang, Top and the European edition of Rolling Stone.

KISS Modern Icons is packed to the hilt with facts and essential quotations from the idols and those who knew them, loved them, worked with them, envied them and hated them, Virgin Modern Icons are a major celebration of the heroes of twentieth century culture - the good, the great and the idolized. Titles include: Bob Marley, The Clash, Iggy Pop. The Jam, The Kinks, Kiss, Led Zeppelin and Marc Bolan.

This UK import is 93 pages and is generously filled with over 50 color photos. The book has a cool cover of Gene lovingly licking the strings of his bass axe and is hardcover bound 7.5" x 5.125" with a slick sleeve.
The Table of Contents is as follows:
Introduction (by Sylvie Simmons)
Kiss and Make Up
Larger Than Life
No Business Like Show Business
Behind The Mask
The Kiss Army
Musical Moments
Rock and Rolling All Nite
The Music
The History
The Cast
The Books
This little book is like a handy Kiss bible and packs a wallop for its size!
Get your copy now from Rock Bottom! Mail Order today.
Only $10.95 plus $1.00 shipping & handling or $3.00 for speedy priority mail.
* FL residents add 6% tax.

Send check or money order to:

Rock Bottom! Mail Order

P.O. Box 720938

Orlando, FL 32872-0938

"Black Diamond 2: An Illustrated Collector's Guide to KISS" by Dale Sherman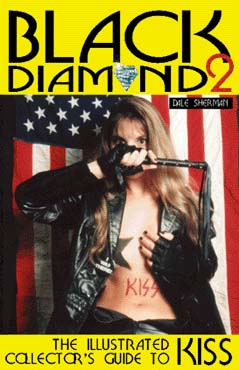 Black Diamond 2 web page
"YOU KNOW THE STORIES, NOW LOOK AT THE EVIDENCE. . . ."
"After disclosing the true history of KISS in BLACK DIAMOND: THE UNAUTHORIZED BIOGRAPHY OF KISS, Dale Sherman presents the evidence that made the band famous: their music and their visual extravaganza. Complete discographies for the United States, The United Kingdom, Japan and Australia are featured, with exhaustive details for each listing.
Also included are:

Reviews of more than 160 bootleg albums and a cross-reference to a comprehensive list of KISS concerts that have been recorded on video and audio over the years.
Detailed recording histories for each former and present member of KISS.
An insightful look at the ripoffs, parodies and tributes to KISS.
A videography of important television appearances plus a listing of the numerous video-cassettes that have featured KISS.
A detailed listing of KISS in print including books and comics.
Packed with more than 300 photos, BLACK DIAMOND 2 is the one reference guide KISS fans won't want to be without."

Press Release from Dale Sherman:
Thanks to the success of BLACK DIAMOND: THE UNAUTHORIZED BIOGRAPHY OF KISS, Collector's Guide Publishing will soon be releasing a follow-up volume by writer Dale Sherman that gives KISS fans even more information about the hottest band in the land.

October 6th is the publication date for BLACK DIAMOND 2: THE ILLUSTRATED COLLECTOR'S GUIDE TO KISS. Continuing from the first volume, BD2 is an all-new reference guide to the band, with 400 pages of text and over 300 photos to illustrate the many collectable albums, videos, books and comics featuring KISS.

The new book will be available almost immediately at bookstores in Canada, and everywhere else in November. For those that can't wait, the book will also be available through the internet at Collector's Guide Publishing's website or by snailmail to CGP (see the BLACK DIAMOND page for the address).

To promote the new book, Dale Sherman will be appearing at the Chicago KISS Expo on November 9th with both volumes available. He is also tentatively scheduled for the Toronto KISS Expo on November 16th, but keep an eye here at The KISS Asylum for more details on that and other appearances.

Author's Note: Just wanted to thank the fans for making BD1 such a success! Without your support, BLACK DIAMOND 2 would still be just a dream of mine. And thanks to Chris and John at The KISS Asylum for their continued support as well! I'll be at the Chicago KISS Expo on November 9th with Steve from KISS Freaks. See you there!