Adam Gold | Nashville Scene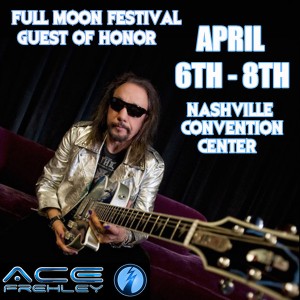 NASHVILLE!!! You want the best? You've got …Ace Frehley.
That's right, dorks. Come April 6-8 disgraced dead-dog-hoarder Vinnie Vincent won't be the only former KISS guitarist occupying Middle Tennessee. Because April 6-8 is when Ace "Spaceman" Frehley will appear as The Full Moon Tattoo and Horror Festival's guest of honor at Nashville Convention Center. And that's actual Ace Frehley, not current KISS guitarist Tommy Thayer dressed up in Ace's "Spaceman" get-up and face makeup, FYI.
Presented by the recently-relocated-to-East Nashville Lone Wolf Tattoo and its parent company Full Moon, Inc., this 11th annual three-day dork-out on body art and bloody fiction will also feature appearances from Jerry "The King" Lawler, I Spit on Your Grave star Camille Keaton, scream queen Stacey Dixon, The Walking Dead's Norman Reedus, Robert Carradine (the dude who played Lewis in all four installments of the Revenge of the Nerds franchise), Tony Todd (the dude who played The Candyman in the Candyman films), two dudes who each played Jason Voorhees, two dudes who each played Michael Myers and some dude who was in Saw 3.