Chris Epting | Noisecreep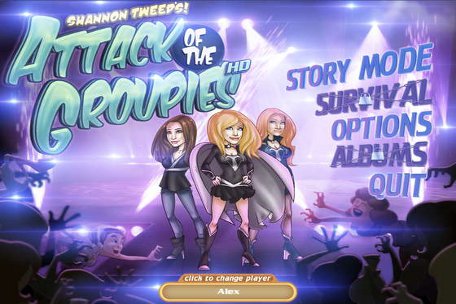 Shannon Tweed has jumped into the video game realm with Attack of the Groupies, a new mobile game which offers fans the opportunity to battle it out with hordes of groupies.
In the game, which is available for the iPad, iPhone and PC, Shannon enlists the help of a few trusty sidekicks, daughter Sophie Tweed-Simmons and her sister Tracy Tweed, who are in game as focal characters. Featuring stereotypical groupies inspired by Tweed's stories of her years being with KISS bassist/vocalist Gene Simmons, the game allows players to unlock exclusive, rarely seen content of the life of the starlet.
As design of the game neared completion, Gogii CEO and founder George Donovan visited the family and made a surprise appearance on Gene Simmons Family Jewels, the popular A&E reality show that features the Simmons clan, to demo the game. The episode featuring the game will air early in the upcoming season.
Noisecreep had the extreme pleasure of talking with Shannon herself about the game, the show's new season and more.
Shannon, what's it like to finally get some revenge against the groupies?
Believe me, you can't make this shit up. These girls are out of their minds. So this feels really good right now. The characters were my ideas, and Sophie's, and they are true to form. As far as choice of weapons, we kept it PG this time so kids can play with it, but I'd like to do a more hardcore version of the whole thing down the line. Basically it's a power game – these are bitches from hell we deal with, just like in real life.
Continue reading →