Marko Syrjala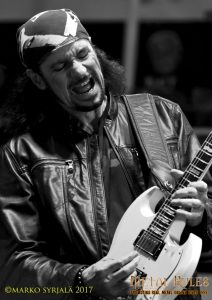 Bruce Kulick has had a long and successful career in the music world. He is still, and probably will always be, best known for his twelve-year-long KISS career. Kulick joined the band in 1984, but before that he had been working for many years with artists such as Michael Bolton, Billy Squier, Blackjack and Meat Loaf. When KISS decided to put the makeup back and reunite with the original members in 1996, Kulick founded a  group of his own named Union. Later on, he has released three solo albums and worked as a session artist on numerous projects, including the very successful Avantasia albums. In 1999, he was asked to join the legendary Grand Funk Railroad. And now, 17 years later, he is still with the group. Kulick arrived at Helsinki last November. He was a special guest at KISS Army Finland's annual KISS Expo. He did not only perform with local KISS Army members and other guests, such as Mr.Lordi and drummer Bobby Rock, but he also did a long Q & A session, meet and greet with fans, and much more. The next day I had the opportunity to sit down with Bruce. We discussed about his recent KISS Kruise performance, Helsinki Expo, a possible new Kulick album and how the future overall looks like for him. 
KISS EXPO HELSINKI 2017
So, in brief, how was the KISS Expo in Helsinki for you?
Bruce Kulick: First of all, there were a lot of new elements that have impressed people. That's exciting for the fans. The fact that a lot of different people performed, that was obviously a big bonus with some unusual songs being played, which is wonderful. Then I was doing a Q&A, and there were a lot of new fresh news to talk about, so, that was valuable. So, I think in many ways, this one did have a lot of special moments. I think that the people, who made an effort to go, had a special time. The people that decided not to go missed out on this one. Just like the people who say like, "Oh I didn't go on that KISS cruise because some special things happened there". So, I am very happy with the event, and in some ways, it wasn't as hectic even as my smaller clinic style event, a few nights before in Norway. So, I was pleased overall. I know there were a lot of challenges you guys had with the last-minute venue change and all that. But the most important thing is that the fans had a good time, they weren't complaining about anything. My meet and greet was something special. I know I have to keep it limited. So that's why I got to charge a little more. But those people whom I did get a chance to have a one-on-one discussion with them a bit, besides signing their stuff and everything, I think it was a big win for everybody.
That's great to hear because most of the people don't understand what it takes to organize a thing like Expo and make it a success.
Bruce Kulick: All these expos are always like a crazy animal. It's not easy to make it work. So, I give you a lot of credit for trying it and making it work. Expos are a wonderful connection to fans, and I think the fans that missed this one, really missed out on something special.
THE KISS KRUISE
One hot topic in the KISS world right now is the recent KISS Kruise where you and your brother Bob also performed. How did that thing originally come up and how was it as an experience as a whole?
Bruce Kulick: First I'll tell you that how the cruise was for me. I did two prior cruises before this. One was kind of like a motorcycle rock and roll thing in Brazil. There I was the solo artist, and I used the South American players.
When was that cruise?