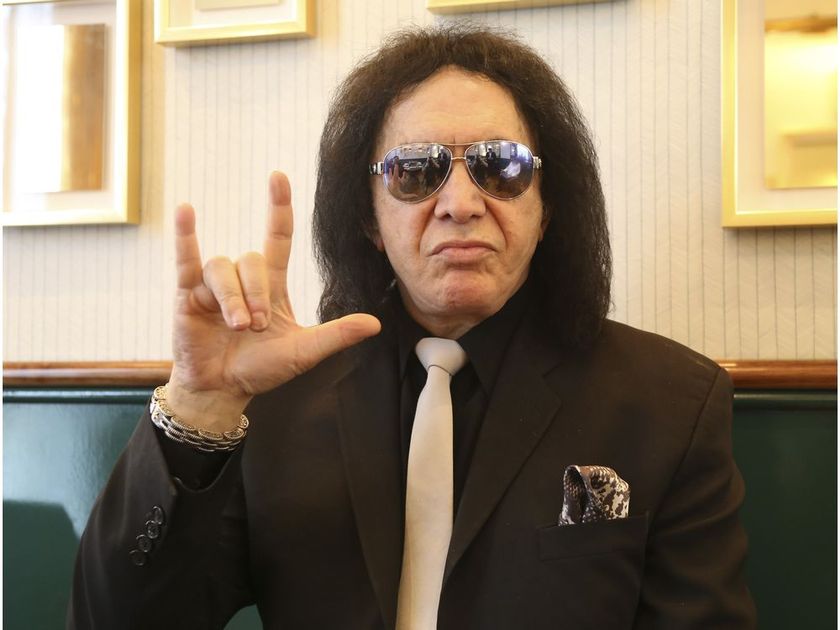 KISS bass player Gene Simmons says he's never smoked a joint in his life, but he's now the global ambassador for a company that's gearing up to sell recreational pot to Canadians.
In fact, the 68-year-old rock star is the CEO at Vancouver-based Invictus MD Strategies Corp.
That's "chief evangelist officer," the title Simmons gained in a multimillion-dollar deal with the company.
Simmons, famous on stage for his demon makeup, large tongue and fire-spitting, will put his "branding and merchandising genius" to work on behalf of Invictus, the company says.
Simmons is not the only celebrity hooking up with a cannabis company.
Members of The Tragically Hip are creative partners and shareholders in Newstrike Resources Ltd., the owner of Up Cannabis. Beleave Inc. has a brand licensing deal with Kevin Smith and Jason Mewes, who played pot dealers Jay and Silent Bob in movies and animated TV series. The team behind made-in-Canada stoner characters The Trailer Park Boys has a business and brand development deal with New Brunswick's OrganiGram. Tweed Inc. in Smiths Falls sells rap icon Snoop Dogg's "Leafs by Snoop" weed.
It's all part of a push by cannabis companies to build brands and make their products stand out. But that effort is going to be complicated by the pending legalization law in Canada, which will come with strict regulations.
The federal Cannabis Act will ban mass advertising and promotion. It will not allow any TV commercials, billboards or glossy magazine ads extolling the virtues of the dried weed and cannabis oil that will be sold in plain packages from behind the counter upon legalization. Cannabis companies won't be allowed to sponsor people or events or put their names on sports and cultural facilities, either.
The law will also prohibit promotion of cannabis through endorsements and testimonials, by depicting people, characters or animals, by appealing to youth, or by associating the drug with a lifestyle of "glamour, recreation, excitement, vitality, risk or daring."
However, the law has yet to be interpreted.
And what type of celebrity partnerships will be allowed is a big question for the fledgling cannabis industry, says Aaron Sonshine, co-head of the cannabis law section at Toronto firm Bennett Jones.
"Companies are trying to find ways to create brand profile in an industry that is increasingly competitive," says Sonshine. "(Companies) will be looking for ways to create brand recognition by aligning themselves with popular figures in a way that doesn't cross the line with the new regime."
Federal politicians have emphasized their intention to guard against the promotion of cannabis, especially to young people. The tension between the government's promise of "strict regulation" and the industry's desire to sell products and expand is obvious.
The day before Simmons appeared at the Toronto Stock Exchange when Invictus changed its trading symbol to "Gene," Health Canada unveiled a proposed design for cannabis packages.