Christa Lawler | Duluth News Tribune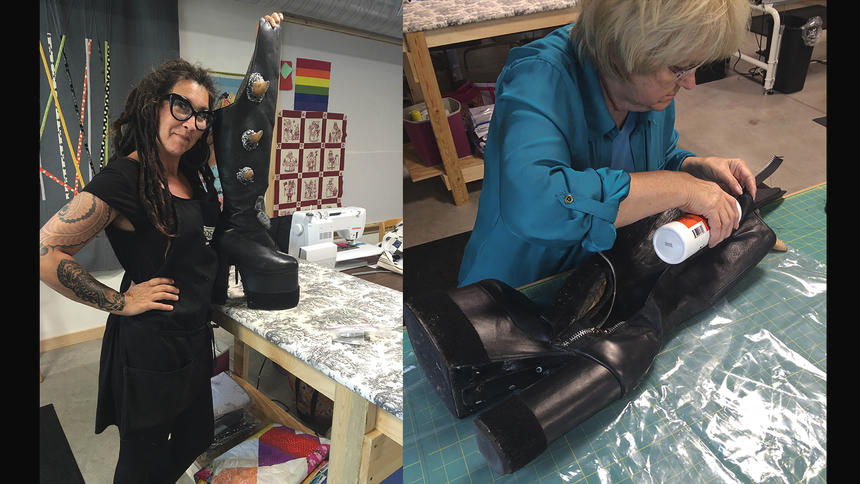 Gene Simmons wears 10-inch black platform boots with 1-inch lifts. They are about half as tall as a preteen boy and are covered in horns. There is Velcro around the base, so that a dragon face can be attached.
"The handle of the zipper was a Rite Aid toenail clipper," said Karen McTavish, who spent 3½ hours repairing a zipper on the KISS frontman's signature boot before the rock 'n' roll band performed Wednesday at Amsoil Arena. "This is the weirdest job I've ever had in my life. Funniest and weirdest."
The boot zipper was going down on its own, said McTavish, the quilter behind McTavish Quilting Studio. She called in help from Claudia Clark Myers — former costume designer for the Minnesota Ballet, the College of St. Scholastica and the Baltimore Opera Company — who came over bearing needles made for leatherwork.
The duo took out the faulty zipper, then used a combination of McTavish's Bernina Sewing Machine, hand-stitching with 100 percent polyester thread and a special adhesive that works on fabric and leather, said Myers, who claims to be too old to be a KISS fan.
"It was difficult," she added. "We just did the best we could and I was happy to see a picture on the front page today that it was on his boot and intact and there wasn't a big headline about Gene Simmons' costume falling apart in the middle of the performance."