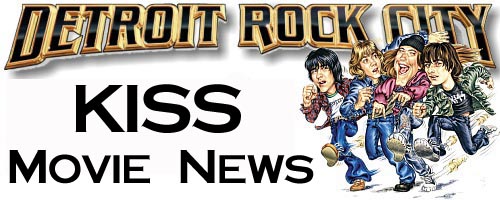 "Detroit Rock City" -- Movie Facts
Film by New Line Cinema
Release Date: August 13, 1999
Director: Adam Rifkin (writer on "Mouse Hunt" and "Small Soldiers")
Producers:Gene Simmons, Barry Levine and Kathleen Haase
Cast Members: Edward Furlong (Teminator II), Natasha Lyonne [Will play Christine 16], KISS members, Gene Simmons, Paul Stanley, Ace Frehley and Peter Criss will be in the movie.
Movie Premise: Set in 1978, Detroit Rock City is a hilarious coming-of-age story about four teenagers who embark on a wild adventure to attend a KISS concert. Driven by their unwavering passion to experience their favorite legendary rock group live, the teens will stop at nothing to scam their way into the sold-out show.
Simmons Quote: "Detroit Rock City is the quintessential coming-of-age story. I think there will be a lot of kids who will relate to the pilgrimage these teens are on. It's like they're after the Holy Grail!"

Detroit Rock City Movie Soundtrack Release - August 3
Detroit Rock City Movie Magazine Release - August 10
"Detroit Rock City" Movie Trailer (2.1 megs - 1min 15 seconds) -- From KISS Freaks.com
---
August 16
---

Gene Simmons Quote on DRC Disappointment
From: Netscape.com via David Stephenson
"I'm sitting on Mt. Olympus and these silly humans don't behave the way I want them too, and now the heavens will open and I will zap them with lightning bolts." KISS frontman Gene Simmons, on the disappointing $2 million opening of "Detroit Rock City," which he produced.

Detroit Rock Disappointment
From: Yahoo.com
Three movies launched in wide release this weekend, but only one did well: the Steve Martin, Eddie Murphy comedy ''Bowfinger'', which opened at No. 2 with $18.2 million. The others were the Asian-set prison drama ``Brokedown Palace'' at No. 9 with $4.0 million, and the KISS rock 'n' roll road movie ''Detroit Rock City'' whose $2.0 million tally placed it well out of the top 10. Set in 1978, New Line Cinema's ``Detroit Rock City'' stars four Ohio high school kids who overcome numerous obstacles in their road trip to Detroit to see their first KISS concert. The band appears at the very end in a concert scene playing the title song. KISS frontman Gene Simmons also served as a producer of the $14 million movie. ``Nobody is thrilled, of course, but that's life,'' said Simmons, when reached at his Beverly Hills home Sunday morning. ''You believe in something, whether it's music or art, you put on your battle gear and beat up the unconverted. It's never over.'' Asked why the same fans -- the so-called Kiss Army -- who scoop up their records appeared to avoid the movie, Simmons said, ``Good question. We tour, we get millions of people.'' Simmons' The Gene Simmons Co. has two projects in development at New Line, and he is meeting with his attorneys Monday to put the finishing touches on a production deal at an unidentified studio where he will have funding of more than $100 million.
---
August 5
---

Detroit Rock City "Party With KISS" Contest
From: DetroitRock.com
Get the "Detroit Rock City" expereince and Party with KISS! Enter to win a Rock and Roll Fantasy Trip that will send YOU to Las Vegas to party with KISS! Are you 18 years of age or older? Can you travel between August 22-24th? Is so - then you're ready to rock! Enter TODAY and win a trip to Las Vegas to rock and roll all night with the legendary band KISS! Simmons, Stanley, Frehley and Criss in Vegas! Contest ends August 16th - so enter today! Click Here To enter and fill out the contest form!

Chat with "Detroit Rock City" Movie Cast
From: DetroitRock.com
Want to chat with the stars from the movie "Detroit Rock City?" Now is your chance! All month long the stars of "Detroit Rock City" will be having web chats. The Detroitrock.com website has provided a comprehensive chat schedule for the fans!
DETROIT ROCK CITY Chat schedule:
8/9 -- Edward Furlong -- America Online -- 5pm PST
8/12 -- Gene Simmons -- America Online -- 6pm PST
8/17 -- Lin Shaye -- ET Online -- 6pm PST
8/17 -- Melanie Lynskey -- TNT Roughcut -- 5pm PST
8/17 -- Sam Huntington -- TNT Roughcut -- 6pm PST
8/18 -- Giuseppe Andrews -- America Online -- 5pm PST
8/18 -- Shannon Tweed -- TNT Roughcut -- 5pm PST
8/18 -- Lin Shaye -- TNT Roughcut -- 6pm PST
8/18 -- James DeBello -- TV Guide Online -- 6pm PST
8/19 -- Sam Huntington -- ET Online -- 5pm PST
8/19 -- Melanie Lynskey -- ET Online -- 6pm PST

VH-1 DRC KISS Premiere Party Show 8/11/99
From: USA Today
VH1 will broadcast the coverage of the "Detroit Rock City" Premiere Party Wednesday (8/11) at 11:30 pm EST. A highlight of the party promises to be the original KISS members - Paul Stanley, Ace Frehley, Peter Criss and Gene Simmons -- performing such hits as "Detroit Rock City" and "Shout It Out Loud."

"Detroit Rock City": A 'Love Gun' for the Rest of Us
From: FoxNews.com via Suze
By Christina Nunez
NEW YORK -- Were you a teen-ager in the '70s? Did you worship the KISS gods? Are you a big Edward Furlong fan? If you answered yes to any of the above, Detroit Rock City is certainly your movie. But if the other 75 percent of summer's audience manages to drag itself away from the other teen-oriented offerings at the multiplex, they might find some lo-fi, no-brain entertainment in Adam Rifkin's by-the-book adolescent comedy. Director Rifkin, who is best known for his ABC kids' series Bone Chillers, calls Detroit Rock City "a kind of American Graffiti meets Rock 'n' Roll High School." The movie follows four kids who are hell-bent on seeing the "greatest rock show in the world": the 1978 "Love Gun" KISS show at Cobo Hall in Detroit. The journey charts more ups and downs than a 15-year-old's hormone levels. "For adults who grew up in the '70s, it was the kind of story you could look back on with nostalgia," Rifkin says. "For young audiences it was really relevant, because teen-agers haven't changed much from the '70s to the '90s." Not sure what decade Rifkin is living in, but one of the most refreshing things about Detroit Rock City is exactly how quaint the teen rebellion seems in light of movies such as "Go" and "Kids."
Click Here To Read The Rest Of The Review!
---
August4
---

VH-1 "Detroit Rock City" Premiere Party Cybercast
From: VH-1
They said there'd never be another "Phantom of the Park," but here comes "Detroit Rock City" (in theaters August 13th). This film about four disenfranchised members of the KISS Army circa 1978, starring Edward Furlong and Natasha Lyone, is opening with the party of the millennium, as a celebrity audience are rocked, rocked and rocked again by Everclear, Cheap Trick and, of course, the mighty KISS. Lost your invite? Then make sure you're here for VH1.com's webcast. The party comes alive at 9 PM Pacific Time/Midnight ET on August 9th. So pick a player, get your make-up on and be careful the pyro doesn't blow your monitor!!

Gene Simmons DRC Radio Interview
From: OdyInc@aol.com
[The following aired on the radio August 1, 1999]
"Hey everybody! And welcome to a special world premeir broadcast of DETROIT ROCK CITY - The soundtrack to the fourth-coming film about a group of KISS fans that try to get into a 1978 sold-out concert. The film opens nationwide on August 13th. The soundtrack album comes out on Tuesday, August 3rd. I'm Arthur P. and tonight we'll hear from some of the bands that are featured on DETROIT ROCK CITY, including Everclear, Marilyn Manson, Pantera, and Drain STH. The guide for this audio journey will be the man himself, Gene Simmons from KISS."
Click Here To Read The Entire Transcript!
---
August 3
---

"DRC" Soundtrack Released Today
From: KISS Asylum
Just a reminder to all KISS fans that the "Detroit Rock City" movie soundtrack is released today (8/3/99) in all major record stores (you can also order online at CDnow). As previously reported here at KISS ASYLUM, the track listing is as follows: Everclear - The Boys Are Back In Town; KISS - Shout It Out Loud; Van Halen - Runnin' With The Devil; Pantera - Cat Scratch Fever; Black Sabbath - Iron Man; Marilyn Manson - Highway To Hell; Drain STH - 20th Century Boys; KISS - Detroit Rock City; Thin Lizzy - Jailbreak; Cheap Trick - Surrender; David Bowie - Rebel Rebel; The Donnas - Strutter; The Runaways - School Days; Sweet - Little Willy; KISS - Nothing Can Keep Me From You. As everyone knows, the soundtrack contains a new KISS song, "Nothing Can Keep Me From You." We want to know your thoughts on that song so after you take a listen, vote in our latest KISS ASYLUM Poll. We want your feedback!

VH1 To Cybercast "DRC" Post-Screening Party
KLOS Radio To Give Away Tickets To The Party
From: Metal Edge
Next week will be a big one for KISS! August 9th is the premiere event for Detroit Rock City, the band receives a star on the Hollywood Walk of Fame two days later on August 11th, and on Friday the 13th (guess KISS and New Line Cinemas are not superstitious!) the movie opens nationwide. KISS will perform at the invitation-only post-screening party, as will soundtrack participants ("The Boys Are Back in Town") Everclear, who'll be joined by Robin Zander and Rick Nielsen of Cheap Trick to play "Surrender," which also appears on the soundtrack. Radio station KLOS will give away a limited number of tickets to the Westwood event, but everyone else can see the performances via a VH1 Cybercast at www.vh1.com. Fans are, however, invited to turn out for the Walk of Fame induction to witness the unveiling of KISS' star at 11:30 AM on August 11. Dick Clark will emcee the event, which will take place on Hollywood Blvd. between La Brea and Sycamore. Meanwhile, the next KISS feature (a biographical feature) is in pre-production, and a CBS telefilm is being written that follows a guy and girl who see each other at a KISS concert in 1976 and miss getting together, but try to find each other at a KISS concert two decades later. As for actual KISS concerts, it now seems that the Next KISS Tour, which may or may not be a farewell one (nothing has been officially announced), will begin in January of 2000.

KISS MTV/MuchMusic "DRC" TV Specials
From: Cweed4U@aol.com
Hey everyone, there are 2 KISS specials on television this weekend. Get the vcr's ready! On Saturday there is the MuchMusic KISS "DRC" Special at 9:30 am with a repeat at 4pm. The MTV"DRC" Special will air Saturday at 6:30pm with repeats on Sunday at 10:30pm, 8/10 at 7:30pm and 8/14 at 10:30pm.
---
July 31
---

KISS To Play "Detroit Rock City" Premiere Party
From: Entertainment Weekly & Gerri Miller
Gerri Miller, of the Metal Edge Metal Wire, reported to KISS ASYLUM that KISS is planning on playing live at the August 9th Detroit Rock City premiere party bash. According to the August 6, 1999 issue of Entertainment Weekly (page 14), this will take place at UCLA's Lot 32 (with the actual screening of the movie happening at Mann's Village Theatre). Gerri reported that KISS is planning on playing about a 30 minute set and that Everclear is scheduled to perform a couple of songs, with Cheap Trick joining in.

Enter TNT Roughcut.com's "KISS Off Kontest"
From: TNT Roughcut
At roughcut.com August is Movie Music Month, so what better way to get it going than by giving you a chance to win some "Detroit Rock City" stuff? How about hats, T-shirts, posters and stickers? Winning is easy! All you have to do is answer some questions. We'll pick the winners randomly from those with the correct answers. Good luck! And, if you live in or around (of course, "around" is relative to how far you're willing to roadtrip!) Atlanta, GA, Nashville, TN, Birmingham, AL, Charlotte, NC or Raleigh, NC, scroll down past the entry form for a chance at FREE PASSES to the "Detroit Rock City" premiere in your area! Click Here To Enter The Contest & Get Your Free Movie Passes!
---
July 30
---

Official KISS Magazine #2 from Starlog
From: K. Coughlin
I just received a preview copy of The Official Kiss Magazine #2 put out by Starlog and it it is chock-full of up to date info on KISS and their soon to be released motion picture "Detroit Rock City." The 100-page glossy mag, fully authorized by Gene Simmons, contains photos of the recent Psycho Circus Tour by KISS' own on-tour photographers and on the set clips from the "Detroit Rock City" film. Also, included is a conversation with Bruce Kulick and his relationship with his former band. The magazine is set to hit news satnds around August 10th, in time for the movie's release.

"DRC" Movie Website Update - M.A.T.M.O.K
From: KISS Asylum
"Mothers, it would be down-and-out devilish of us to ignore the marching music of evil troops approaching our Holy City. The troops I speak of, of course, are comprised of the leather-wrapped, high-booted hate-soldiers of KISS; the Holy City I speak of is the scared space we have created here for our children. Are we to sit idle while the devil's minions get busy all over our once peaceful dominion?"
Yes, the "DRC" movie website at www.detroitrock.com has been updated again with another funny message from the M.A.T.M.O.K (Mothers Against The Music of KISS). The website also added some more features which include a Bulletin Board, Detroit Rock City Trading Cards, and their DRC Website Magazine. Visit the Detroit Rock City movie website to sign up for their mailing list and read the latest messages from the M.A.T.M.O.K.
---
July 27
---

Official "Detroit Rock City" Movie Shirt
From: David Snowden Promotions
Just announced! Be the first KISS fan in your town to have the official "Detroit Rock City" Movie T-shirt. Full color image printed on white cotton t-shirt. Available in sizes Large & Extra Large! Due in stock first week of August! Item DRTS. Price: $17.99 Accepting preorders now exclusively at the KISS Asylum KISS Shop
---
July 17
---

"Detroit Rock City" Movie Advance Screening
From: Jeff Spector
I saw an advance screening last night of "Detroit Rock City" and I'm happy to report the fans will not be disappointed! This is every KISS fans' story so this 90 minute comedy no doubt will have all army members clamoring for more. I was most impressed by the producers careful attention to detail (when the camera pans on side 1 of "Love Gun", you actually hear "I Stole Your Love"!) They evoked 1978 perfectly, right down to period-era cereal boxes!! Moreover, I found the film to be a loving tribute to hardcore fans everywhere who were really put to the test in defending their love for this band (you know who you are). From disapproving parents to disco-obsessed meatheads who denounced KISS at every turn, "Detroit Rock City" at last provides a cinematic voice for all of us who've stayed true to the ideals of KISS throughout the years.
Click Here To Read The Rest Of The Review!
---
July 9
---

"Nothing Can Keep Me From You" Hits Radio Airwaves
From: Byron Fogle
KISS has struck gold again with the new single "Nothing Can Keep Me From You." This is a song where if you looked up 'power ballad' in the dictionary this song would be there. It starts off with heavy distorted chords and an orchestra and then song changes gears within seconds to an acoustic guitar and orchestra where Paul delivers the first verse. It picks up again for the chorus and repeats that format for the duration of the songs with exception to the bridge, which could be the only weak point of the song. The lyrics are meshed together and I feel it loses some of the emotion of the song but it has a nice build up and climax to the chorus. It's good song writing wise but it's only the bridge lyrics that have a hint of cheesy 80's ballad to them. There is no guitar solo in this song so that would kill all the "Did Ace play on this song" rumors, well, at least the "did he play the solo rumors." The drums are simple enough to state it is Peter on this unlike most rumors I've heard which state the only KISS member on this song is Paul. The fills have a very "Hard Luck Woman" flavor to them on the toms. This is by far Paul's best vocal to date and a sure fire hit and Grammy nomination for Diane Warren & Paul. They've been playing the single quite frequently on WDHA 105.5 in New Jersey. It's a small station that's kinda hard to pick up due to the low frequency and lack of a good satellite. When my friend Blaine taped this song last night in order for it to come in good he had to tape his antenna to the wall so that shows you 2 things 1. How determined a KISS fan is 2. How bad the signal for WDHA is.
Call 1-973-480-1055 and request it if you're able to receive this station.
Click Here To View The LYRICS to "Nothing Can Keep Me From You."
---
June 15
---

"Detroit Rock City" Movie Magazine News
From: KISS Asylum
The official "Detroit Rock City" Movie magazine from Metal Edge goes on sale August 10th. Inside there will be exclusive interviews with Gene, Paul and the cast, the making of the "Nothing Can Keep Me From You" video, behind the scenes with the director, screenwriter, producers and designers as well as a contest giving away an autographed DRC script and soundtrack! Fans can "pre-order" issues before the national on-sale date by visiting the Metal Edge website or by filing out the coupon listed in the back of the upcoming Metal Edge magazine (september issue) which will be on sale shortly. In other KISS Metal Edge News, next month's (october issue) Metal Edge will have a feature on KISS' upcoming "Detroit Rock City" motion picture as well as the latest on the movie soundtrack!
---
June 11
---

"Detroit Rock City" Soundtrack Mention in EW
From: Entertainment Weekly
KISS-UPS: You might assume that the soundtrack to "Detroit Rock City," the upcoming summer flick about four kids trying to get into a sold-out 1978 KISS concert, would be full of KISS tunes. While there will be one new song (the Diane Warren-penned "Nothing Can Keep Me From You") and three oldies from KISS, the CD will also include '90s artists remaking '70s hits. Confirmed tracks for the album, scheduled for a July 27 release, include Marilyn Manson covering AC/DC ("Highway to Hell"); Pantera, Ted Nugent ("Cat Scratch Fever"); Everclear, Thin Lizzy ("The Boys Are Back In Town"); Drain sth, T. Rex ("20th Century Boy"). KISS member (and "Detroit Rock City" coproducer) Gene Simmons, the formost proponent of what he calls "KISS-tianity," thinks the soundtrack might as well be a KISS album: "It looks like a hit. It's our 33rd or 34th album, something like that....Do we still have the cover [of EW] when the movie comes out?"
---
June 8
---

Final "Detroit Rock City" Soundtrack Lineup
From: KISSonline.com

Everclear - The Boys Are Back In Town
KISS - Shout It Out Loud
Van Halen - Runnin' With The Devil
Pantera - Cat Scratch Fever
Black Sabbath - Iron Man
Marilyn Manson - Highway To Hell
Drain STH - 20th Century Boys
KISS - Detroit Rock City
Thin Lizzy - Jailbreak
Cheap Trick - Surrender
David Bowie - Rebel Rebel
The Donnas - Strutter
The Runaways - School Days
Sweet - Little Willy
KISS - Nothing Can Keep Me From You
---
June 7
---

"Nothing Can Keep Me From You" Video Shoot
From: Metal Edge
The young stars of Detroit Rock City, Edward Furlong, Sam Huntington, Giuseppe Andrews, James Debello, Natasha Lyonne, and Melanie Lynskey, along with Shannon Tweed, will fly to Toronto to appear with KISS in the video for "Nothing Can Keep Me From You." The video must be shot in the Canadian city because Paul Stanley is starring in The Phantom of the Opera there.
---
May 3
---

Detroit Rock City Movie Website
From: potisdal@uscsumter.edu
In Yahoo Internet Life magazine the "Detroit Rock City" movie was mentioned with a picture of teens on a VW with a KISS sign behind them. It also mentioned that the movie web site is located at www.detroitrock.com (with a mirror locatation at www.detroit-rock-city.com). The front page of the website is black right now, probably pending official unveiling.
---
April 29
---

Detroit Rock City Movie Trailer
From: Metal Edge
KISS fans will get a first glimpse of Detroit Rock City beginning June 11, when the trailer appears in theaters with another New Line Cinema release, Austin Powers: The Spy Who Shagged Me. Detroit Rock City will be released August 13.

March 20
---

KISS Songs on DRC Soundtrack
From: Metal Edge via Mike Hogan
Since KISS fans already have more compilations than they can count, there will be just four KISS songs on the Detroit Rock City soundtrack: "Shout it Out Loud," "Calling Dr. Love," the new version of "Detroit Rock City," and the new ballad "Nothing Can Keep Me From You," written by Diane Warren. The rest of the soundtrack will be comprised of classic rock songs and three or four newly cut versions of classic rock songs. The soundtrack will hit the streets before the movie, which is due out August 13.
---
February 10
---

"Detroit Rock City" Movie Postponed
From: Metal Edge via Javier Chavez
The release of Detroit Rock City has been postponed till mid-August, which was, ironically, the month the KISS movie was originally intended to come out, before it was fast-tracked into production to get it out in April. But as it turned out, there simply wasn't enough time to get the film marketed properly and its soundtrack put together in time. The extra time "will give us more time to promote it," says DRC associate producer TIM SULLIVAN. "We had a strong test screening Monday night and New Line is very pleased with the film," he says, noting that the four extra months will benefit the soundtrack and enable them to get a trailer into theaters during the busy May-July movie season.

A Loving Look At "Detroit Rock City" Test Screening
From: aint-it-cool-news.com via Sam Ling
Ya know folks, every now and again there's a film that just makes me wanna smile. You see, DETROIT ROCK CITY is that movie right now. When I was just a wee lad, I dressed up as the 'Thing That Survived Three Mile Island', which consisted of a glow in the dark reptilian mask and a 'no nukes' t-shirt and won the Eeyore's Birthday Costume Contest here in Austin. The Prize? All four of them LPs (an ancient circular disc made of asphalt like substance with grooves which, when scratched with a needle attached to an amplifier gave off noise sounding like HIFI MUSIC) of the KISS Solo Albums... the ones where each album had a different member of the band's badass faces on it! Ever since I've heard of this movie, I've been awaiting it. And, I've been hoping that it would be a part of SXSW Music and Film fest here in Austin. Why? Well, so I could see it earlier than it's targeted release date, which now pushes it into the summer from it's earlier April release date.... sigh.... So who knows... perhaps...I had the opportunity to see a MarketCast test screening of Detroit Rock City on Monday, and am finally getting around to sharing my thoughts with you. Please feel free to share this with your readers. First off, let me just start with the obligatory bashing of market research companies.... Prior to this, I'd only attended two other test screening, both by the famed NRG. Hah, and I thought they were bad! This MarketCast group was incredibly disorganized and unprepared for the number of people that showed up. But my real beef was the demographics represented.... The "invitation" called for ages 18-34 only, yet a good 1/3 of the audience were under 18. I'd guess VERY few over 25. Even the "select" group of viewers who were paid for a more in depth opinion fell in the 16-25 area. Considering this is a movie about K.I.S.S. and K.I.S.S. fans in 1972, I would have though an older age group much more representative. Although the humour of the movie seemed targetted towards the younger end of the spectrum. Not sure if that was intentional or wise.
Click Here To Read The Rest Of The Review!
---
January 22
---

KISS' Detroit Rock City Clips Bow
At Horror Convention
From: Rocktropolis via Steve Araki
By Don Kaye
Kiss bassist Gene Simmons took time out from the band's schedule to publicly premiere footage from the upcoming movie, Detroit Rock City, at a horror fan/memorabilia convention on Saturday (Jan. 16) in New York City. The event, called the Weekend of Horrors, is sponsored by horror movie magazine Fangoria and held annually at the New Yorker hotel in Manhattan. The show features previews of upcoming movies, celebrity appearances by horror film stars, and dozens of dealers selling everything from videos to posters to toys to fake fangs. Someone involved with the convention thoroughly did their market research and determined that horror fans are also big heavy metal fans in general, and Kiss fans specifically, since the main ballroom was packed for Simmons' surprise mid-afternoon appearance. Simmons, sans makeup and costume, was joined onstage by director Adam Rifkin, associate producer Tim Sullivan, and one of the film's teenage stars, Sam Huntington, for a half-hour question- and- answer session with the audience that included the showing of a featurette on the film's making. The short promo film included several clips from the movie, which is a story about four teens on a quest to get into a Kiss concert in 1978. From the brief clips shown, Detroit Rock City looks like it could be a lower-budget, grittier, more rock and roll version of the usual slick teen coming-of-age comedy.
Click Here To Read The Full Article!

December 7
---

KISS Movie Release: 4/16/99
From: KISSonline.net (The Official KISS Website)
Is it a coincidence? I'm not sure, but eitherway it's a great way to celebrate the third anniversary of Reunion Press Conference! April 16, 1999... the release date for the New Line Cinema release "Detroit Rock City!"
KISS have already re-recorded a new version of "Detroit Rock City" for the movie soundtrack. Apparently Paul has also agreed to write a couple songs for the soundtrack.

KISS News From Metal Edge
From: Metal Edge via Mike Hogan
KISS' Detroit Rock City movie is becoming a family affair. Not only is SHANNON TWEED, the mother of GENE SIMMONS' kids, playing a featured role as a sexy older woman who seduces EDWARD FURLONG's character, PAUL STANLEY's wife PAM and ACE FREHLEY's daughter MONIQUE will be extras in the climactic concert scene, which was filmed on December 3, in Toronto.

KISS Shoots Film Scenes In Ontario
From: Rocktropolis via Steve Araki
By: Karen Bliss
It was 1978 all over again. Hamilton, Ontario's Copps Coliseum was transformed Thursday (Dec. 3) into Detroit's Cobo Hall for the filming of a concert scene from New Line Cinema's Kiss movie, Detroit Rock City, about the adventures of four Kiss fans. The dress code for the thousands of extras, all of whom were required to sign a release form before entering the arena, was Kiss regalia or '70s garb. Some audience members didn't have to make much of an effort -- no one can grow a mullet hairdo that quickly. Some brought banners, like the one painted by Wingham, Ontario's Grant Joloi, 34, emblazoned with the likeness of Gene Simmons, Paul Stanley, Peter Criss, and Ace Frehley. Others brought the whole family. Stratford, Ontario's Jennifer Davis, 3, there with dad Stephen, mom Kim and sister Michelle, 8, hoped Kiss would sing "Ring Around the Rosey." Kiss had played the night before at Toronto's SkyDome stadium and stuck around to shoot the scene, which required them to play "Detroit Rock City" over and over again. Filming took from 5:30 p.m. until 3 a.m.
Click Here To Read The Full Report
---
December 2
---

KISSTORY Repeating
From: Viewmag via Sean Palmerston
By: David Young
"The more we're in touch with our past, the more we know where this band is going in the future." Gene Simmons, 1994
If you're a serious music fan, you've probably made a list of great rock moments you'd like to revisit once you get your time machine back on-line. If you've lost the schematics, don't worry: a week tonight, KISS and New Line Cinema set the clock back 20 years as the Creatures of the Night resurrect their 1978 Love Gun tour in meticulous detail for one night only. Copps Coliseum will serve as a stand-in for Cobo Hall, the setting of the film's climax, and extras will be treated to a rare delicacy.
FILMING
1978 KISS CONCERT for DETROIT ROCK CITY
Thursday, December 3 - Copps Coliseum: 6:30 - 11:30 p.m.
No unreserved admittance. To reserve your space call 1-877-663-6646
Detroit Rock City is the story of four teenaged boys - Edward Furlong (American History X, Pecker), Guiseppe Andrews (Independence Day), Sam Huntington (Jungle2Jungle) and newcomer James De Bello - whose quest to see KISS in concert is thwarted by a vigilant, ultra-religious mom, but only long enough to send them scrambling through a series of impish misadventures that usher them in to manhood and, ultimately, Cobo Hall, where they finally bask in the glow of their idols. The film also stars Natasha Lyonne (The Slums of Beverly Hills), Lin Shaye (Something About Mary), Melanie Lynskey (Ever After) and Shannon Tweed (No Contest). A "sweet, kind of edgy adventure comedy with KISS," this coming-of-age story indeed seems to have it all, and Hamilton is, in the words of associate producer Tim Sullivan, " the gold at the end of the rainbow."
Click Here To Read The Full Article!

September 22
---

KISS Movie Casting
From: John Clark
If you want to be in the new movie, call 1-310-967-6850 to get placed on the casting list as an extra, the filming will take place Friday Nov. 6, 1998 at the LA Sports arena at a time to be announced. It is imperative that you wear 70's era clothing. The movie is set in 1978. They specifically mentioned no Marylin Manson shirts.
---
September 17
---

Lyonne rocks with Kiss in 'Detroit'
From: Steve Corral
By Benedict Carver and Andrew Hindes
HOLLYWOOD (Variety) - After successfully slumming it in Beverly Hills, hot young actress Natasha Lyonne has signed to star in the coming-of-age comedy ``Detroit Rock City.'' The New Line Cinema project is about four teens who'll stop at nothing to scam their way into a sold-out Kiss concert in 1978. She is turning heads as the lead in ``Slums of Beverly Hills,'' an arthouse picture also set in the 1970s. Shooting on ``Detroit Rock City'' begins in mid-October, with ``Mouse Hunt'' and ``Small Soldiers'' screenwriter Adam Rifkin directing. Band members Gene Simmons, Peter Criss, Ace Frehley and Paul Stanley will play themselves in the picture. Lyonne, whose credits include Woody Allen's ``Everyone Says I Love You'' and ``Dennis the Menace,'' just wrapped shooting on Universal Pictures' ``East Great Falls High.''
---
August 20
---

KISS Movie News Update
From: Muzic.com via Glenn
According to sources at New Line Cinema, the cast of Kiss's new Detroit Rock City movie is close to being confirmed. So far, two of the four lead characters have been named; one is Edward Furlong, who rose to fame after his starring role in Terminator II, while newcomer Natasha Lyonne -- currently making waves as an over-developed teenager in Slums of Beverly Hills, will play Christine 16.
The coming-of-age comedy set in 1978 centers around four teenagers who go to great lengths to obtain entrance into a sold-out KISS concert, a premise that sounds vaguely familiar (anybody remember Thank God It's Friday, that little disco flick featuring a pre-Berlin Terri Nunn, who would stop at nothing to score tickets to a KISS concert in 1978? -- ahh, whatever). Also featured in the Adam Rifkin-directed film are the Creatures of the Night -- Gene Simmons, Paul Stanley, Ace Frehley and Peter Criss -- who appear in the film playing themselves. Production is scheduled to begin this fall in the Motor City, but isn't expected to hit theaters until in the Spring of 1999.
---
August 8
---

KISS Has Big Plans For Detroit
From: Mkissed@aol.com
By Lisa Jackson -- The Detroit News
Gene Simmons of Kiss promises that Motown will live up to the title of " Detroit Rock City" this fall with a barrage of band-related events, including a new movie and a local concert. In October, Simmons says, New Line Cinema will begin shooting Detroit Rock City, a rite of passage film about some teens whose lives are portrayed against a local Kiss show. The movie is expected to be released within a year. "If I may use cliche, we've only just begun-- there is so much Kiss stuff that will be unleashed to the public," Simmons says, speaking by phone from his home in Los Angeles. Some footage for Detroit Rock City may be shot in town, Simmons says, including "concert stuff shots and things." Simmons will produce the movie, supervising decisions about casting,location and scripts. In other news, Simmons says he and bandmates Paul Stanley, Peter Criss and Ace Frehley will perform at the Pontiac Silverdome on Dec. 31. "The show will be a spectacle, but I won't say and more," Simmons says. " You'll have to see. We're going to blow all these bands away-- these bands who go onstage in sweat T-shirts." Tickets will likely go on sale Oct. 31. the same day the band kicks off a world tour at Dodger Stadium in Los Angeles. The tour will support Kiss' new album Psycho Circus, which hits stores Sept. 22. "I'm really proud of this record," Simmons say, "Publicly we're arrogant--but we know we are damned lucky to do what we do."
---
July 29
---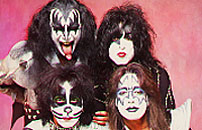 KISS Makes The Big Screen Debut!
---
Shout It Out Loud: KISS in New Line 'Rock City'
From: The Hollywood Reporter
Seminal 1970s glam-rock band Kiss will make its feature film acting debut in the comedy "Detroit Rock City" for New Line Cinema. Adam Rifkin, who wrote "Mouse Hunt" and was a writer on "Small Soldiers," will direct. New Line acquired the project as a spec script from Carl Dupre. Rifkin will do a polish on the screenplay, a coming-of-age story set in 1978 about four teenagers who embark on a wild adventure to get into the sold-out show of the band they worship -- Kiss. Original band members Gene Simmons, Peter Criss, Ace Frehley and Paul Stanley will play themselves in the picture. The film is named after one of Kiss' most popular songs, "Detroit Rock City," which is featured on the multiplatinum "Destroyer" album. " 'Detroit Rock City' is the quintessential coming-of-age story," bass player and vocalist Simmons said. "I think there will be a lot of kids who will relate to the pilgrimage these teens are on. It's like they're after the Holy Grail." Two decades into its career, Kiss continues to be one of rock's most popular live acts. The group -- famed for its creative costumes, face makeup, and over-the-top performances -- is finishing up its latest album, "Psycho Circus," which is scheduled for release Sept. 22 on Mercury Records. It will be the first new material from the group since the original members reunited last year.

Legendary Rock Group KISS to Make American Film Debut in Coming-Of-Age Comedy `Detroit Rock City'
From: PRNewswire
LOS ANGELES, July 29 --PRNewswire -- New Line Cinema has purchased the comedic spec screenplay Detroit Rock City from screenwriter Carl Dupre, it was announced today by Michael De Luca, President and Chief Operating Officer of New Line Productions.

Set in 1978, Detroit Rock City is a hilarious coming-of-age story about four teenagers who embark on a wild adventure to attend a KISS concert. Driven by their unwavering passion to experience their favorite legendary rock group live, the teens will stop at nothing to scam their way into the sold-out show. KISS was the #1 grossing act of the 1996-1997 concert season according to Polstar.

The film will be produced by KISS lead singer Gene Simmons, as well as Barry Levine and Kathleen Haase through their respective production companies, Takoma Entertainment Group and Base 12 Productions. Simmons will also star in the film along with original band members Paul Stanley, Ace Frehley and Peter Criss. Director Adam Rifkin, who most recently scripted Small Soldiers and Mouse Hunt, will develop the project and direct the film.

"We believe this is an ideal vehicle for young actors who want to do an edgy, generational comedy," De Luca said. "Dupre has done an outstanding job of capturing the essence of being a teenager in the '70s while making it entertaining for audiences of all ages. KISS rules. They ruled back then, and they rule now. We hope to get this project into production as soon as possible."

"I've been a huge KISS fan since I was a kid," said Rifkin. "Mike De Luca and Brian Witten have been phenomenally supportive of the project, and based on their recent string of hit comedies, I think New Line is the perfect home for this film."

"Detroit Rock City is the quintessential coming-of-age story," added Simmons. "I think there will be a lot of kids who will relate to the pilgrimage these teens are on. It's like they're after the Holy Grail!"

Vice President of Production Brian Witten brought the project into the company and will serve as the production executive with De Luca. The company expects to begin casting in the near future.

David Alper, Senior Vice President of Business and Legal Affairs, negotiated the deal on behalf of the studio. Phil Rosen and Gene Simmons negotiated the deal on behalf of the filmmakers. Jon Levin represented Levine, and Alan Gasmer brokered the deal on behalf of Rifkin.

Founded in 1967, New Line Cinema is the entertainment industry's leading independent producer and distributor of theatrical motion pictures. New Line licenses its films to ancillary markets including cable and broadcast television as well as to international venues. The company, which is a subsidiary of Time Warner Entertainment, operates several divisions including in-house theatrical distribution, marketing, home video, television, acquisitions, production, licensing and merchandising units.

E! Online News - Big-Screen KISS
by Joal Ryan July 29, 1998, 2:30 p.m. PT

In retrospect, KISS' decision to reunite and redon their monster makeup of yore seems a very wise move, indeed.

How else but under the cover of thick greasepaint could the middle-aged rockers hope to play their 1978 selves in 1998?

Thanks to Max Factor, we'll never have to try to wrap our brains around that one.

Here's the deal: The original members of the bang-your-head band--Paul Stanley, Gene Simmons, Ace Frehley and Peter Criss--have fixed to make their feature film debut as a quartet in a period comedy named for an anthem from their Destroyer album, Detroit Rock City.

(Memo to fans of the 1978 opus, KISS Meets the Phantom of the Park: That was a TV movie. A TV movie that confused Six Flags Magic Mountain for an exotic locale. In short, it doesn't count.)

According to the Hollywood Reporter, the boys--er, elders (average age: 47.7)--will play themselves, the objects of fanatical devotion for four teens who go to extreme measures to get into a sold-out KISS show, circa 1978.

"I think there will be a lot of kids who will relate to the pilgrimage these fans are on," Simmons says in the trade paper. "It's like they're after the Holy Grail."

Simmons is the thespian ringer among his bandmates. He has appeared--sans the blood-spewing demon look--in several movies, including 1984's Runaway.

The late 1980s hair-band edition of KISS (minus Frehley and Criss, not to mention the makeup) was featured in the 1988 documentary, The Decline of Western Civilization, Part II: The Metal Years.

About the closest the original members, who reunited for a 1996 world tour, previously have come to doing a joint movie appearance was a kid-friendly short that ran in theaters last year.

Concert footage for the new flick will be shot this fall at (where else?) KISS stadium shows--proving again how little has changed in the KISS universe in 20 years.

One more sign: A new album, Psycho Circus, is due in stores September 22.



KISS Guitar Tabs
The #1 source for KISS Guitar and Bass tabs on the internet! A great resource for those KISS fans that can wield an ax!

KISS Album Focus
Exploring the history of the band through each album release. You'll be able to find out the logic behind the releases, what was going on in the band during the recording of albums, what the band was up to in the period leading up to studio time, and lots more information which should be of interest to the diehard fan!

Sound Off KISS Army
KISS ASYLUM wanted to open the door to other writers out there and give them a place where they can voice their opinions about KISS. We bet there are more than a few of you who have at least one KISS related topic burning in you that you'd love to write a one time piece about. Well, KISS ASYLUM is happy to bring to you a forum in which to do so in our new feature "SOUND OFF!" KISS ARMY.

KISS Thought Vault
The "Summertime Memories" Kiss Thought Vault finds Ron Albanese waxing nostalgic over summers past, by way of release dates and pinball. A certain starry-eyed little girl also secures her place in Vault history. Also mentioned: The Harlem Globetrotters.

KISS Video Spotlight
What I have in store for you is a real treat. What you are about to read is an interview I recently completed with WNEW DJ (and fellow NJ resident) Ed Trunk.