Tim McPhate | KissFAQ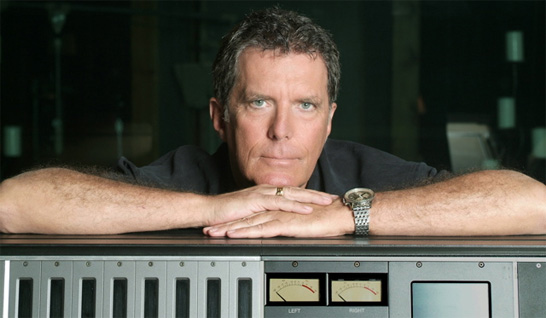 Just months after the "Asylum" tour, in summer 1986, Paul Stanley was already mulling the direction of the next KISS album.
Though the in-house produced "Asylum" crept past gold status, Stanley was taking note of bands such as Bon Jovi, Poison, Heart, and Ozzy Osbourne, who were all racing up the charts with hit singles and multi-platinum albums. He wanted KISS to get in on the action. He knew he needed a hot producer to help him toward this goal. He wanted Ron Nevison.
Nevison's discography reads like a who's who of classic rock royalty, including work with the Who, Led Zeppelin, Bad Company, Thin Lizzy, and the Rolling Stones, among others. By the time the calendar turned to 1987, he was fresh from resuscitating the career of Heart, who sold millions on the strength of four hit singles from their 1985 Nevison-produced self-titled album. Nevison was in such high demand throughout late 1986 and early 1987, KISS (read: Paul Stanley) chose to hold their new album until his schedule was clear.
The resulting fruit of Nevison/KISS' labor was "Crazy Nights." True to 1987-style rock, there are big guitars, shout-along choruses, shredding solos, ample keyboards, well-crafted songs, and polished production. The album finds Stanley's powerful voice in fine form, particularly on the singles "Crazy Nights," "Reason To Live" and "Turn On The Night."
After recording was completed on "Crazy Nights," the band thought they had hit a home run. "Everybody was really excited," recalls Nevison.
While "Crazy Nights" would ultimately yield platinum-plus sales, the hit single to catapult the album to multi-platinum status in the United States eluded KISS. The aforementioned "Reason To Live" only managed No. 64 position on the Billboard Hot 100. Fan opinions of "Crazy Nights" varied across the board, with detractors criticizing Nevison's polished, keyboard-friendly mix. Even Stanley put on a pair of hindsight headphones. "I think it's a bit plastic-sounding," he once remarked. "The material, and what it could have been, was better than what it turned out to be."
When peppered with questions on "Crazy Nights" a quarter century later, Nevison stands by the album and offers no apologies. Nor should he. The fact is that "Crazy Nights" cracked the Top 20 in five countries, hitting No. 4 in the UK, KISS' highest-charting album there ever. The title track matched the album's performance, climbing to No. 4 on the UK singles chart.
As far as Nevison is concerned, he delivered exactly what was asked of him. And the only thing that got in the way of that home run, multi-platinum album was … KISS.
KissFAQ: Before we get to "Crazy Nights," can you share your first recollections of KISS? Do you remember the first time you became aware of KISS?
Ron Nevison: I don't think I remember the first time. When did KISS start?
KF: Their debut album was released in 1974.
RN: 1974. I was in England until about 1975. But in the late '70s I did have an interview to do Paul Stanley's solo album so I was obviously aware of their impact by then.
KF: Do you recall anything about the interview and why you didn't end up working on the album?
RN: I remember the interview was at Casablanca with Neil Bogart. And I had just done an album with Dave Mason. And I remember Neil showing me what they had planned, a mylar album cover, and they were going to cost like a $1 each. I don't remember if it was that much, but it was a lot. And I remember going to Columbia and fighting with them to do a laminate on Dave's record for like 5 cents each. (laughs)
So it's the irony in the way things were marketed by the old establishment Columbia and the upstart Casablanca.
But as to why I didn't end up working with Paul at that time, I don't know.
KF: Fast-forwarding to 1986, who was it that approached you in terms of working with KISS?
RN: I think they contacted my manager, Michael Lippman – it may have been either Mercury or Paul.
I was just working on the Heart "Bad Animals" album and I had this girlfriend, and she was a model. And around Labor Day, she had a film shoot in Aspen. So I went there with her because it's a beautiful place. While she was working I was nosing around, and I rented a house for Christmas and New Year's. And we broke up around Halloween and I was stuck with this house. And I asked Paul, and Paul said, "Yeah, I'll share it with you. I'm not doing anything special for the holidays." So we went up there for a couple of weeks and shared a house and had a real good time getting to know each other and hanging out. That was cool.
Then the album we did, probably, the following spring.
KF: While in Aspen, was it confirmed that you were producing the next KISS album?

RN: I don't remember if it was a done deal. I think it was. They had decided they were going to use me and they had to wait until I was finished with whatever I was doing.
We actually went halves on a private plane home. We had a great time.
KF: Getting into the album, what was the process of going through the material and deciding what would be recorded or worked on during the sessions?
RN: Gene just gave me everything. (laughs) He loaded me up with 20, I don't know, 25 songs. And Paul was much more discerning in terms of what he let me hear. Gene just let me hear everything. And I told him what I liked and what I didn't like. There were some odd songs – there was one song I remember called "I'm Going To Put A Log In Your Fire Place." (laughs)
And Paul, to my recollection, wanted to make a different kind of album. You know, with the success that Bon Jovi was having in writing with Desmond Child and other bands – I had taken Ozzy down that road with his first hit single in years, if ever, "Shot In The Dark," in 1986. And of course, Heart.
I was actually very pleased with the material on ["Crazy Nights"]. And I took some heat after that album because of the keyboards.
KF: Can you describe the recording process for the basic tracks on "Crazy Nights?"
RN: Well, we laid down drums, bass, guitar and a vocal. Now, I don't remember exactly that Bruce played rhythm or Paul played the rhythm. I think I probably had Bruce play so Paul could sing his songs. That's how I usually do it. You know, I've had 45 albums since then … (laughs)
But I think we used One and One [Recording], which was a good drum room. But we didn't stay there long. We went to Rumbo Recorders out in the [San Fernando] Valley. And it was Captain & Tennille's studio. It had a big lounge, and had a lot of room in the studio for guitars and a full Neve board. It was just a comfortable place to work. So that's we did a majority of the recording. During that period of time, I did lots of albums there.
KF: Ron, you touched on one of my questions. In 1987 rock acts such as Heart, Poison, Def Leppard, Bon Jovi…
RN: They saw what they were doing with "Livin' On A Prayer" and all that. And I wanted to get KISS that same level of – you know, instead of selling 500,000 to 700,000 records, which is respectable, especially these days – I wanted it to be bigger than that.
I was impressed with the stuff that Paul [brought in]. You know, Gene's stuff was Gene's stuff. Gene wrote rock stuff, but not commercial really, but KISS fans love Gene's songs.
KF: Do you think Paul was coming from an angle where he wanted to write songs that were in line with what other bands were writing?
RN: Yeah, I think so. I think that was the goal.
And I think it was a great album. My favorite songs are "Crazy Nights," "Reason To Live" and "My Way." Those are my favorites. The Diane Warren was a good song.
KF: A lot has been said over the years about Gene's acting career and outside interests during this time. Do you recall him being focused or were his outside projects a distraction in terms of his commitment?
RN: Well, this was the only album I did with them. I do know that Gene wasn't there all the time. Obviously Bruce was, and to some extent, Eric. Mostly, a majority of the work on that album I did with Bruce and Paul. The bass tracks were cut initially, and Gene was only needed for lead vocals. I must say that most of the time he was there, he was in the back of the studio reading "Variety."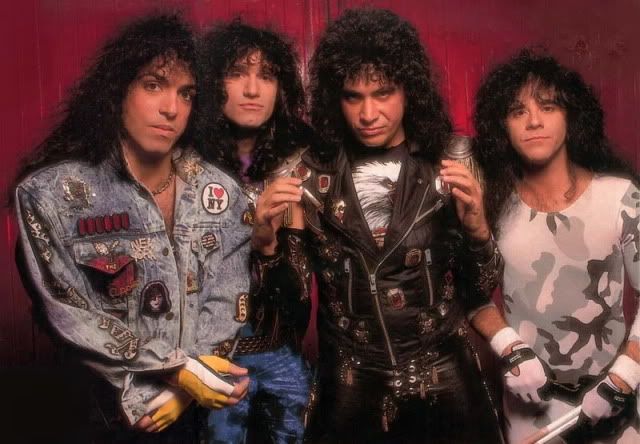 KF: Did Gene play bass on all of the tracks on "Crazy Nights"?
RN: From what I remember, yes, he played. I must say, having a master player like Bruce Kulick made it easy for the entire band …
KF: Guitar-wise, Bruce really shines on this album. Do you recall any songs in which you helped guide Bruce's solos? Or did he pretty much have carte blanche with his ideas?
RN: Total carte blanche. You know, I don't guide people. I don't sit down with a guitar player and say, "I want you to play this," because that blows whatever thoughts they might have in their head. I was that way with everybody. If I have a really good idea for a part, I shut up and I see what they do, because I want them to blow my mind. If somebody fumbles around for 15 minutes, I'll say, "Why don't you try this?" You know, I have the idea but I don't have to ever tell anybody I've got the idea. I don't use the idea unless I have to.
Basically, I'd let them go. Then I'd do comps. Comps of vocals and comps of guitars. Then I'd take six or eight takes and comp a "best of." Sometimes somebody plays it the first time. A lot of times they play a good guitar solo the first time, right out of the box, because they're warming up and they're not thinking too hard. Thinking hurts you.
KF: What about Eric Carr? How does he rank in terms of the drummers you've worked with?
RN: I don't like to rank people, because they're all too different. But Gene and Paul, once they disbanded the original lineup … I mean Eric and Bruce, you couldn't find two greater, nicer guys. In fact, all of them. Gene, Paul – they're the most wonderful, professional band to work with. No drugs. No alcohol. No bulls***. I have to say, it was just a pleasure to work with them.
KF: Paul was really singing at the top of his range on "Crazy Nights." In listening to songs such as the title track, "I'll Fight Hell To Hold You" and "My Way," he really stretched himself. How did you approach recording Paul's vocals for the album?
RN: I actually wasn't that happy with all the keys that Paul chose. But he wanted to sing it as high as he could sing it.
KF: Really?
RN: Yeah, he thought that was the way to go. And in listening back to a little bit of the album today, especially "Crazy Nights" with the modulation …
KF: That goes up a step and a half …
RN: He got up there. And there was no Auto-Tune in those days. It was like 10 years before Pro Tools and all that stuff. And there was really no other way but to keep recording it. I would have felt more comfortable if a couple of the songs had been a half-step down, or something to make it easier on him. But he wanted it like that and the songs were written like that and demoed like that. That's the way he wanted to do it. I went along with it, and as far as performance goes, he did a great job.
And it was the most successful album that they did in the '80s. It was big in England; it was big in Scandinavia.
I expected more out of "Reason To Live." As you know, to get a hit single in those days, you had to have some kind of ballad. There was no other way. I thought "Reason To Live" was that ballad, and it did ok, but it didn't quite catch on. I think there was still a reluctance amongst CHR stations, which was Contemporary Hit Radio in those days, to play a song by KISS. Not based on the merit, but based on the fact that their listeners didn't listen to KISS.
KF: In hindsight, it seems like "Reason To Live" should have fared better. I've always felt it was as good, if not better than many of the ballads that were hits at the time.
RN: It's gorgeous. I was very disappointed. I was happy with how it came out, but it didn't become a hit. And if we had a big hit, ["Crazy Nights"] would have sold another couple of million records. I thought "Reason To Live" was the right single. It was a passionate, emotional song. It rocked a bit. It was perfect.
KF: This reminds me of a quote I've read from you in which you said that you had the name "KISS" going against you in terms of pop radio success.
RN: Certainly. I know how they operated then. I know how the system worked. I know how the promoters promote. I knew how all those people got artists on the radio in that time period, 1985-1990. And suddenly that formula didn't work with KISS. Look, "Shot In The Dark" wasn't a huge smash. The fact that he had never had a single was a big factor. Something like "Crazy Nights," it was Top 5 in the UK. Obviously it did affect some kind of playlists and some stations.
When AOR radio was big in the U.S., there [was] nothing like pop radio for selling albums, if you had a hit single. That's why I was really happy with the material. Because I thought "Crazy Nights" was a single. And I thought "Reason To Live" was a single. I also thought "My Way" was a single.
But it was out of my hands. It's the vaunted record company promotion guys and what they want to do.
Having said that, Paul and Gene have taken KISS a very, very, very long way. You know, coming up with the concept. And then with taking off the makeup, changing players, putting the makeup back on. They've really reinvented themselves over and over again. And having one of the biggest grossing tours. They have lots and lots of things to be proud of.
KF: I'm curious, when you hear "Reason To Live," do you hear elements of Foreigner's "I Want To Know What Love Is"?
RN: Huh. There is a little bit. (Sings melodies of both choruses) I've never even thought about that. That wasn't the intention.
KF: What do you recall about "Turn On The Night"? That was co-written by Paul and Diane Warren, who typically writes all of her own material. Were you the catalyst in getting them together?
RN: I don't recall. I had hits with Diane after that with Chicago.
KF: "Look Away."
RN: Right, "Look Away." And "I Don't Want To Live Without Your Love." I think that predated that.
KF: "Turn On The Night" was the third video/single from the album. It really seems like that song should have performed better as well.
RN: Oh yeah.
I think it's a great album. You know, Tim, I tried to do what was right for 1987 for that band. And I think I succeeded.
KF: In terms of the album's sonics, I think you've admitted, in hindsight, that you would have mixed the synthesizers down a bit and that it might be too "slick" or "soft" sounding.
RN: I wasn't that happy with the final mix. But I wasn't that unhappy with it. I have to tell you, Tim, I'm not happy with any mix that I've done. I think I could have made it a bit more powerful sounding.
KF: Some of the album's detractors have commented that the sonics are too similar to Heart's 1985 self-titled album and Ozzy's "The Ultimate Sin" album.
RN: There you go. That's [the type of album] I make. That's what I do.
KF: Exactly. In that sense, you delivered. KISS wanted Ron Nevison. They wanted that sound at the time and you gave it to them.
RN: Yep. I have to say that I think as time goes on it will be more accepted and more liked because it has great songs. I think, song-wise, it really stands out as one of the best KISS albums ever, song-wise.
KF: On their most recent tour, KISS actually added "Crazy Crazy Nights" to their set list. It was the first time they'd played it in 20 years.
RN: I didn't know that. You know, I've actually never seen them live. I've just never been in the same city. Or when they're on tour, I've been somewhere else.
KF: They did tune the song down. On the album, it's in the key of G, and they played it in F.
Ron, is there one song, in particular, that you would take off the album or replace, in hindsight?
RN: I think we probably recorded more songs than we needed. I think there was another ballad. But I thought it would be suicide to put two ballads on the record. "Reason To Live" was a better song, I don't remember the title of the other one.
KF: Let me run through some song titles of songs that were demoed around this time that didn't end up on the album. Do you have any recollections of these tracks?
RN: I think I remember that one.
KF: Bruce has said he thinks you left a "great song" off the record.
RN: Yeah, that's probably because he's one of the writers, and writers always think that. [Ed: The song was co-written by Paul, Desmond Child and Bruce.]
KF: (laughs)
RN: Don't remember that one.
KF: "Are You Always This Hot" – this song is purported to have been fully recorded for the album.
RN: Well, I think we had to juggle how many of Paul's songs we had on the album and how many of Gene's. I don't think that song was finished though.
I can't be sure of this, but I think we made decisions fairly early on in the recording about what was going on and what wasn't. I don't think we finished a bunch of tunes and then decided what was going to be on the album.
KF: Do you recall any creative differences or arguments over songs between Gene and Paul?
RN: You know, it's a process that goes on. It's not something that comes down to that ever. The process is [a band] sends me all the material and I listen to it all and we decide pretty much ahead of time what's happening. It's not decided when we get in the studio, it's decided before we get there. And if there's a couple of extra tracks, we'll do those. I don't remember that part of it [with KISS]; I'm just giving you what I usually do.
I don't remember any situation where there was any disagreement between the two of them over anything. But certainly I am there to give my opinion, and they're there to say yes or no on that opinion. That's how it all works. I'm working for them.
KF: Do you recall the general atmosphere as you completed the project? Were spirits high that you had something "big" on your hands?
RN: Oh yeah. We were in New York with the management company, and I remember we had a playback party. Everybody was really excited.
KF: It's tough to word this next question because a platinum album is nothing to be ashamed about. But obviously KISS sought you out because they were looking for a home run like the 1985 Heart album, which eventually sold five million copies…
RN: Yeah, well that's because we had No. 1 singles. That's where I was trying to go. KISS was their own worst enemy as far as singles go. I have to tell you, by ignoring pop radio for 20 years, you just don't turn up and they let you on. By saying that we had keyboards, by saying, "We're not selling out," you don't work your way into those kind of radio spots. As far as it goes, if "Reason To Live" had done what "These Dreams" did, we would have sold five million.
So how can you call a platinum-plus album anything but successful?
KF: That's a very good question.
RN: It was their most successful of the '80s, worldwide. That says it all right there.
KF: Ron, did you ever have a thought of bringing complete songs in from outside writers for "Crazy Nights"?
RN: I did not bring any outside material. Paul is the one who hooked up with Desmond. Paul is the one who hooked up with other writers. I did not bring any of those songs in.
KF: Ron, what would be your message to KISS fans?
RN: I hope they appreciate the reason I was hired and the position I was put in to make this [album]. I fought hard to get those kind of things played. And they did pretty good compared to other KISS singles. But it wasn't a home run in terms of Contemporary Hit Radio, and it never will be for KISS. But I tried.
KF: Would you ever be game to remix the album?
RN: Yeah. I would love that. I have to tell you, Tim. I got an email from Pete Townshend last year telling me that they were re-releasing the "Quadrophenia" album as a box set and they were going to use my original mix that sounds so much better than the remix in the '90s they had done. And I was thrilled they did that. And he emailed me to ask if I would be available for a BBC interview.
So I came down to Los Angeles last November and went to Steakhouse Studio in North Hollywood. And I sat there and I thought they were just going to play me the "Quadrophenia" tracks and I was going to talk about them. But what they did was, they had the 16-track stems. In other words, I had all 16 tracks on the console so I could solo and listen to each individual track, and talk about the vocal or the guitar and bass parts, and drums. It freaked me out. I didn't know until I got there that they were going to do that. So that was really cool.
But yeah, I would be open to it.
KF: Ron, thanks for your time today.
RN: Thanks, Tim.