Scott Mervis | The Blade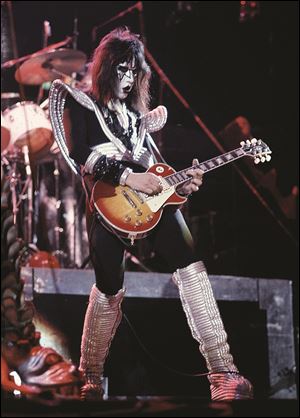 This was the year that Kiss' long-awaited entry into the Rock and Roll Hall of Fame became a case of "be careful what you wish for."
The honor that the band and its Kiss Army lobbied for years to achieve turned into a mess when the Rock Hall limited the induction to the original members and also insisted that any performance would have to involve Ace Frehley and Peter Criss.
In the end, Gene Simmons and Paul Stanley refused to play, a spotlight was fixed on Kiss' dysfunctions, and everyone came away a little bitter.
Stanley said in an NPR interview recently that a performance by the original four would have been a "disservice" to the band: "That lineup has not been together for 14 years and, physically, perhaps, wouldn't have looked that great, and musically, undoubtedly, probably, would have sounded a bit suspect."
Later in a phone interview, Frehley scoffed at that notion.
"That's ridiculous," he said. "I had just jammed with Peter a few months earlier at [Eddie] Trunk's 30th Anniversary Party at the Hard Rock in New York. Peter played great. I'm playing better than ever. I don't think they wanted to open up the whole can of worms that surrounds the fact that they got two other guys dressed up like us. I mean, the last time they performed with us, at 'Unplugged,' they had to scrap their album and do a reunion tour. Since they had a tour planned with the current lineup this year, I think they wanted to leave well enough alone and not confuse the fans."
It wasn't the only disappointment at the ceremony. Frehley was supposed to be part of a final all-star jam session, but it was scrapped due to the E Street Band speeches going on so long.
There were also some comments thrown around that he didn't like.
Continue reading "KISS' Ace Frehley is clean, sober, and back on the road" »